Promise & profligacy
Daniel Sturridge's goal gave Liverpool a 1-0 win over Stoke on Saturday and there was plenty to encourage the Anfield crowd. But Nick Miller feels this is a team that still needs Luis Suarez for them to look complete.
By Nick Miller
Last Updated: 17/08/13 3:57pm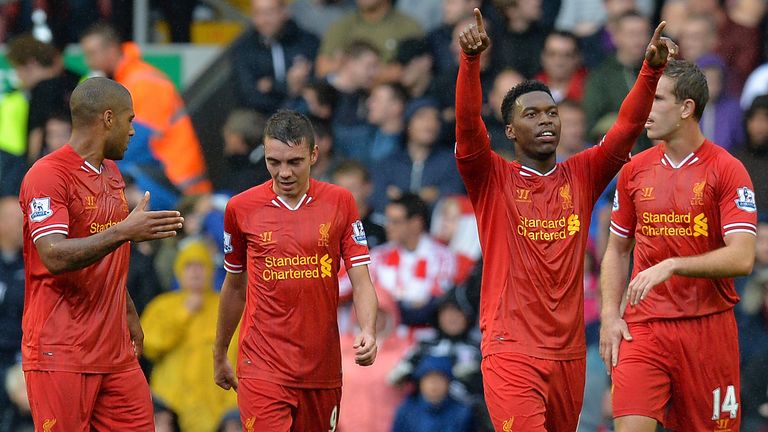 In the final few games of last season, a Liverpool sans the hungry Luis Suarez performed pretty well. They took Newcastle apart, then beat Fulham and QPR - not exactly wins to make the competition tremble, but it did at least provide some indication that they were not totally reliant on their toothy talisman.
Those Liverpool fans who got giddy about those games might have been similarly encouraged by their defeat of Stoke on the opening day of the new season. Indeed, an entertaining front three of Philippe Coutinho, Daniel Sturridge and Iago Aspas linked up rather nicely, switching positions and flitting hither and thither to make Stoke's defence look like immobile lumps for much of the first half.
Aspas in particular gave a promising performance, adding some credence to the impression from pre-season that Liverpool have made a very useful signing. The mini Spaniard yapped and snapped at the feet of Stoke's big units, creating five chances in just 72 minutes on the pitch - only Coutinho made more, and he played the full 90. Either through his exciting play or his rather short fuse, Aspas is shaping up to be a hugely entertaining addition to Liverpool and the Premier League.
And yet, for their dominance (Liverpool had 55% possession, 25 shots to Stoke's 11, twice as many corners), they could have thrown away the points thanks to Daniel Agger's curious arm flap, giving Simon Mignolet the chance to recover from an occasionally iffy initial performance with his terrific penalty save.
The key stat is in that last paragraph is the number of efforts Liverpool had. Obviously one could quite easily attribute the meagre conversion rate to an excellent performance by Asmir Begovic in the Stoke goal - the Bosnian keeper was very good indeed, making a couple of quite outstanding stops, the pick being a fingertip onto the post from a Jordan Henderson effort.
Infuriating
However, of their 25 efforts, 11 were on target, five were blocked and nine were off target - Begovic can't take all of the credit for keeping the score low. Liverpool displayed a familiar profligacy that must be infuriating for the Anfield crowd.
At present it looks likely that Suarez will be reintegrated, with the reports that he has apologised to Brendan Rodgers seemingly backed up by his presence at Anfield for the game, even though he won't be available for another five games. And, of course, he would be welcomed back into the team with wide open arms.
Opta stats from last season indicated that Suarez was the most reliable 'big chance' convertor in the Premier League, sticking away 53% of such opportunities. For comparison, Robin van Persie knocked in 43%, Michu 46%, Romelu Lukaku 38% and Edin Dzeko 37%, while Olivier Giroud was way down at 17%. In short, Suarez scores when it matters. He scores when Liverpool need him to.
On the face of things, their reported interest in players like Christian Eriksen and Willian make little sense - they have the players to create the chances, but need someone to convert them. However, should Sturridge and the absent Suarez dovetail as they did on occasions last season, they might not need anyone else.
Liverpool's start against Stoke was encouraging, but it should not convince anyone that they can do without Luis Suarez.
A version of this article originally appeared on Football365