Weekend review
With Manchester City's demolition job on Newcastle United having rounded off the opening round of Premier League matches in emphatic style, our writers look back at what has passed and draw some telling conclusions
By Alex Dunn, Adam Bate & Matt Stanger
Last Updated: 20/08/13 11:36am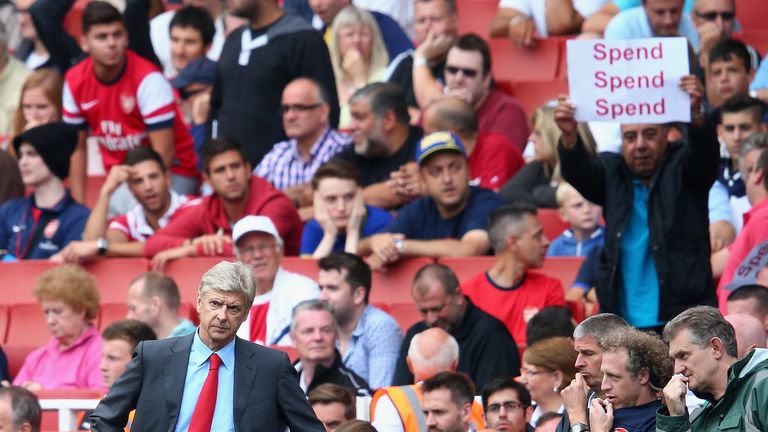 Martinez mantra reaps early dividends
Even more than money the thing that most new managers ask for is time. It's normally time to spend money but when a new boss is looking to play a brand of football that differs significantly to a predecessor's it's time, time and more time that is needed.
Much has been made of whether David Moyes will be able to incorporate his own ideals on a Manchester United squad ingrained with those of Sir Alex Ferguson but the same can be said of Roberto Martinez at Everton. With this in mind, the Spaniard will be delighted with his new side's performance in drawing 2-2 at Norwich. It would be a folly to draw sweeping conclusions from the opening weekend but this was an Everton team that looked like a Roberto Martinez team.
The diagram above shows a 67.5% possession rate in Everton's favour, up 12.3% from the corresponding fixture last season, which they lost 2-1. A pass completion rate of 88%, up from an average of 79% last term, is also worthy of mention; as was the fact they were entirely dominant in the air in winning 71% of aerial duels. Some old habits you're happy to die hard. Marouane Fellaini, playing in his preferred more withdrawn role to accommodate the excellent Ross Barkley, completed the most passes he's ever made in an Everton shirt. AD
Concern for new boys
One statistic that supporters of the three promoted clubs might well be clinging to after the weekend is the fact that you have to go back to the 1997/98 season for the last time that all of the new boys were relegated back from whence they came at the first time of asking. However, opening weekend defeats for Cardiff City, Crystal Palace and Hull City have denied the new arrivals much-needed momentum. Three defeats, no goals and just six shots on target between them does not bode well. While Palace and Hull City were handed tough assignments, leaving Ian Holloway and Steve Bruce to spew the mantra about their fate not being decided by such games, Cardiff's meek surrender at West Ham was a chilling reminder of what lies ahead. It's time to learn. And learn fast. AB
City appraisal
South American football expert Tim Vickery recently told Sky Sports that Manuel Pellegrini reminded him of Roger Moore with his suave demeanour so it's hard to believe thinly-veiled digs are his style. But his remark on Monday evening that his Manchester City side continued to play aggressive, attacking football even when 2-0 up did highlight a contrast with Jose Mourinho's Chelsea side the previous day. City were relentless as they demolished Newcastle 4-0 at the Etihad Stadium.
What might be of particular concern to title rivals Chelsea and Manchester United will be the manner of the performance, highlighting as it did the range of attacking options at Pellegrini's disposal. Jesus Navas showed that he could play a role as a tucked-in wide-man in the first half but then gave a hint at the different threat he will bring this season with his ability to play high up the pitch hugging the touchline after the interval. A new and improved Manchester City is a daunting prospect.
For a full in-depth analysis of Manchester City's 4-0 win over Newcastle United and the role of Jesus Navas, click here. AB
On the spot
Franz Beckenbauer once said of the dreaded spot-kick: "Penalty shooting is always an uncertain affair because there is a lot of luck involved." If Der Kaiser was on the money then poor old Jon Walters must run a black cat sanctuary as an earner on the side. The Stoke striker took his miss-rate from 12 yards to three from five on Saturday as Simon Mignolet turned from flapper to fan favourite with a match-winning save at Anfield. Christian Benteke, who knocked in the rebound after Wojciech Szczesny had repelled his initial meek effort and Frank Lampard, via the politest of telegrams, also proved fallible from the spot. Aston Villa's bludgeoning Belgian had chance for immediate redemption when he confidently dispatched Aston Villa's second penalty of the afternoon at the Emirates.
Roberto Soldado nonchalantly dispatched his free shot on a winning Tottenham debut at Crystal Palace, but it's man of the moment Rickie Lambert who we're turning to for our penalty masterclass as he netted Southampton's winner at The Hawthorns. He has scored each of his 29 league penalties for Southampton. His manager Mauricio Pochettino perhaps summed it up best when he said post-match 'I was leaning against a wall - very calm and cool'. Nearly as calm as his striker. AD
If you're of a nervous disposition (and support Arsenal) please look away now
It's the sort of thing Brendan Rodgers would take great satisfaction in saying, but Arsenal's current predicament shows that failing to prepare is preparing to fail, okay? Saturday's result was disappointing, and a tad embarrassing, but the real fear for the Gunners is that injuries and inaction have left them depleted for Wednesday's Champions League qualifier away to Fenerbahce. All that hard work at the end of last season, the boasting that followed 12 wins out of the final 16 matches, the gloating towards Spurs; it could all be for nothing.
What on earth is Arsene Wenger planning to do at this stage? And would you trust him to put things right? He has trimmed his squad to such an extent that the gaps on Wednesday will have to be plugged by wide-eyed youth teamers, talented but obviously lacking the requisite experience of such occasions. Is it really wise to throw youngsters into this poisonous atmosphere that currently surrounds the club? Wenger has no choice, of course, but we saw with the booing of an exhausted Santi Cazorla on Saturday that the manager no longer knows how to protect his players.
Wenger persisted with his hollow sentiments about finding new recruits after Villa's victory, but so many of the best targets have passed Arsenal by that you have to question just how far down the manager's shortlist things currently stand. Does he even have a shortlist?
Jamie Carragher, for one, isn't so sure. Read his views here. MS

To be the man, you've got to beat the man
After a summer of speculation regarding the futures of Luis Suarez, Wayne Rooney and Gareth Bale, it was almost possible to forget that there are other superstar names in the Premier League. The league's top scorer for each of the past two seasons chose the opening day of the campaign to remind everyone that a change in manager need not mean a change in fortunes for Manchester United.
Robin van Persie's two goals at Swansea in a 4-1 win were both remarkable finishes and the Dutchman is entitled to feel bemused to find United as the third-favourites to claim a title that he fired them to in such spectacular fashion as recently as May. The buzz may be about Manchester City and Chelsea but the big red machine ploughs on regardless. AB
Reasons to be cheerful
To praise English talent has become so unfashionable Jeremy Clarkson is looking into ways of incorporating such eulogies into stonewash jeans. To lament a lack of technique is more the vogue but over the weekend there were some stand out performances from young Englanders. Southampton have long-since been producers of players who play the 'right way' and in starting with three graduates from their academy they demonstrated there's more to the modern Saints than a healthy bank balance. Calum Chambers, James Ward-Prowse and Luke Shaw, all 18, showed maturity beyond their years in impressing at West Brom. Shaw in particular looks the real deal, displaying all the traits of a modern full-back, with an inclination to go beyond his midfielders on the overlap wherever possible.
It's a measure of the trust Pochettino has in him that he sets his team up with Shaw (no.23) given pretty much full responsibility to marshal the left-flank. By playing a narrow middle three and dominating the key area of the field, space is created down the wings - with Shaw's pace integral to making up ground quickly when in possession. His touch map demonstrates he spent almost as much time on the front foot as the back, which given Southampton were away from home demonstrates the licence he is given. Shaw touched the ball three times in West Brom's area; Fernando Torres managed just the one in Hull City's box. It's a formation that in some respects apes Manchester United's when Ryan Giggs tucks inside to give Patrice Evra a zone to gallop into.
Other honourable mentions go to Danny Welbeck, Lambert, Nathan Redmond, Kyle Walker, Matt Jarvis (who finally got his first assist for West Ham) and in particular, Barkley, who grabbed arguably the weekend's most impressive goal. AD
Dad's Army win away
An away victory on the opening day secured by a goalscorer younger than 30. Only four of Fulham's 50 league goals last season were scored by players under the age of 26 and so it will have been encouraging for Martin Jol to see 21-year-old Pajtim Kasami head the Cottagers' only attempt on target into the back of the net at Sunderland. The injury to Maarten Stekelenburg is a serious concern and Jol still has plenty of work to do before the end of the transfer window, but Fulham will savour their rare away victory. MS
Debut delight
There's nothing quite like the hope of the opening day. Is that Costa Rican winger you'd never heard of the answer to all those creative problems? Can the no-nonsense Scandinavian centre-back with the questionable disciplinary record shore up your woeful defence? I've made those two up but there were plenty of reasons for excitement as Ricky van Wolfswinkel, Roberto Soldado, Wilfried Bony and Tony Moon himself, Antonio Luna, all made goalscoring debuts in the Premier League.
1st Game of the PL

Good result. We Worked hard. Thanks for the support

Happy to score and help the team

August 17, 2013
There were also fine performances from Kevin De Bruyne and Paulinho in a weekend that had new boys everywhere you looked as long as you didn't cast your melancholy gaze in the direction of the all-too-familiar Arsenal starting line-up. And while those at the Emirates were enduring a particularly civilised civil war, Southampton were quietly accumulating three points with the help of their defender Dejan Lovren. Earlier in the day, Liverpool had sent out a further message that they are anything but the Gunners' feeder club with Iago Aspas to the fore in the Reds' 1-0 win over Stoke.
For a full appreciation of the respective debuts of Aspas and Dejan Lovren click here. AB
Same old, same old?
The Special One, The Happy One...The Boring One.
Despite a frantic start against Hull, Chelsea's victory turned out to be the snoozefest of the weekend as the Blues went through the motions in the second half. Jose Mourinho blamed his side's sluggishness on fatigue owing to the midweek international fixtures, but it will no doubt concern him that Hull managed 49% possession, made more passes than the hosts in the second half and also had more attempts on target after the break. Chelsea made Hull look good.
Although it would greatly annoy Mourinho to hear it, there was little difference between the Blues' opening display on Sunday and the team's performances under Rafa Benitez towards the end of last season, down to the finer point of Fernando Torres failing to offer a convincing threat in attack. That new number nine just became even more essential.
Wednesday's visit of Aston Villa may prove more difficult than we would have thought on Saturday morning, but the fixture list has presented Chelsea with a brilliant opportunity to set the pace ahead of Monday's trip to Old Trafford, by which time Juan Mata should be fully fit. Read our full match analysis here MS
This column will be appearing after every weekend of Premier League action on the morning after the final game has been played