Football Expert & Columnist
Jamie Redknapp: Aston Villa ace Benteke to light up Saturday Night Football
'Monster' Christian Benteke will truly test Liverpool's new defensive pairing, says Jamie Redknapp.
Last Updated: 24/08/13 5:20pm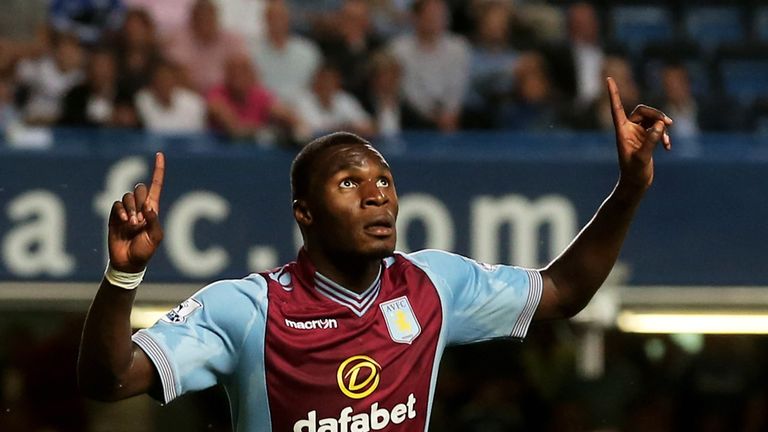 The big Belgian teed up the ball with his right and then smashed the ball in with his left at the near post; it's one of my favourite goals of the season so far and just goes to show how much he's developing as a player.
It's hard to believe he's still only 22 because he's a real monster; he's got tremendous physical power but also has the touch and ability to bring people into play.
His contract extension was one of the most important signings of the summer and, after scoring twice at the Emirates and again at Stamford Bridge this week, he'll be full of confidence when Liverpool visit Villa Park on Saturday night.
He scored three against them last year and terrorised their defence, so he has every reason to look forward to this clash.
Kolo Toure made his Liverpool debut at Anfield last weekend and did well, considering he's got the tough task of filling Jamie Carragher's void. He knows the game well and has great understanding - but he and Daniel Agger will know they've been in a game against Benteke on Saturday and that should be a great battle to watch.
With the pace of Andreas Weimann and Gabriel Agbonlahor out wide Villa have plenty of attacking threat, as they showed with their impressive win at Arsenal and narrow loss to Chelsea, and will test Liverpool's new centre-back pairing far more than Stoke did.
Partnership
Liverpool, though, despite still being without the suspended Luis Suarez, will be confident of finding the net themselves, especially with the promising partnership of Philippe Coutinho and Daniel Sturridge developing.
I never expected Stoke to cause Liverpool any problems last weekend - it was all about whether Liverpool could break their visitors down, and in the end they wasted several chances and needed Simon Mignolet to make himself a hero on his debut by saving a late penalty - but the movement and interchange between Coutinho and Sturridge was sublime at times.
You could see whenever Coutinho got the ball Sturridge's eyes lit up; he just knew the young Brazilian was going to find him - and the pair of them will be crucial for Liverpool while Suarez is on the side lines.
Genius
Interestingly, the stats show Liverpool win more games without Suarez in their side (they have won 39% of Premier League games with him and 64% of their Premier League games without him) and sometimes you feel his presence affects the other players, especially the younger ones.
You might say 'they should be able to handle it' but when you play with someone who throws his hands up in the air whenever he doesn't get the ball it can put you off. Certainly on Saturday Liverpool seemed to play more like a team and Coutinho and Sturridge profited from that.
Don't get me wrong, you need a genius like Surarez in your team and if he's happy to stay at Liverpool he's going to be part of their XI - but he might look at these next five games and, if they get good results, think 'I've got to muck in here and maybe it's not all just about me'.
I reckon they'll have to settle for an exciting 2-2 draw at Villa, though, which should make good viewing on Saturday Night Football. I enjoyed the new show last week and the live studio audience gives it a different feel. Hopefully you liked it to and can join us from 5pm on Sky Sports 1.