Niall Quinn
Football Expert & Columnist
Quinn: Liverpool can challenge for the title with SAS strike force
Liverpool can challenge for the Premier League title with their SAS strike force, says Niall Quinn.
Last Updated: 06/10/13 11:26am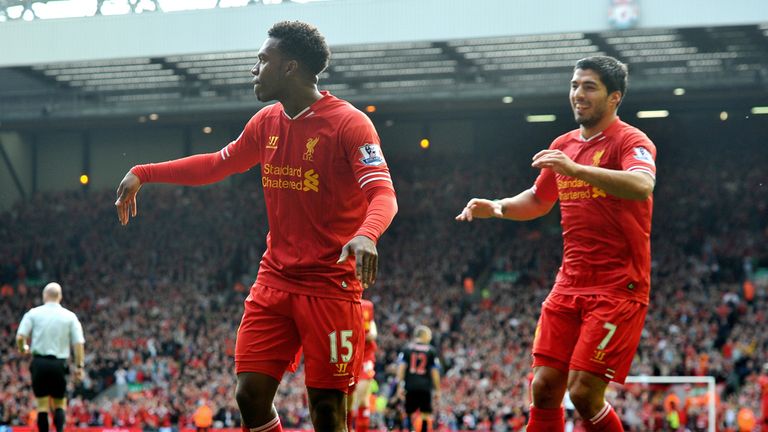 The win at Anfield put Liverpool top of the Barclays Premier League and with nine league goals between them so far, Sturridge and Suarez have been dubbed the new SAS strike force.
Sky Sports expert Quinn told Sarah-Jane Mee on Saturday Night Football Match Choice how impressed he has been with Liverpool's dynamic duo.
"[Liverpool] tore Crystal Palace apart at times and there was a telepathic link between Suarez and Sturridge," said the former Sunderland frontman.
"Their manager commented on it as well saying 'they don't work at it in training, it's just two excellent players in the form of their lives that are able to work with each other.'
"There's no selfishness, there's not one guy trying to out-do the other.
"Time and time again they just made it so difficult, it must be so good for the Liverpool midfield players and support players to just get the ball into them, to make their little angles and to see what happens as a result.
"Suarez's goal was audacious - you don't expect someone to fall over like that and still finish, it shows you his never-say-die attitude.
"He's burst back in to life since his ban, he's kicked straight in, but I think you should give Sturridge a lot of credit for what he's done in the time that Suarez was absent.
Challenging
"It's not just about the partnership, I think it's about Sturridge as well; he has probably got Chelsea fans looking at his goal tonight saying 'what were we doing letting this guy go?'.
"When you've got a team like Liverpool that have made this great start and finished last season quite well - I think it's one Premier League loss in 15 - you'd have to say Liverpool fans can start thinking about challenging for the title again.
"With these strikers and if they prevent goals from going in the other end, Liverpool can challenge for the title.
"Any good Liverpool team has always had great centre forwards. If you look back there was Keegan, Dalglish, Rush, Aldridge - they all got 20 goals plus and that's the secret.
"Here you've got two players that could possibly do that, you still believe between them they could go on and achieve that.
"Now Brendan Rodgers will play it down, but at that end of the pitch everything looks great for Liverpool and others are coming in to as well.
"The likes of Jordan Henderson are much more mature now, they know more about it and [Steven] Gerrard still has so much to offer.
"I think it will possibly boil down to Simon Mignolet and the season he has, because he's been brilliant up to now but, overall, there are lots of positive signs for Liverpool."