The Fantasy Football Club: Liverpool's Simon Mignolet picks #One2Eleven
Three Belgians and an Anfield legend form part of Liverpool 'keeper Simon Mignolet's #One2Eleven...
Last Updated: 12/10/13 2:38pm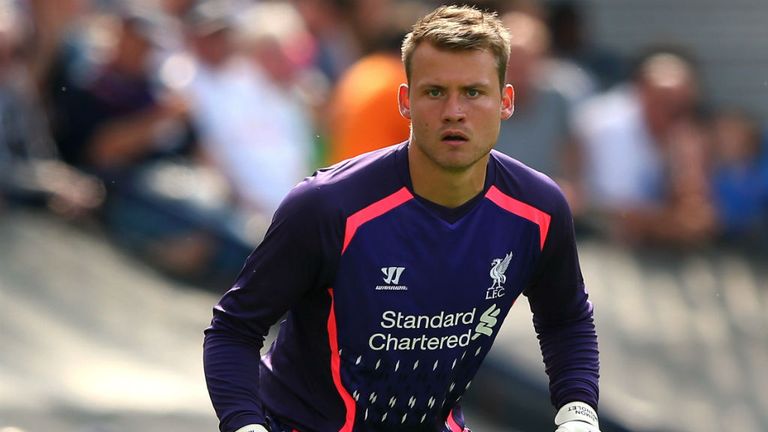 The Belgian goalkeeper, who joined Liverpool from Sunderland in the summer for a fee of £9million, said he found it hard to narrow down his list of players.
But the 25-year-old eventually did so - and you can see which of his peers he chose by reading the paragraphs below...
Goalkeeper: Craig Gordon
He was the first-team goalie when I arrived at Sunderland but unfortunately got into a bit of trouble with injury. He had very good reactions, was very good on his line and was very quick. He is a good lad, too, and I am still very friendly with him.
Full-backs: Glen Johnson and Danny Rose
Johnson is strong and likes to go forward, while Rose is very quick and strong which is what you want from a left-back. He is a very good player and can go for it for the full 90 minutes.
Centre-backs: Vincent Kompany and Kolo Toure
Kompany is a real leader and strong and physical, too. He passes on his experience and that makes it easy. Toure is similar and a good character as well. We both speak French and we chat about football and stuff outside of football, too. I really like his personality.
Wingers: Eden Hazard and Bolo Zenden
I have gone for Eden because of his technical ability, because he always tries to put in performances, and because he is a strong character. Zenden, meanwhile, was a big brother to me at Sunderland and helped me on and off the pitch. He could get up and down, do crosses and set pieces, and was very hard working.
Central-midfielders: Steven Gerrard and Moussa Dembele
Everybody knows the ability Stevie has and how good a player he is; he is a great passer but also asks for the defenders to give him the ball and moves things onto the forward line. He is another leader and an obvious choice. Next to him would be Dembele, who is strong, keeps the ball very well and gets up and down the pitch.
Strikers: Steven Fletcher and Luis Suarez
Fletcher has a nose for goals but even when he doesn't score he works really hard to get the ball back and is good at holding it up with his feet. Luis' presence causes problems for defenders and he can score goals out of nothing, which I'm sure he will do this season.