Arsenal v Liverpool: Away team may look to attack Aaron Ramsey
Aaron Ramsey has been superb, says David Jones, but could be Arsenal's weak link against Liverpool.
Last Updated: 31/10/13 5:10pm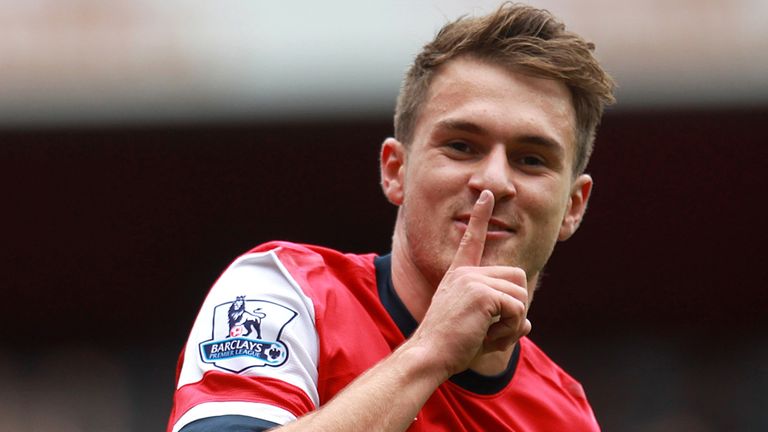 The questions now are how long can they stay there and are they a genuine threat to the three clubs who've shared the title for the past nine seasons: Manchester United, Manchester City and Chelsea?
This game should provide some clues.
Arsenal's critics maintain that despite their excellent start, their squad is too thin to sustain a challenge.
Just look at the way Chelsea were able to change their team in the Capital One Cup and still maintain superiority over Arsene Wenger's shuffled side.
In that game Arsenal's reliance on Olivier Giroud was clear to all - Wenger is kidding no-one if he claims Nicklas Bendtner is a willing and able deputy.
But he has problems elsewhere this weekend, too, and with Mathieu Flamini missing from the midfield, Aaron Ramsey could be asked to play in front of the back four.
The Welshman has been one of the major plus points of the Gunners' start but as he's shown, his strength is higher up the pitch and twice already he has been caught in possession on the edge of his own box - conceding goals against Marseille and Borussia Dortmund.
It's an area Liverpool may look to exploit, depending on how bold Brendan Rodgers chooses to be at the Emirates.
Uncomfortable
In their win over West Brom last Saturday - to some judges their best performance of the season - Lucas acted as the holding midfield player while the starting positions of Steven Gerrard and Jordan Henderson were more advanced.
Rodgers explained: "When you play the two controllers you don't cover the pitch well enough, but if you flip the triangle around and play with one controller, it pushes the two advanced ones up the pitch more and they can press it better."
It could be an uncomfortable afternoon for Ramsey and Mikel Arteta if Liverpool use the same plan again.
Fundamentally, though, it will be 3v3 in the midfield and this game could be decided in the wide areas where, with Liverpool playing three at the back, Arsenal should have a numerical advantage.
Wenger will encourage his full-backs up the pitch to support his wide men in the hope gaps appear elsewhere.
It will be a fascinating tactical battle between two sides determined to prove their worth, not to mention three of the best strikers in the league this season.
Suarez and Sturridge look the deadliest partnership in England but Giroud, who is asked to very play a different role at the point of Arsenal's attack, has flourished with the responsibility.
And to think the Frenchman might have been the support act had Wenger landed his number one target this summer, the Uruguayan who always scores at the Emirates... Luis Suarez.