'Let's win every game'
Ahead of the showdown with Arsenal, Liverpool goalkeeper Simon Mignolet gives Sky Sports an exclusive Q&A on the title race, the importance of Luis Suarez, and life as Liverpool's new No.1
By Peter Fraser - Follow me on Twitter @SkySportsPeteF
Last Updated: 03/11/13 12:43pm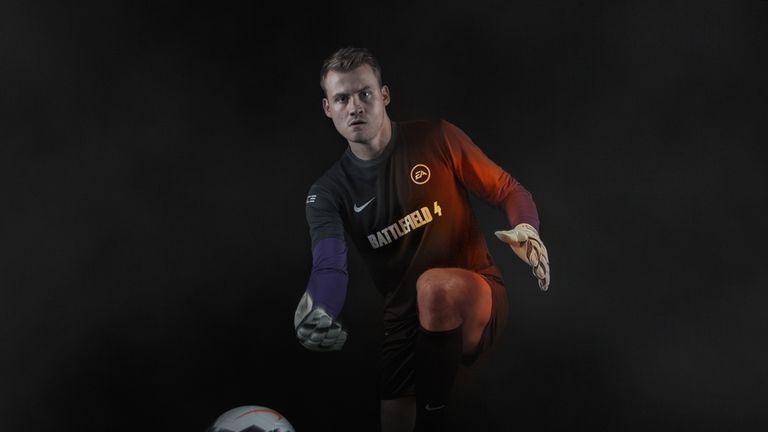 Filling the boots of the popular and talented Jose Reina at Liverpool is no easy task but Simon Mignolet has succeeded in style.
Following his £9million move from Sunderland in June, the giant Belgian has impressed at Anfield ever since saving a penalty on his debut against Stoke City.
Such has been Mignolet's form, Liverpool have the fourth best defensive record in the Premier League so far this season and Reina's loan to Napoli has gone almost unnoticed.
That good start to the campaign has even seen Liverpool mentioned as potential title winners by some but Brendan Rodgers' team face a huge test on Sky Sports' Saturday Night Football this weekend when they visit table-topping Arsenal.
Mignolet, while he does not want to get carried away, is keen to build on Liverpool's strong start to the season and, here, speaking at the launch of Battlefield 4, the goalkeeper discusses the meeting at Emirates Stadium, the title race, life at Liverpool and the rise of Belgian stars.
How important is Saturday evening's game against Arsenal in the context of Liverpool's season?
"First of all, it is a big opportunity for us to go out and play. It is a nice game to look forward to as a footballer. As a team, we all want to go into the game with confidence and motivated to do well. We will try and do our best and get out of the game what we can."
How will Liverpool deal with the threat of Mesut Ozil, and what other dangers do Arsenal pose?
"Arsenal have started the season really well. Mesut Ozil has got a lot of ability and has been scoring the goals. They have players with a lot of ability. But, for us, it is more about looking at ourselves and making sure we give the performance in the manner we want to play. We have to make sure we play at the best level we can."
What can Liverpool achieve this season? Can you win the Premier League title?
"That is very difficult to say. After the international break in November, there are still a lot of games to be played between then and February. For us, we have to make sure we do our best in the next game, which for us is Arsenal. It is important not to look too far ahead. We have had a decent start to the campaign but the only thing we can do with a decent start is build on that and make sure we continue in the same manner as we have so far. We will see what all the points add up to at the end of the season."
But there must be an ambition among the Liverpool squad to end the club's long wait for a league title?
"We, as a team, want to do well and win every game. That is what we are aiming to do. We have got a team who work really hard together in training. Hopefully we can do those things in games, as well."
You have made an excellent start to your personal Liverpool career since your summer move. How would you assess the start to your days with the club? Do you feel settled?
"When you arrive at a new club, you always want to do well and you always want to show the fans that you are there to do a job to the best that you can. The penalty save against Stoke on my debut made things easier and gave my confidence a boost. But I do not want to look behind me. Things can turn very quickly in football and what is more important is what is in the future rather than what is in the past. I want to work hard and do my best in the games."
Do you feel a weight of expectation in every match you play at a club the size of Liverpool, and especially as you are following in the footsteps of a goalkeeper of the calibre of Jose Reina?
"There is always going to be pressure and expectation at every club when you arrive. I remember when I came from Belgium to England, there was big competition for places at Sunderland with international goalkeepers like Craig Gordon and Keiren Westwood. Now, at Liverpool, when I signed, Pep [Reina] was still at the club, Jonesy [Brad Jones] is also here and so is Danny Ward. We work hard together in training and the competition for places can only make you better as a footballer. It brings the best out of you as a player."
What is it like to play with Daniel Sturridge and Luis Suarez? Are they the best goalscoring partnership in the Premier League?
"You can see the ability and quality they have. Obviously, at the moment, they are scoring goals for us. Hopefully they can keep doing that, because we know if they are scoring at one end of the pitch, the only thing we have to make sure of is keeping things tight and making sure we do not concede. I come across them every day in training and they are a very good finishing duo. At the moment they are doing really well. It is not really important if they are the best in the Premier League or not. What is more important is that they are scoring goals for the team."
There has been some speculation about the future Luis Suarez again trying to get a transfer in the January window. How important is it for Liverpool to make sure he does not leave?
"He is doing really well at the moment. He works really hard for the team, not only in scoring goals but also defensively and trying to win the ball back. He works hard with Daniel. The effort Luis puts in for us is good for us, so hopefully he can keep doing that."
What is Brendan Rodgers like as a manager, and how much are you enjoying working with the Liverpool boss?
"He gives the players a lot of confidence and he wants us to play a certain style of football. As I said, we have had a decent start to the season. We want to continue with that and I am sure the manager would want that, as well."
Steven Gerrard recently scored his 100th Premier League goal. What is he like as a player, team-mate and captain?
"From the moment I arrived at the club, I have felt welcomed by everyone and all the people around our Melwood training ground. If you are someone at the club, you look up to Steven. The way he deals with me and the rest of the players, he is a big gentleman. He made me feel welcome from the first day. I can also only congratulate him for the number of goals he has scored. Hopefully he can score a lot more in his career."
You are a part of the star-studded Belgium team who are highly-rated ahead of next summer's World Cup. In comparison, much has been made of England's perceived lack of talent. What is the secret to a Golden Generation?
"It is a difficult question but when Belgian players first arrived in the Premier League and at other clubs, they showed they can do it. Vincent Kompany, Thomas Vermaelen and Marouane Fellaini were among the first to arrive and showed that Belgian players have the quality to play in the Premier League. Since then, other teams are more likely to give Belgian players a chance. If you give players the chance to play at the higher level, it only makes it easier for those players at international level. At the moment, our Belgium squad has players from lots of big clubs."
Battlefield 4 is available NOW on Xbox 360, PlayStation 3, and PC. Check out what happened when The Slow Mo Guys blew up a hand-grenade here #BF4