The Fantasy Football Club: Jordan Henderson picks #One2Eleven
Gerrard, Rooney and more... Jordan Henderson's #One2Eleven features some stellar performers.
Last Updated: 21/12/13 2:46pm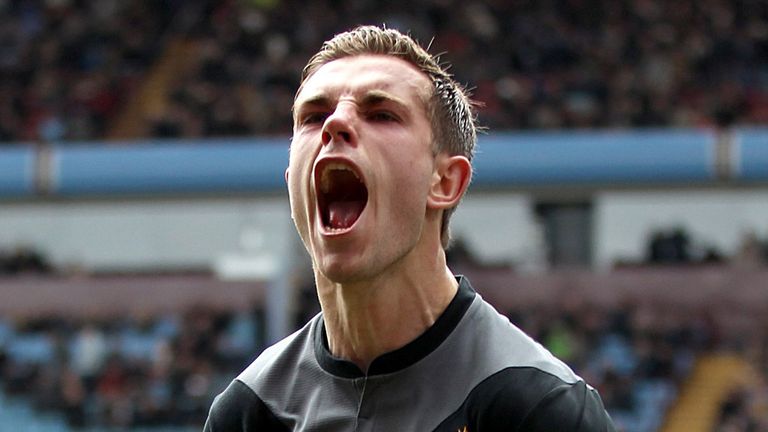 The former Sunderland man - who will be hoping to feature in next summer's World Cup in Brazil - answered that question by picking his #One2Eleven on the pre-Christmas edition of The Fantasy Football Club.
So read below to see which Uruguayan superstar (we bet you can guess who it is) made it into Henderson's front-line, which Belgian was given the goalkeeping gloves, and why the 23-year-old's side is comprised of 12 players...
Goalkeeper - Simon Mignolet
I played with Simon at Sunderland and thought he was fantastic as soon as he came in. He works really hard off the field in the gym getting his upper body right and becoming strong, and since he has come to Liverpool he has been outstanding.
Full-backs - Glen Johnson and Ashley Cole
Johnson is outstanding; he trains really hard and is a modern-day full-back in the sense that he loves getting forward. He can create a lot of chances and get a goal as well. Cole has been one of the best left-backs for many years, but Leighton Baines is very close to him.
Centre-backs - John Terry and Jamie Carragher
Terry is a proper defender who will chuck his head anywhere just to stop the ball. Carragher is really experienced and used all of that when he was playing; he was always talking and helping people out and wanted to win every game. People are now really enjoying him as a pundit, too.
Centre-midfielders - Steven Gerrard, Lucas and Philippe Coutinho
I watched Gerrard when I was growing up and he was outstanding. He can take a game by the scruff of the neck and win it on his own. He is a winner, loves football and has really helped me. Lucas has great knowledge of the game and read it so well, while Coutinho has fantastic feet and can really see a pass.
Strikers - Luis Suarez, Wayne Rooney and one half of Danny Welbeck and Daniel Sturridge
Suarez is one of the best players in the world - he is outstanding with both feet and gets goals and assists - while Rooney has two feet, is great at set-pieces, finishing and heading. Welbeck is doing really well with Man United and England and is quick strong and can get a goal, while Sturridge has really kicked on and is scoring and creating goals.