Lessons learnt
Liverpool have a serious problem with holding on to the lead in the 'big' matches, while Chelsea delivered their most impressive display of the season so far, writes Matt Stanger
By Matt Stanger
Last Updated: 30/12/13 10:09am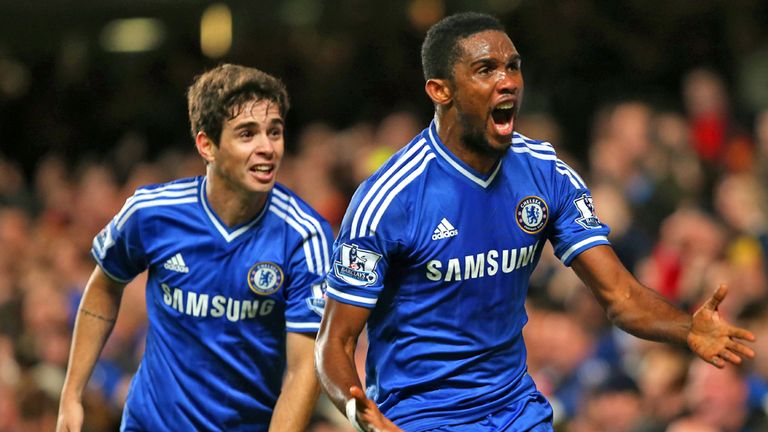 Ominous signs?
Was that Chelsea's most impressive performance of the season? We have been distinctly unimpressed by Jose Mourinho's second coming at Stamford Bridge, but Liverpool's early goal provoked the Blues into a stirring fightback. They dominated the first half, survived a prolonged spell of pressure after the break and now stand only two points behind Arsenal at the half-way stage despite failing to reach their previous standards. That should serve as a stern warning to Chelsea's title rivals, with Mourinho proving he is capable of eking consistency out of a team that is nowhere near the finished article. With the Blues still missing a prominent goalscorer and requiring restoration in central midfield, a title win in this campaign would be rather similar to Sir Alex Ferguson's final success last season. Although perhaps Mourinho will find himself better-equipped following a splurge in the January transfer window.
Additions needed
What now for Liverpool? They could argue that they didn't deserve to lose either match against Manchester City or Chelsea, but those complaints don't change the fact that back-to-back defeats have left them sitting in fifth and only two points above Manchester United. For the excitement of the first half of the season not to be short-lived, Brendan Rodgers must clearly strengthen his small squad in January - a point emphasised by his limited options on the bench on Sunday.
Liverpool have played remarkably well in recent weeks, but failing to seize a brilliant opportunity to return to the Champions League could be potentially catastrophic. It would almost certainly seal Luis Suarez's departure while the clubs around them at the top of the table will surely spend in the summer to increase the gap next season. It's difficult to avoid the feeling that it's a make-or-break campaign at Anfield and, after proving that he can harmonise an impressive run of results with some superb performances, Rodgers should be backed by FSG to take advantage of an encouraging start. The Reds have now played every other team in the top eight away from home - bar United - and, combined with the return of Steven Gerrard and Daniel Sturridge, two or three new arrivals could see them rekindle their early momentum after a difficult week.
Lucky Eto'o
Rodgers wisely chose to avoid criticising the referee on this occasion, but there were several key decisions that went against Liverpool in a pulsating encounter. Samuel Eto'o's dangerous challenge on Jordan Henderson in the first minute went unpunished, prompting that most perverse of suggestions that it was 'too early' for Howard Webb to make such a big call. Webb then failed to spot John Terry's barge on Suarez in the second half that should have resulted in a penalty, before Eto'o lunged into the striker in the box soon after.

Work to do...
Having also been denied a spot-kick against City on Boxing Day, it's clear that Suarez's reputation now precedes him.
"Throughout South America and parts of Europe it (deception) is part of the game to maybe get the referee to make a decision for you," said Rodgers this week. "He has recognised and realised that this is a country where honesty is very much at the forefront of the game."
Despite finally recognising the need for honesty, it appears Suarez faces a difficult task to convince the officials of his new-found integrity.
Same old (set-piece) story
So, to the opening goal that promised so much for Liverpool on another fruitless afternoon. Mourinho has been enormously critical of Chelsea's set-piece defending this season - suggesting that even training dummies could score against them - and he will have been frustrated by his team shipping another error-strewn goal from a free-kick on Sunday. Branislav Ivanovic was guilty of allowing Suarez to get the wrong side of him on Philippe Coutinho's excellent delivery, while one wonders how Martin Skrtel was able to react quicker than the rest of Chelsea's defence to tap home. The Blues have now conceded a higher proportion of goals from set-pieces (37%) than any other side in the Premier League this season, leaving worrying concerns over John Terry's previously imperious organisation.
Food for thought
Although Mourinho will have been thrilled by the way his team instantly fought their way back into the match, Eden Hazard's equaliser owed much to Liverpool's poor defending. Joe Allen was level with the Belgian when he dropped deep to start to the move for the goal, but he failed to track Hazard as he continued his run to the edge of the area, from where he curled home a beautiful finish. With Lucas also guilty of allowing Oscar to wriggle away from him, the Reds presented the opportunity with little resistance.
Of course, this is not the first time Liverpool have let a lead slip away from them almost immediately, having conceded an equaliser to City only seven minutes after Coutinho's opening goal on Boxing Day. Further investigation shows that failing to tighten up in the period after taking the lead in the 'bigger' fixtures is an inherent problem for the Reds, stretching back throughout last season as detailed below:
i) After scoring first against Manchester United in September 2012, it took only five minutes for Liverpool to concede an equaliser as Rafael was left unmarked in the penalty area.
ii) In January, a 2-0 lead over Arsenal was thrown away within seven minutes of Jordan Henderson scoring Liverpool's second.
iii) In the following fixture against City, the Reds allowed a 73rd-minute strike from Gerrard to be cancelled out only five minutes later.
Combined with the two turnarounds this week, it makes for unpleasant reading for Rodgers and poses an obvious problem he needs to solve.
Defensive dilemma
With Liverpool also recording fewer clean sheets than Norwich in the first 19 matches - and only one in their last eight fixtures - it is clear that they require more resilience in defence, especially on occasions such as Sunday when they are forced to grind out a result. That issue may be down to Rodgers tinkering with a new-look back line in the first half of the campaign, but he has repeatedly promised improvement that has yet to be realised. Despite his many achievements over 2013, is this perhaps the manager's weak link?
Change of heart?
Said Mourinho soon after his appointment: "We are now going to change. I don't want to defend as a low block. I don't want central defenders playing in midfield. I don't want long balls to a lonely striker. I don't want to do that."
After distancing himself from Rafa Benitez's reign - a manager for which he appears to have little respect - it was intriguing to see Mourinho opt to play David Luiz in midfield for the first time this season. There have been lingering suggestions that Chelsea actually performed better when Benitez was in charge and, after Luiz impressed in his role behind the front four, Mourinho may be forced to swallow his pride. The Brazilian's involvement in the middle helped the Blues to play with more purpose and tenacity as they sought to win the ball back quickly and supply Hazard and Oscar in the final third. It was a much more vibrant display than the dull 0-0 draws against Arsenal and United, and it will be interesting to see if Chelsea revert to the system in the re-matches against their title rivals.
Press, press, press
This is not to say that Mourinho switched entirely to an approach he previously opposed. There was no 'low block' in Chelsea's system, with Oscar, Luiz and the lively Willian all working tirelessly to press Liverpool's midfield and recover possession high up the pitch. In the first 20 minutes, Chelsea won the ball back on 13 occasions, only three of which were in their own half. The Blues intended to be proactive and their enormous work-rate helped them to command an opening 45 minutes that saw Liverpool increasingly unravel.
No.10 the key
Oscar was key in this approach and his performance added further weight to Mourinho's reasons for preferring the Brazilian as his No 10 over Juan Mata. That he made more tackles than any other Chelsea player in the first half and won an astonishing eight aerial duels throughout the match (Lucas recorded the second-highest, with four) underlines Oscar's understanding of his manager's demands. There was one passage of play in the second half that typified this point, as the playmaker tackled Lucas on the edge of the Liverpool box but dragged his shot wide. While Hazard has mainly received the plaudits for his improvement this season, Oscar is even more integral to how Mourinho wants his team to play and it's likely he will have a significant say in where Chelsea finish.
Poor passing
Chelsea's high pressing worked almost perfectly in stymieing Suarez's influence, especially in a first half that saw the striker remain on the periphery of the action. Indeed, Liverpool struggled to get the ball to any of their front three before the break, and they were quickly put under pressure on the rare occasions they did have possession. With Suarez averaging a pass completion rate of just 72% in the opening period, Sterling an abysmal 55%, and Coutinho 70%, the Reds failed to hold on to the ball long enough to create the sort of chances that threatened City's perfect home record on Boxing Day.
And then things went from bad to worse, as Simon Mignolet's pathetic attempt at saving Eto'o's weak effort allowed the Cameroonian to score the winning goal. There was a sense that it had been coming as Chelsea - who averaged 60% possession in the first half - continued to press, but Rodgers will be bitterly disappointed with his team's defending yet again. Firstly, Coutinho failed to track Cesar Azpilicueta's run down the right, and then Skrtel was caught on his toes as Eto'o slipped free from his grasp. The centre-back often appears too preoccupied with his man, rather than judging the delivery from the flanks, and he was caught out by the simplest of movements.
Limited bench options
With few options to change things from the bench, Liverpool struggled to force an equaliser despite improving after the break. The first half ended with Chelsea flaunting their superiority but, to Rodgers' credit, his team were more composed at the start of the second period. The movement in the final third improved as Chelsea began to tire and consolidate their position, with Henderson setting up Suarez for a chance from the edge of the area that mirrored the opening goal against Cardiff. However, with only Brad Smith and Iago Aspas introduced as attacking reinforcements, the Reds were unable to capitalise from their recovery.
Fight on
That was in part down to another abject display from Glen Johnson, whose poor decision-making led to the collapse of several promising moves. Speaking in the Sky Sports studio, Jamie Carragher said that Johnson faces a fight to hold on to his England place ahead of Kyle Walker and on recent form that isn't a ludicrous suggestion.
For the love of...
Please, no more shirt-swapping at half-time. It might be a trivial issue, but it was pathetic for Sakho to ask for Eto'o's shirt at the break. When your team is trailing after throwing away the lead, the last thing supporters want to see is one of their own behaving like a star-struck fanboy.