Gary Neville: Raheem Sterling right to draw penalty for Liverpool at Stoke
Gary Neville says Raheem Sterling "did the right thing" in winning Liverpool a penalty at Stoke.
Last Updated: 14/01/14 10:21am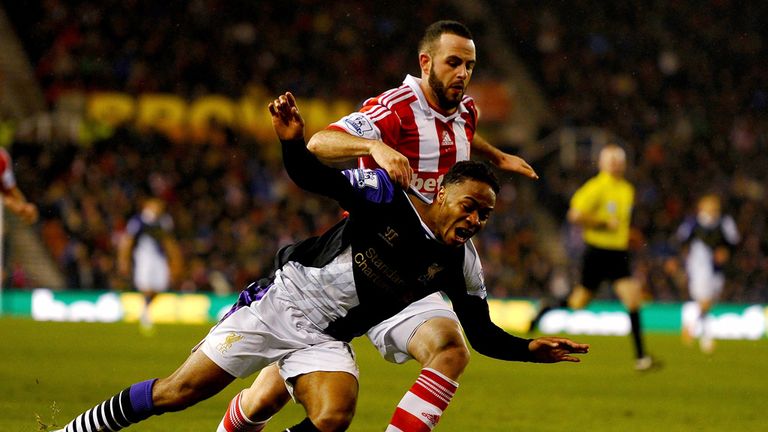 Stoke boss Mark Hughes accused the Liverpool winger of going to ground "too easy" under the challenge of Marc Wilson to earn the spot-kick that saw Liverpool go 3-2 ahead in a game that they eventually won 5-3.
Sky Sports expert Neville agreed the decision was a soft one but says no criticism should be aimed at Sterling, arguing that he did well to draw the challenge from the defender.
And the England coach says he would encourage the country's international players to do the same thing at next summer's World Cup.
"I'm a little cynical about forwards in the sense that I think he's done exactly the right thing," said Neville on Monday Night Football.
"He has cut right across the defender and Wilson put a lazy leg out, whereby you give the forward the opportunity.
"I'm quite calculated about this. For me, if that was an England player in the World Cup - and Raheem Sterling must be in with a shout of going to a World Cup because he's obviously a talented player in good form - you would want him to do exactly that; commit the defender and win your team the match.
"Be clever and win your team the match. You could be a brave soldier and stay on your feet - and I'm sure Raheem Sterling with his balance could have done - but for me he has done absolutely the right thing and has won his team the game.
"I've never changed my mind on this. I think when defenders stick those legs out, even though you could potentially argue it was a soft penalty - and it absolutely is - I think he has given the referee a decision to make and has given Sterling the opportunity to cut across him and win that contact.
"That, as a player, is something you try and draw out of a defender."
'Spanish penalty'
Liverpool manager Brendan Rodgers described the incident as a "Spanish penalty" and Neville says perceptions may need to change amongst English supporters.
And he says professional players may view the incident differently to fans who want footballers to stay on their feet.
"Personally I think it was a soft penalty," he added.
"Brendan Rodgers said it was a 'Spanish penalty' and I thought that was telling. I don't know what he's saying actually, but it seemed to me he was saying 'I've got a player here who has done something that a Spanish player would do'. That's obviously what he's saying.
"We can either turn around and say we don't like that, which we've talked about it many times, but I think he's done the right thing. He has drawn the foul.
"As a defender, if you put your leg across you are giving a forward - a clever forward - a real chance to make a lot of it. I think that's what Sterling has done there.
"I don't get as wound up over this, personally from a professional point of view, as a lot of people do at home who don't like it. They think they've got to stay on their feet at all costs."