Football Podcast
The end of Man Utd's title hopes, Tim Sherwood's start at Spurs, and the latest transfers are debated.
Last Updated: 20/01/14 3:15pm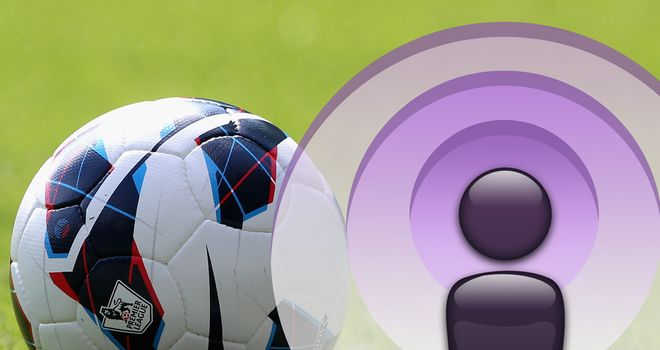 Sky Sports News radio presenter Ben Ransom is this week's host and he is joined in the studio by TEAMtalk.com duo James Marshment and Sam Nightingale as they mull over another action-packed weekend in the Premier League.
Curtains for lifeless United
The trio discuss another damaging defeat for David Moyes, going into detail about where Manchester United lost the battle at the Bridge and why their title hopes are now over.
Marshy is hyper-critical of the United squad, saying other than five players, there's little quality or longevity in the players currently at Old Trafford.
Sam discusses the re-birth of Samuel Eto'o and the work Chelsea have done with him to get him up to Premier League speed.
Super Sherwood firing Spurs
The trio hail the return to form of Tottenham under Tim Sherwood and the brilliant form of Emmanuel Adebayor.
Sam purrs at the man-management skills of the new Tottenham boss, while Marshy credits his tactical nouse despite his relative inexperience.
Complacent Reds still in hunt?
The trio debate whether Liverpool are still in the title hunt following their 2-2 draw with Aston Villa, and have differing views with Sam lambasting their defensive inefficiencies, and Marshy suggesting their forwards could still fire them to a shock title win.
Relegation dogfight
The relegation issue continues to divide opinions, with Ben suggesting Sunderland can survive and even Hull could get dragged in, while Marshy reflects on a criticial four-match period coming up for struggling Swansea.
Transfer window review
The moves of Nikica Jelavic and Shane Long to Hull, plus Chelsea's decision to sell Kevin De Bruyne and bring back Nemanja Matic are all debated.
You can also download the Football Podcast on iTunes.
If you want to get a mention on the next Football Podcast, send a tweet to @TEAMtalk with the hashtag #ilovethepodcast - and you may be one of the lucky ones selected.