Premier League: Liverpool taking football back to its roots
Vinny O'Connor reports from Merseyside where Liverpool are helping take football back into the community.
By Vinny O'Connor
Last Updated: 06/02/14 9:21pm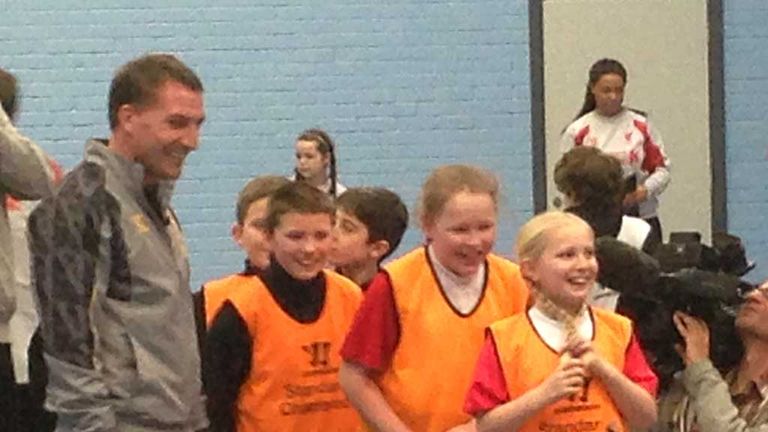 Too often in football we get away from the simple enjoyment of the game. We talk about revenue streams, profit margins, the 'matchday experience' even, almost neglecting the joy kicking a ball around can bring.
Joy that's taken to another to another level when you get the opportunity to do that with your heroes.
So when Brendan Rodgers and his backroom staff walked in to a sports hall, a mile down the road from Anfield, you can probably imagine the reaction from the 40 Primary School Children gathered to take part in the Liverpool FC Foundation's Fun Challenge Day.
The excitement and cheers gave way to a willingness to impress and congratulatory high fives, as penalties were dispatched, cones dribbled around and relay races run. In the thick of it the coaching team and the Liverpool manager himself, who even drew a handshake out of a young Evertonian.
"It's a truly unique City, Liverpool," said Rodgers, "it's a wonderful place to live. Both sides are very passionate about their club, both Liverpool and Everton. And for what Liverpool Football Club does for its own it does amaze me. They visit hundreds and hundreds of kids on a weekly basis and truly look to make a difference to their lives.
"This is normal life. We're all wrapped up in our lives as Premier League managers or players. But this here's about the opportunity to help make a difference to children. And the foundation do a brilliant job in terms of inspiring a real positive outcome for a lot of these kids and to play a part in that is always very important to me.
"It's always taken me aback since the day I came in, the sheer size of the club, but also the willingness of so many people to work tirelessly on behalf of the local community."
Rodgers' coaching career began working with children and by returning to those roots he provided invaluable support to his clubs community work.
"The Liverpool FC Foundation is here to raise aspirations of young people and to be a positive influence," began Mark Haig, the head of operations for the Liverpool FC Foundation. "And what can be a better influence than seeing the manager and his backroom staff here supporting our work in the community?"
Success on the pitch is another factor that helps inspire youngsters through sport. To that end, Champions League football remains the goal for this season. Brendan Rodgers is already working on potential summer transfer targets, in the knowledge that where Liverpool finish will drastically alter the market they will be shopping in.
"I think any team will tell you, if you finish in those Champions League places, and you've the opportunity to work at that level, then certain players will only come to your club on that basis," was Rodgers response to the challenge he faces to improve his squad. "So for us the idea is to be there. It's going to be very difficult but we've had a wonderful season up until now. We want to continually improve and develop. We are still only 18 months into this growth of the team, so we'll be pushing as hard as we can this year and we'll see where it takes us."
And so we are back to putting smiles on faces....at the highest level a top four finish will do that for Liverpool, while Rodgers handing out prizes to every child at the Foundation's challenge day had a similar impact.