Can Liverpool win the title?
Sky Sports News' Vinny O'Connor has been out and about in Liverpool asking the million dollar question - Can Liverpool end 24 years of hurt and win the Premier League title?'
Last Updated: 14/02/14 8:44am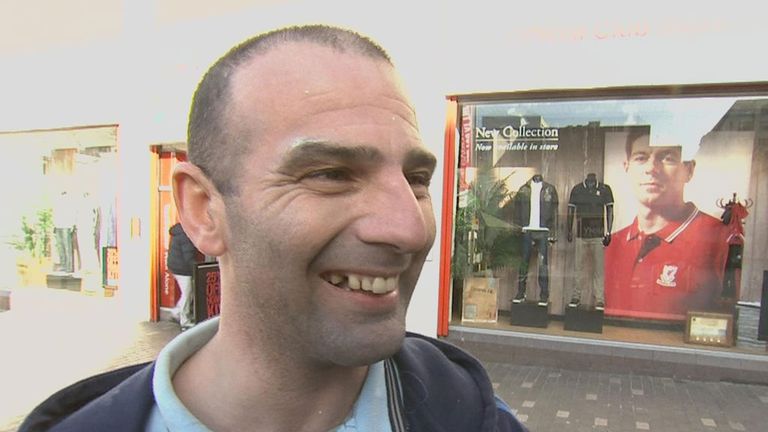 After spending a morning in the centre of Liverpool talking to Liverpool fans from all walks of life, soldiers to stall holders, pensioners to taxi drivers, I was left in no doubt by the majority of them that they were backing their side for the Premier League title. One painter and decorator told me he was heading straight to the bookies to put his money where his mouth is.
So when I tweeted my findings, while I expected Evertonians and Manchester United fans, among others, to disagree, I didn't expect replies from Liverpudlians along the lines of "that's nonsense," "we won't win anything," and "I highly doubt any Liverpool fans will be saying we can win the league."
For me it was like one of those 'look for your win' moments, because why can't Liverpool win the league?
Defensively they make too many mistakes, I've been told. Well, who's to say that isn't going to change?
The squad isn't big enough, another argument thrown my way. Surely, though, with no European football to worry about that isn't such a problem?
The fact is Liverpool are unbeaten in nine games since back-to-back losses against Manchester City and Chelsea, winning seven in that time.
Yes, points were dropped against West Bromwich Albion for example, but didn't Chelsea slip up there too?
Both Chelsea and Manchester City still have to visit Anfield in April, as do Spurs at the end of March. With Liverpool only four points off the top at this moment the significance of those games in terms of the title race is growing, particularly if they continue to show the kind of form they did against Arsenal.
Obviously I'm playing Devil's Advocate here, and when you walk into reception at Melwood, the big gleaming European Cup reminds you that Brendan Rodgers has told you umpteen times that the aim is Champions League Football for now. If that hadn't jogged my memory then Jon Flanagan reminded me over and over again. Yet once, just once, the guard slipped slightly.
"For a local lad not having won the title for 24 years, it is in my mind everyday and it is do-able," he said, "but all the lads are just looking for top 4 and if we are in and around there with, say, 5 games to go maybe, who knows."
This season's proving to be somewhat of a breakthrough for Flanagan. A first Premier League goal, a tweet from Cafu, his manager talking up his England chances and learning from a captain whose performance against Fulham may prove to be a defining moment.
"He was absolutely fantastic. His ball through to Sturridge was world class and then his composure for the penalty was unbelievable. He's carried this club for years and we are all right behind him to hopefully get the top four this season."
So there again the Champions League qualification mantra crops up, and Steven
Gerrard may not be about to end that wait for a Premier League winners medal. But Liverpool have momentum and with that a shot at winning the title.
Remember, 12 months ago if you'd asked Jon Flanagan 'do you reckon Cafu knows who you are?' he'd have said 'no chance!'