April on Sky Sports - the only place to watch the race for the title live
Sky Sports will show 17 live Premier League matches in April as the season approaches its climax.
Last Updated: 22/04/14 5:41pm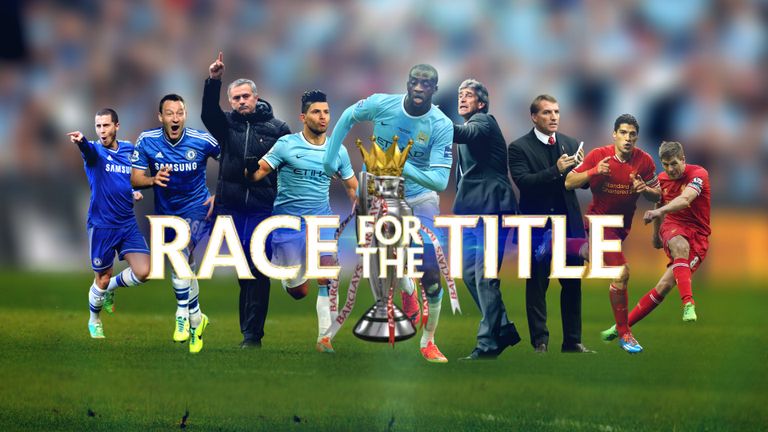 Viewers can enjoy 17 live matches on Sky Sports in April, including a record 16 fixtures involving teams currently in the top six, with a standout fixture Liverpool's game with Man City on April 13. Sky Sports will also show Liverpool versus Chelsea on April 27.
April's remaining live fixtures on Sky Sports
Manchester United v Norwich City, Saturday 26 April, 5.30pm
Sunderland v Cardiff City, Sunday 27 April, 12.00pm
Liverpool v Chelsea, Sunday 27 April, 2.05pm
Crystal Palace v Manchester City, Sunday 27 April, 4.10pm
Arsenal v Newcastle United, Monday 28 April, 8.00pm
Never before has Sky Sports shown so many matches featuring top of the table teams in one month, and the selections mean that during March and April, 29 of 33 live matches on Sky Sports will feature teams in the race for the Premier League title and Champions League qualification.
Coverage
Only on Sky Sports can viewers enjoy in April:
- A record 16 matches involving at least one team from the current top six
- 17 teams in 17 live matches
- 13 of the month's 14 matches involving teams currently in the top four
- All of Chelsea, Arsenal and Liverpool's fixtures live
- The current top four teams shown at least three times each
- Live coverage of the two top four head to head fixtures
- On average, four live matches each weekend of the month
- Two 'triple-header' Super Sundays
- Ten matches in nine days between 19 -28 April
Sky Sports will also be the only place to watch the current top four teams in May, with at least seven live matches during the final two weeks of the season.
Jamie Carragher, Sky Sports football expert, said: "It's going to be an incredible end to an amazing season and I can't wait. It's the most important time of the season and Sky Sports is the best place to watch all the drama and excitement between now and the last day."
The Barclays Premier League is part of an unrivalled schedule of sport on Sky Sports which in April includes the UEFA Champions League, ICC World Twenty20, the Masters, Heineken Cup rugby, ATP Tennis and Formula 1 season.
All of Sky Sports' live matches will be available to watch in HD, on demand and on the go through Sky Go, the leading sports mobile TV service in the UK. Selected matches will also be shown in 3D.
To support the live match experience, Sky Sports customers can also benefit from the innovative Sky Sports smartphone and iPad apps, which offer additional viewing options and analysis.