Ian Rush: Wayne Rooney-esque Ross Barkley must go to the World Cup
Ian Rush has said Ross Barkley's wonder goal reminded him of Wayne Rooney's trademark strike.
Last Updated: 05/05/14 11:48am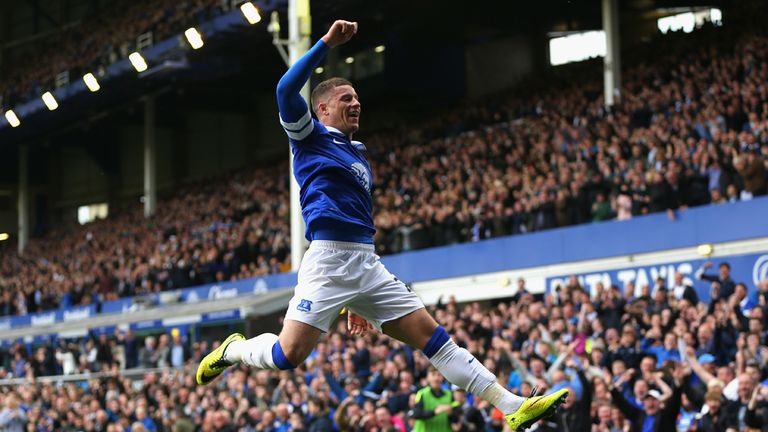 Barkley opened the scoring brilliantly against Manchester City and Rush saw similarities to the 16-year-old Rooney scoring against Arsenal 12 years ago.
Liverpool legend Rush told Sky Sports News: "If you look at that, you'd think it was Wayne Rooney in a blue shirt.
"The goal [Rooney] scored against Arsenal was similar to that. Absolutely fantastic."
Rush indicated that Barkley must be among the 23 players selected next Monday for England's World Cup campaign.
"For me, absolutely 100 per cent he has to go to the World Cup. Starting, I'm not so sure. He can come on and change the game.
"Without doubt, he reminds me so much of Wayne Rooney there."
Title race
Rush also insisted that his former club can maintain their title challenge against Crystal Palace tonight despite City only needing to win two home games against Aston Villa and West Ham.
"What Liverpool have to do is keep the pressure on Manchester City," added Rush.
"Anyone can beat anyone so it would be no surprise to me if Aston Villa - they're safe, they're better away from home, they'll be relaxed - they could get a point [at City]. Same for West Ham.
"I still think the most important thing is Liverpool to get three points against Palace tonight. That puts the pressure back on Manchester City."
Riches
Rush credited City for overcoming Barkley's wonder goal to defeat Everton and claim pole position in the title race but also claimed they should expect to be top.
"[City] showed fantastic resilience. I think, with three games to go, Everton have had an excellent season especially playing at home so you'd think maybe Everton would get a point.
"They played really well, Everton, they didn't let themselves down. But again I think you have to give credit to Manchester City for coming from behind.
"It was the first time from a Liverpool supporter's perspective that you wanted Everton to get a result!"
Rush insisted that City's luxury of rotating their talented squad gives them an advantage.
"They're equipped to challenge in the league and also in the Champions League. No matter who they put on, they're going to have a quality striker.
"It's a great achievement, but no matter what manager you put in there you're expected to win the league, you're expected to do well in the Champions League. That's what the amount of money has paid for.
"For me, Manchester City or Chelsea are expected to win the league every year because of the amount of money that they pay and the squad that they've got."
Should Ross Barkley be in Roy Hodgson's World Cup 23-man squad? Pick yours with the Sky Sports England Squad Selector.