Football Expert & Columnist
Premier League title miss mustn't detract from Liverpool's major progress
Now Reds must build for bigger challenge in 2014/15, says Jamie Redknapp
Last Updated: 09/05/14 1:41pm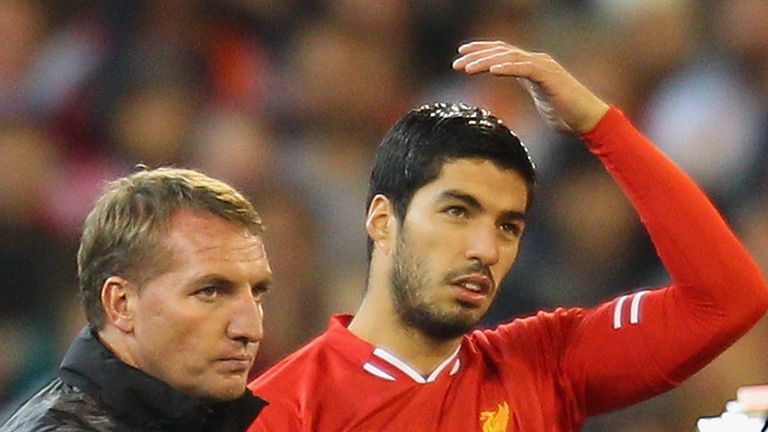 However, I do expect Manchester City to take care of business at home to West Ham, eventually clinch the title on Sunday and - despite spending just 15 days on top of the table this season - lift their second Premier League trophy in three years.
And, if they do, you can't say City aren't worthy winners.
Anyone who wins the league deserves it and City have got good players all over the pitch. Through their spine they have Joe Hart, who has come back to his best, Vincent Kompany, Fernandinho, Yaya Toure, Sergio Aguero, Edin Dzeko and Alvaro Negredo, while their wide men in David Silva and Samir Nasri have been fantastic too.
Yaya Toure is 4/1 to net first against West Ham. Bet now
One hundred goals scored is commendable and they've been absolutely brilliant to watch this season. I'm a big fan of the way they play.
Liverpool, meanwhile, will be hurting.
Yes, they've done so well this season and performed well above everyone's expectations - but, to have come so close, to miss out by two points will be a painful blow.
People will point to the slip by Steven Gerrard against Chelsea or the 3-3 draw at Crystal Palace, but those things happen in football.
The key factor is, at this high-pressure point of the season, Liverpool had so many players who'd never been in their position before, challenging for a league title. Whatever line of work you're in, when you're under pressure it affects you differently - and the Liverpool players struggled to handle it.
The football they've played throughout this campaign, though, has been fantastic. Luis Suarez has been out of this world and rightly deserves the Player of the Year awards he's collecting; he's had that little bit extra on everybody else, even Toure, who has been immense as well.
Brendan Rodgers also deserves plaudits; he's done a great job. When he first arrived at Liverpool I wasn't sure how he'd do. Yes, he was a great talker but could he walk the walk? Well, this season he has. They're playing good football and it seems the players absolutely love him.
I'm pleased he's getting a new contract because if I was at Barcelona or any big club, he'd be right on my radar because of the football Liverpool play under him, he gives youth an opportunity, the players adore him and he's young. He ticks all the boxes.
Resources
Liverpool need to get him signed up and happy because he's been amazing for them this season. He will face a real test of his resources next season, though.
Not playing in the Champions League this year was a significant factor for Liverpool. Perhaps this was their year to do it, their best chance, because of that. There are other reasons they've done well, though - and many other clubs have not had Champions League football and underperformed.
But Liverpool will need to get one or two players in to cope with the extra games and that costs money. Liverpool have done well recently is unearthing a few gems and they will need to do that again. They need to find the next Philippe Coutinho; players who are good footballers, who are under the radar, who won't cost as much.
They can't go to the same shops as Chelsea and Man City so they need to do things slightly differently and continue to give youth a chance.
In terms of signings, I think they need a central defender because Daniel Agger has picked up a lot of injuries this year, although I think Martin Skrtel is a good player, a winner.
The defence has been criticised recently but one of the reasons why the pressure gets on the centre backs is because how far the full backs push on. They can't have it all ways. They've scored 99 goals this season and part of that is because of how much Glen Johnson and Jon Flanagan push up the field.
Keeping Suarez
Liverpool's biggest goal this summer, though, will be keeping hold of Suarez. Not just for Liverpool, but for the Premier League, I hope he stays. But would I bank on it? No, I wouldn't. I've no clue what he'll do.
Real Madrid will be looking at him and thinking Ronaldo- Bale- Suarez is a dream team.
He hasn't got the excuse of not having the Champions League now because Liverpool are in it and fingers crossed he stays because he's a sensational player. When you go to Anfield you are getting value for money watching him. But, despite him saying he wants to stay, you never know in football.
Jamie's backing Liverpool to win 3-0 with Sky Bet. Bet now
However, Liverpool fans will get to enjoy seeing him in action again this weekend and I expect them to finish the season in style by beating Newcastle 3-0.
The two fixtures you'd want at moment are Newcastle or West Ham at home because both teams look relaxed.
Liverpool have got to go about the game in the right way, though, because Newcastle can be dangerous. They need to win the game, take care of their own business - and hope.
If they're ahead and City go behind to West Ham or there's a sending off there will be pressure on the players at the Etihad. Liverpool have got to work on the theory that anything can happen in football... But, regardless of what happens, they've had a great season.