Rodgers revolution
A win over Newcastle was Liverpool's 26th of the season in the Premier League and a new club record. This is just one of the reasons why Brendan Rodgers was a deserved winner of the LMA Manager of the Year
Last Updated: 13/05/14 9:19am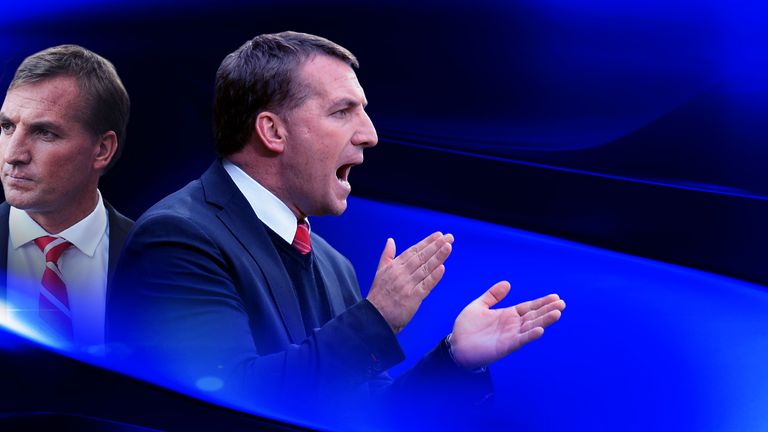 As the dust settles on the closing weekend of a quite brilliant Premier League season, despite not winning the title, it is being recognised Liverpool experienced a superb campaign.
The man behind this incredibly positive and widely unpredicted 2013/14 has been the club's boss, Brendan Rodgers, and, the new LMA Manager of the Year, and he should be considered a boss with exceptional natural ability.
Liverpool fell agonisingly short of Manchester City in their pursuit of a first title since 1990 but, in just his second season since arriving at Anfield from Swansea City, Rodgers oversaw a 23-point swing on his debut campaign as his squad have gone from seventh to Premier League runners-up and a place back in the UEFA Champions League. 
Not only that but Rodgers, who at the age of only 41 has been taking on far more experienced dugout rivals, has achieved this in an on-field style which has captured the imagination around the world from football fans to legendary players.
Rodgers may be criticised by some and the manner in which Liverpool failed to get over the line to win the league will be a disappointment of mammoth proportions, which has come as a consequence of self-destructive defensive frailties, but the positives of the campaign still far outweigh the negatives and look set to earn the Anfield boss a new contract.
MAN MANAGEMENT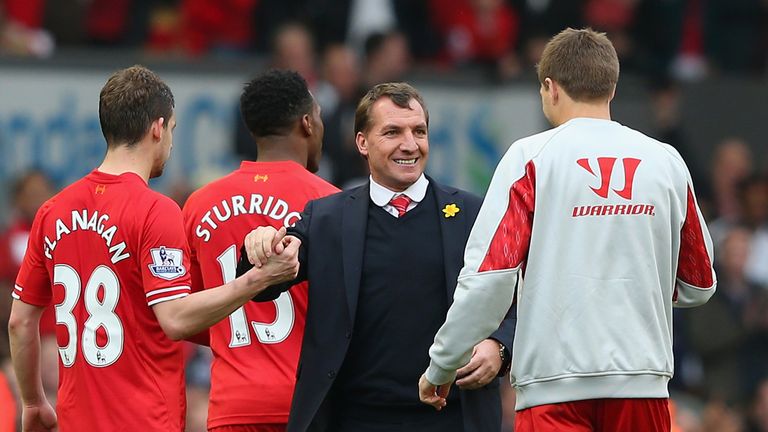 Rodgers' people skills have been a main factor in his success at Liverpool. His squad regularly speak of the confidence they have gained from their manager's backing and the evidence is on the field; the win over Newcastle United last Sunday was their 26th of the season and a new club record in the Premier League.
Captain Steven Gerrard has proclaimed Rodgers' one-on-one management as "the best I have known" while Raheem Sterling, having famously rankled his boss in their first pre-season together in 2012, has said: "He has helped me a lot; not just with my footballing game but if I need someone to talk to about off the field."
Sky Sports' Jamie Redknapp recognises as much, as he says: "Brendan Rodgers deserves plaudits; he has done a great job. When he first arrived at Liverpool I was not sure how he would do. Yes, he was a great talker but could he walk the walk? Well, this season he has. They are playing good football and it seems the players absolutely love him.
"I am pleased he is getting a new contract, because if I was at Barcelona or any big club, he would be right on my radar, because of the football Liverpool play under him, he gives youth an opportunity, the players adore him and he is young. He ticks all the boxes."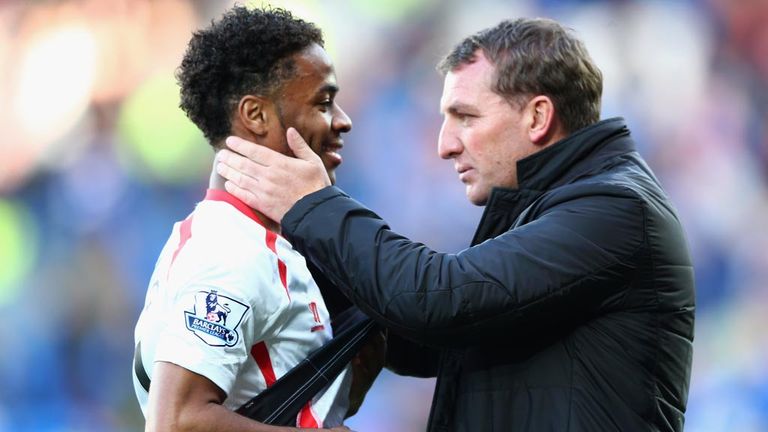 Sterling is a prime example of how Rodgers' man-management has developed the career of a young talent who might have been failing to fulfil potential. The forward is only 19 years old and had largely been written off last summer but he has been extremely influential this season with nine goals and five assists in the league. Jon Flanagan, although he still has his faults as a player who is dribbled past on average more times by an opponent than any other defender in the league, is another young player who has benefited from Rodgers.
Jordan Henderson is yet one more model for Rodgers. It appeared the midfielder was set to leave for Fulham last season after some disappointing form from a player who had been signed in the Kenny Dalglish era from Sunderland in a multi-million pound deal. But given more license under Rodgers, particularly this season, he had been an ever present before his red card against Manchester City in April, delivering four goals, seven assists and remarkable fitness. Henderson's development under Rodgers is perhaps best displayed in his absence as Liverpool scrapped past Norwich City, lost to Chelsea and blew a three-goal lead in a shocking draw with Crystal Palace which cost them the title.
Rodgers, though, is not all about one-on-one management and his desire to build an ethos of togetherness has also been shown throughout the season. This was the case prior to that win over City when he asked certain players to arrange a day of "social bonding" which saw the squad visit a golf resort and spa. It was a team-building exercise and it worked.
The decision to employ sports psychologist Dr Steve Peters, the man credited with revolutionising British cycling, has also already been much publicised and credited in developing the mind-set of the Liverpool squad but it can again not be ignored given it has seemingly been integral in Rodgers' planning.
ADAPTABLE FORMATIONS

It is no secret Liverpool have not stuck to one set formation this season but opponents have still found it extremely difficult to stop given the clever ways in which Rodgers has shuffled his squad for different games and teams throughout 2013/14.
Rodgers' flexible formations have come through hard work on the training field, helped by no midweek distractions in Europe, and developing and drilling this into the adaptability of players in different positions. This is demonstrated below by Liverpool's varying line-ups in games at Sunderland, at home to Arsenal, and away against Manchester United throughout the season.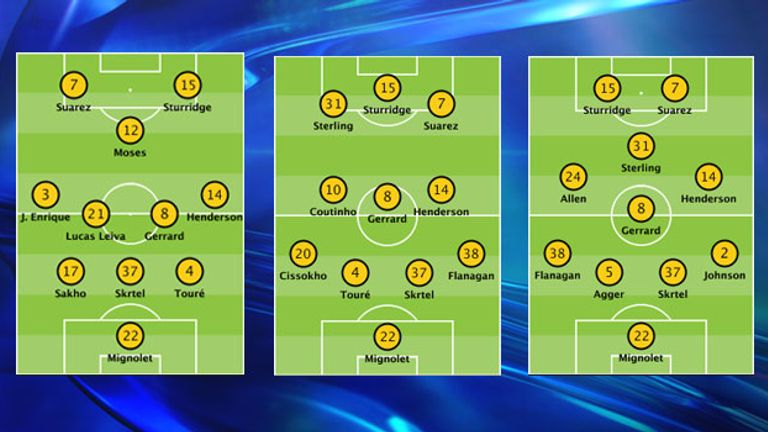 These formations have always been focused on attack, the speed of these attacks – whether at home or away, and trying to ensure Daniel Sturridge and Luis Suarez can play closely together. The influence of Sturridge and Suarez, and Rodgers bringing the best out of the pair, can obviously not be understated.
OPTA FACTS & FIGURES
Luis Suarez is the first Liverpool player to score 31+ league goals in a single season since Ian Rush scored 32 in 1983/84
Liverpool's away games this season have produced 80 goals, the most in a Premier League season
Liverpool have scored 10 penalties this season, more than they have in any other Premier League campaign
For the first time in 50 years, Liverpool have two strikers who have both scored 20 or more league goals and that is no coincidence. Indeed, Suarez equalled the record number of 31 goals in the 20-team era of the Premier League, despite missing the first five games of the season, and was only the second player to reach that total without a single penalty.
Meanwhile, Sturridge has an average of 0.74 goals per top-flight game in the league at Liverpool which is better than any player in Premier League history at the club. It seems incredible now that there was debate about how Sturridge and Suarez would play in the same team. They are fantastic players but the methods Rodgers has utilised - tweaking formations - to nurture even greater levels of performance have been inspired.
The diamond midfield formation, among the examples above as used in the 3-0 win over United, proved incredibly effective in this process in providing the speed of Liverpool's attacks, with either Sterling or Philippe Coutinho playing at the tip of the four, and giving the ammunition for Sturridge and Suarez. Captain Gerrard's reinvention as the deep-sitting midfielder, resulting in the England captain having his best passing accuracy (86 per cent) in the Premier League since Opta records began in 2003, at the base of the diamond was then also a masterstroke. Although not an original formation, it has again been wonderfully refreshing to watch and once more it is credit to Rodgers. 
Of course, the counter argument is that frequent changes in formations and personnel have cost Liverpool defensively in conceding 50 goals, almost double the total of Chelsea's 27. Liverpool's narrow formations have left them defenisvely exposed in wide areas and the defence is to blame for them not winning the title.
Redknapp again says: "Liverpool will be hurting. Yes, they have done so well this season and performed well above everyone's expectations - but, to have come so close, to miss out by two points will be a painful blow."
But Rodgers' creative thinking in outfoxing opposition defences with his flexible, attacking formations is a reason why Liverpool scored 48 away league goals this season, more than any other team in Premier League history. Liverpool also become only the third team to net 100 or more times in a season and Rodgers' attacking mentality is the reason why.
TALKING THE TALK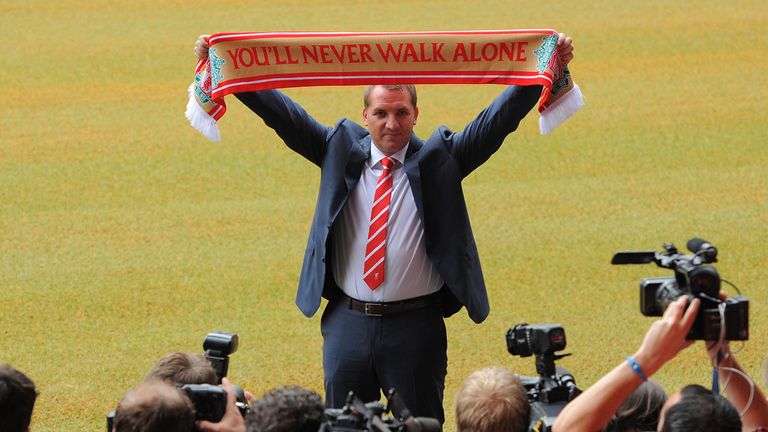 Rodgers has done superbly in getting Liverpool's fans on his side. This comes as an obvious consequence of a successful team but he has also done very well in terms of PR.
From restoring Liverpool's red goal nets and original 'This is Anfield' plaque upon his initial arrival almost two years ago to now saying the right thing in press conferences, Rodgers has played all his cards correctly.
Rodgers always wanted to return Anfield to a 'fortress' and he has partly succeeded in dropping just eight points this season. He recently said: "It is our ground again now. Our changing rooms, our grass, our supporters. And it is our ball, so own the thing." It is what fans like to hear and Rodgers is very good at offering those soundbites.
He has also been a fine spokesperson for the club as far as his employers would be concerned. From the manner in which Rodgers dealt with Suarez's attempt to leave Liverpool last summer to the way he refused to be drawn into any 'mind games' in the Premier League race for the title, it has been an excellent season for Rodgers and there can be few complaints.