Seamless Santi
As part of our new Premier League Snap-shots feature, Mark Buckingham looks back at Arsenal's 0-0 draw at home with Sunderland
Last Updated: 19/08/12 6:54am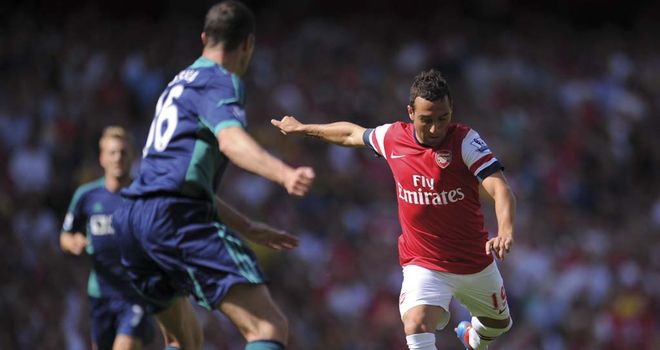 Arsenal started life without Robin van Persie with a 0-0 draw at home to Sunderland and it was a familiar tale of Emirates Stadium frustration for Arsene Wenger.
Santi Cazorla's impressive debut offered hope following the departure of Van Persie, while Sunderland manager Martin O'Neill appeared to oversee a plan which was executed to perfection.
SELECTION
With Robin van Persie gone, Alex Song on his way, and several injuries to contend with, Arsene Wenger had several big decisions to make. Lukas Podolski was chosen to start up front ahead of fellow new boy Olivier Giroud, while Abou Diaby took on the Song role in midfield and Carl Jenkinson started at right-back. While the result, and to a degree the performance, was disappointing, it's hard to see who else Wenger could have picked from the options available.
Martin O'Neill also had injury problems to contend with, in addition to a lack of summer arrivals, and Craig Gardner was pressed into action as an emergency right-back. Simon Mignolet was chosen ahead of Keiren Westwood in goal and the Belgium international justified the decision with smart saves from Santi Cazorla and Diaby in the first half. Other than that, Mignolet wasn't really troubled.
TACTICS
Wenger stuck with the 4-3-3 formation he has preferred in recent seasons, and there were times when the fluidity of the system helped Arsenal build attacks, particularly the combination between Cazorla and Arteta. Gervinho and Theo Walcott swapped wings for a spell in the first half, and the former was the Gunners' most lively player. Wenger didn't change to a Plan B when things weren't going well and that could be something he has to consider, particularly at home when plenty of teams will follow Sunderland's template.
O'Neill went for a conservative 4-5-1, with Fraizer Campbell playing on the right and Stephane Sessegnon the lone forward. Campbell did a solid defensive job, while Sessegnon was happy to float along the line. The system saw Jack Colback break forward several times to good effect in the first half, while Sunderland were happy to just contain after the interval, particularly as they started to tire. If the objective was just to get a point, then O'Neill's tactics worked perfectly but it will be interesting to see if he will be more adventurous away to some of the division's lesser lights.
SUBSTITUTIONS
Giroud, Aaron Ramsey and Andrey Arshavin were introduced for Podolski, Diaby and Walcott respectively. Giroud was presented with the best chance of the game, but skewed his shot wide, while the minimal impact of Ramsey and Arshavin mirrored that of Diaby and Walcott.
Sunderland also made three changes with Louis Saha, Ahmed Elmohamady and David Meyler replacing Sessegnon, Campbell and Sebastian Larsson. The substitutes continued the hard-working jobs of the men they replaced, but struggled to offer anything in the way of an attacking threat.
NEW SIGNINGS
Podolski was chosen to start up front and, in terms of chances, he was feeding off scraps. The Germany international dropped too deep at times in the first half in an attempt to get involved and he looks like he will need time to adjust to both the Premier League and Arsenal. Giroud offered a more physical presence after coming on, but his miss in the latter stages betrayed the clinical edge he displayed for Montpellier last season. Cazorla, though, slotted seamlessly into the team, slipping in an excellent reverse pass for Giroud's chance, dove-tailing well with Arteta and regularly finding space between the Sunderland defence and midfield. He seems certain to be an influential figure for Arsenal this season.
Fresh faces have been thin on the ground for Sunderland, but Carlos Cuellar enjoyed a more than satisfactory debut after joining on a free from Aston Villa. Cuellar and John O'Shea formed a robust pairing at centre-half and the Spaniard's experience was key to helping the Black Cats keep a clean sheet. Saha only joined Sunderland in the build-up to the game and, quite rightly, O'Neill is not expecting miracles from the French striker. He will be seen to better effect when Sunderland are more positive and are creating chances.
REFEREE
Chris Foy has probably rarely had an easier game to officiate, producing no yellow cards and having no major decisions to make. There were times when he was a little fussy in awarding free-kicks, while his only real contribution was telling James McClean to go off the pitch to change the colour of the tape around his socks.
RIGHT-BACKS
With Bacary Sagna sidelined by injury, Wenger plumped for Jenkinson at right-back and the former Charlton youngster still looks very raw at Premier League level. After some mishaps last season, Jenkinson did at least look steady defensively and wasn't unduly troubled by James McClean, who was one of the most impressive performers in the second half of last term. However, when in possession, Jenkinson is not yet in tune with the 'Arsenal way' and largely seems tentative, taking several touches before passing the ball on to a team-mate.
Sunderland were missing Phil Bardsley through injury and, having tried O'Shea, Cuellar and Elmohamady at right-back during pre-season, O'Neill plumped for Gardner at the Emirates. Normally a central midfielder, Gardner has played at right-back before and he produced a determined display, particularly up against Gervinho, who was always willing to attack his man. Gardner's inexperience in the position was evident at times, but it didn't lead to any goals, so he can be satisfied with his display.
LOOKING AHEAD
Arsenal certainly don't look likely to repeat last season's horrendous start, but Arsene Wenger will have to address the issue of breaking down disciplined, defensive-minded opposition at the Emirates. Podolski, in particular, looks like he will take time to settle into English football and finding someone to replace the cutting edge of Van Persie immediately is a priority. With the players Arsenal have to come back, Song's loss shouldn't be a major concern and Cazorla looks a particularly astute capture. There should be no need for the panic signings of 12 months ago, but early ground can't be lost if a title bid is to be a realistic aim.
Sunderland were organised and disciplined, and it is an approach that should serve O'Neill's side well away from home this season. It is further forward where O'Neill will be looking for more and he is in the market for at least one striker before the transfer window closes. On this evidence, Sunderland certainly shouldn't be scrapping down at the bottom, but whether they will be one for the neutrals to watch may depend on what business O'Neill is able to conduct over the next fortnight.