Football Expert & Columnist
Jamie Redknapp says Robin van Persie is a 'special' player after he helped Manchester United to a 2-1 win over Arsenal.
Jamie Redknapp described Robin van Persie as a 'special footballer' after his display against Arsenal.
Last Updated: 03/11/12 6:18pm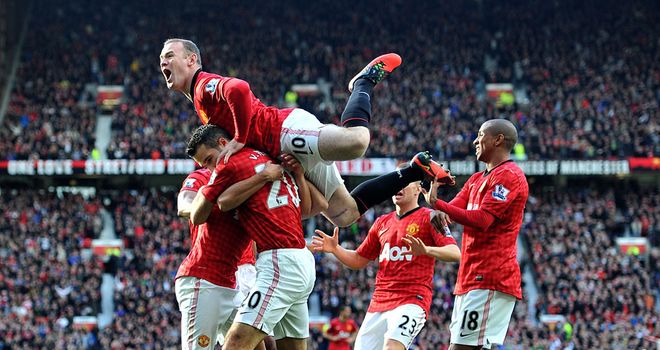 Former Arsenal captain Van Persie opened the scoring at Old Trafford, netting against his old side within just four minutes.
Wayne Rooney could have doubled the lead but spurned his chance from the penalty spot after Santi Cazorla handled the ball. However, Patrice Evra added a second with a fine header on 67 minutes before Jack Wilshere's second yellow card ended the game as a contest.
Santi Cazorla gave the travelling Arsenal fans something to cheer right at the death with an impressive curling effort but by then the gulf in class between the two sides had been made plainly evident.
And Redknapp highlighted the performance of Van Persie after the game.
"Every year Van Persie just gets better and better," he told Sky Sports.
"His finishing is clinical, he brings people into play, he never wastes the ball and he loves having it at his feet. He's a special footballer.
"He was up against Thomas Vermaelen who is a quality defender but he'll be having nightmares about this game. He found Van Persie so difficult to defend against.
"Every movement that Van Persie made you could see Vermaelen didn't know where he was. That was one of the worst games I've seen Vermaelen have."
Redknapp also credited Van Persie's strike partner Rooney for an impressive display.
"Wayne Rooney is playing a completely different position to what he's usually played before, at times he's a midfield player," said Redknapp. "But in the two big games they've had this week - in the league against Chelsea last weekend and against Arsenal today - he's done really well.
"But what he did when he didn't have the ball was important, too. Sir Alex Ferguson would have identified Mikel Arteta as one of the most important players for Arsenal and Wayne didn't let him breathe today; he was always around him every time he had the ball.
"Wayne Rooney is back. People questioned him earlier this season but he's a quality player."
Best yet
Gary Neville was equally impressed with United's front duo and said the Dutch ace is hitting top form.
"Everything Van Persie does is quality and class," said Neville. "Even if he just holds the ball up he makes it look simple.
"He could have scored a second goal but once again he's affected the game. He's taken the first chance and that was obviously a big moment in the game. He was clinical in what he does. He was fantastic all day, I thought.
"Van Persie last year was up front on his own for Arsenal and he was able to move in-between defenders without the complication of another striker alongside him. He can play with other people alongside him but we've seen this week and last week against Chelsea his two best performances. He's been fantastic in those two games."
Neville also praised the all-round performance of Manchester United, which he believes was their best so far this year.
"In the last week Manchester United could have been seven points behind but they're two points clear at the top of the league ahead of the 3pm kick-offs," he said. "That's a big shift.
"But that performance was the best I've seen from Manchester United at home this season, that was a proper performance.
"In the last few minutes they were a bit sloppy but that's the best they've played all season without a shadow of a doubt. United won the game comfortably."
Cleverley lucky
Redknapp, however, pointed out United were fortunate not to be reduced to 10-men themselves, before Wilshere's dismissal.
"Cleverley could have been sent off on 51 minutes and that would have changed the game," he said.
"His tackle on Jack Wilshere deserved a yellow card; it was a rash challenge. The difference is that Ferguson reacted and realised he had to get Cleverley off the pitch.
"Arsene Wenger left his man (Wilshere) on the pitch and paid a high price."