Changes too late?
Sarah Winterburn finds positives from Arsenal's stalemate with Schalke in the UEFA Champions League but questions a number of Arsene Wenger's tactical calls. Should the Gunners boss have reacted earlier with his side on the back foot for much of the second half?
By Sarah Winterburn
Last Updated: 07/11/12 11:34am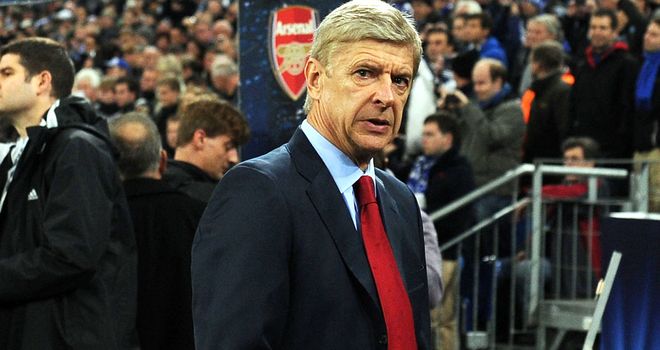 Arsene Wenger's absence from the bench during Arsenal's insipid home defeat to Schalke was cited as one of the possible reasons for their failure. Perhaps he could have stemmed the tide if only he had communication with Steve Bould? Perhaps he would have taken off the ineffective Gervinho earlier? Maybe Aaron Ramsey would not have lasted 90 underwhelming minutes on the right?
Then the UEFA Champions League show moved to Gelsenkirchen and it became clear that Wenger would have probably done nothing at the Emirates as he did nothing in Germany. As Arsenal were chasing shadows during the second half as 2-1 became 2-2, Wenger waited until the 90th minute before making a change. Off came a jaded Santi Cazorla roughly 30 minutes after his worst performance in an Arsenal shirt should have ended.
Jack Wilshere presumably only lasted 90 minutes because he is suspended for Saturday's Premier League game. Along with Cazorla, his uncharacteristic sloppiness and lack of match fitness was piling ever-increasing pressure on the Arsenal defence. In theory, the Gunners had three central midfielders, but Mikel Arteta - who deserves praise once again for his defensive work - must have felt like he was fighting a lone battle.
The triumvirate of Arteta, Wilshere and Cazorla must be terribly seductive for Wenger and you can understand why he is desperate to see them on the pitch together forging a midfield that is - in theory at least - the best in the Premier League. But are they fit enough and strong enough to last 90 minutes right now? Wilshere is operating at something like 80% and Cazorla looks close to exhausted as he adjusts to playing in two competitions. He has already played an astonishing 19 games this season for club and country.
Midfield options are obviously limited with Aaron Ramsey, Abou Diaby, Emmanuel Frimpong and Alex Oxlade-Chamberlain all sidelined but Francis Coquelin and even Andrey Arshavin could have been used as fresh legs or an outlet when Schalke were threatening to over-run Arsenal. They may not have Cazorla's class or Wilshere's desire, but they may have offered more on this particular night.
There are positives to take away from Germany - Thomas Vermaelen looked more assured at left-back than a) Andre Santos or b) he has looked at centre-half in recent weeks, Lukas Podolski worked far harder than his half-hearted efforts against Manchester United, Theo Walcott and Oliver Giroud scored and the defence did not irretrievably collapse in the face of pressure.
But on a night when Arsenal players were dispossessed a worrying ten times in the opening 45 minutes and were clearly struggling to retain possession, perhaps Wenger could and should have acted to stem the tide.
This article first appeared on Football365