Arsenal must spend money to win trophies, says John Hartson
John Hartson told The FF Show Arsenal's board must spend money to help Arsene Wenger.
Last Updated: 16/11/12 10:31am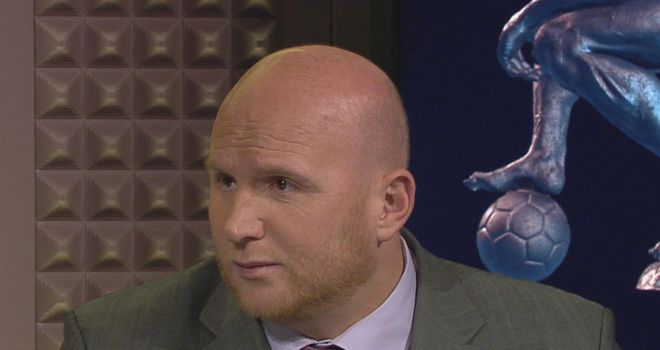 The Gunners have gone eight years without a trophy and there is growing frustration among the Gunners' fan base as they see top players, such as last season's talisman, top scorer and captain Robin van Persie, leave the club.
However, former Arsenal striker Hartson says the fault lies with the club's board and their reluctance to spend money on top class replacements - not the tactics of boss Wenger.
"I have the utmost respect for Arsene Wenger," he told The Footballers' Football Show.
"I played under him and there's no doubt he's a top-drawer manager. But the one criticism of Arsenal is that they keep selling their best players.
"The game is all about players and you can't keep selling your best players year after year and expect to be successful.
"Yes, they've got a great record in the Champions League and qualifying for that competition and they've still got several, top, top players, such as Jack Wilshere at the club but we're seeing the same thing happen with Theo Walcott. He's another star they're going to potentially lose.
"They've gone eight seasons now without winning a trophy. What other manager at the highest level could get away with that? Ten, twelve years ago Arsenal, along with Manchester United, were dominating the top of English football, sharing league titles, FA Cups.
"I'm not here to criticise Wenger. He's a fine manager, very, very intelligent and knows the club inside out but I can understand where the criticism comes from because the Arsenal fans want top-class players coming in, marquee signings and they're not seeing them. They also want to challenge for the league again.
"Wenger coming out and saying finishing a top four finish would be good wrangles the supporters. They've been left behind financially by Manchester United, Manchester City and Chelsea. They need to get back up there. Let's see them spend some money, that's what the fans want to see."
Close
Owen Coyle also praised the qualities of Wenger but said Arsenal aren't too far away from being able to challenge for trophies once again.
"Arsene is one of the best managers in world football, he can stand toe-to-toe with any of them," he said.
"The way Arsenal play their football is the way we want to see it. I understand their fans want to win trophies and I guess the one that got away was when they lost to Birmingham in the League Cup. That would have given them some breathing space but the defeat added a bit more pressure.
"To Wenger's credit, for all those top players who have left, he's continued to bring top players through: Santi Cazorla, he's a special player, Olivier Giroud - there's no doubt they are talented players.
"The difficulty for Arsenal this year is they've been conceding too many goals. They started the season giving very little away and all of a sudden they've been conceding three and four goals. If they can sort that out then there's no doubt they can go toe-to-toe with the best in Europe."