Gary Neville tells Sky Sports the pressure is currently off for Arsenal star Theo Walcott
Theo Walcott will define himself soon - at Arsenal or elsewhere, Gary Neville told Sky Sports.
Last Updated: 01/01/13 12:53pm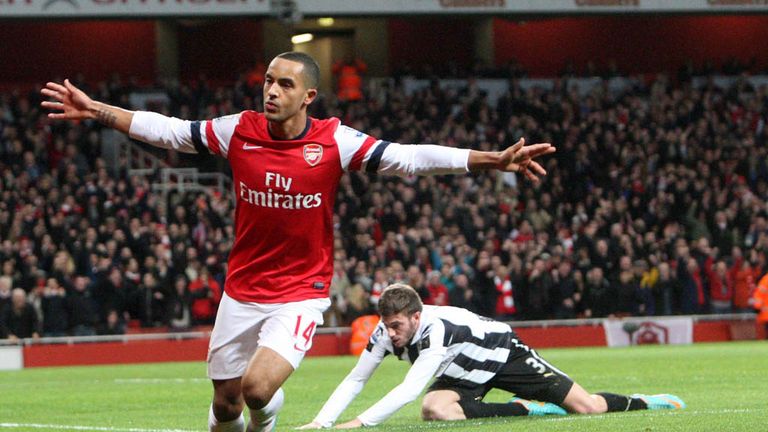 The 23-year-old has recently been granted his request to play as a striker and flourished in the role with a well-taken hat-trick in Saturday's 7-3 drubbing of Newcastle.
Walcott, who joined the Gunners back in January 2006 for a fee that has risen to £12m, had been primarily deployed out wide by manager Arsene Wenger up until the 2012 Christmas period.
He seized his chance to justify his claims for a central position against the Magpies - netting the opener with a clinical curled finish and going on to make the game safe for the hosts with two equally impressive late efforts.
Opinion remains divided as to whether Walcott can be Arsenal's attacking focal point following Robin van Persie's defection to Manchester United. Amid the goals on Saturday, he served up a reminder of what he offers out wide - whipping in a sumptuous cross to provide Olivier Giroud with a routine header.
It could also be argued the England star is playing with freedom due to his current circumstances. Talks over a new contract are still rumbling on and Neville, for one, believes that the resolution of his future will bring with it a new pressure.
Several clubs are monitoring the situation, with the likes of Manchester United, Manchester City, Liverpool and major European clubs abroad such as Real Madrid rumoured to be in the running to sign the speed merchant on a free transfer in the summer.
Neville told Sky Sports: "This is not a big period for Theo Walcott because for me, the pressure isn't now. The pressure in his career will start at around 24 years of age.
"He's no longer really a young player. The minute he puts pen to paper whether it's with Arsenal or whether it's with any of these other clubs that are potentially looking to sign him - that's when his career really begins.
"There'll be no forgiveness from that point on. He'll have to become Arsenal's number one centre forward, England's number one centre forward or winger, or the equivalent at Liverpool, Manchester City or Manchester United... although Arsenal fans won't thank me for saying it!
"The 24 years old to 29 years old period is the magic period in your career when you've got the experience, you've got your body in perfect shape, your strength, your skill levels. There's no development left.
"I think the next period is the biggest period in his career. He's a bit of a 'free hit' for me at the moment because Arsene Wenger's not played him too much at the start of the season and he's now come in with a level of freedom. His biggest moments are still to come.
"When you see the kind of tenacity he showed for his third goal, you think of Wayne Rooney, Carlos Tevez or Luis Suarez. He's shown a lot of that there and there's that class in the end with the subtle finish. He's making a big claim. But pay him what he wants? No, I don't get that. There's a wage bracket that he has to fill."
Arsenal's 10-goal thriller with Newcastle was just one of a host of eye-catching scorelines over the Christmas period, and Neville was quick to emphasise the continuing and arguably increasing entertainment value provided by the Premier League.
The former United and England star added: "We'll defend this league to the hilt and call it the best league in the world, but for me the people around the world decide that - not just us in this country.
"The people tune in all over the world at all sorts of hours because they know full well that whatever game they're watching, there's going to be excitement. There are goals, there are teams going for it in every single minute of every single game.
"There are no games where they just play out the last 20 minutes where it's easy. It's an exciting, thrilling league. The quality of the defending isn't quite right at this moment, though!"