Manchester City's win at Arsenal keeps their title hopes alive, says Jamie Redknapp
Man City's impressive display at Arsenal kept their title hopes alive, says Jamie Redknapp.
Last Updated: 13/01/13 7:19pm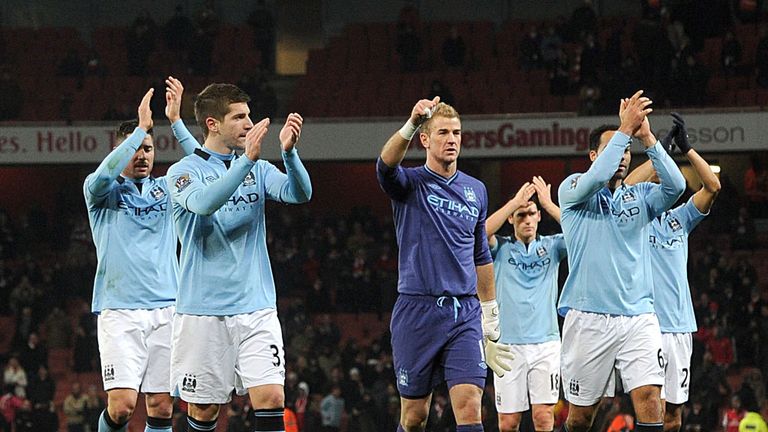 Manchester United's win over Liverpool earlier on Sunday had stretched their lead at the top of the Premier League to ten points, but the champions responded with goals from James Milner and Edin Dzeko after Laurent Koscielny's sending off ten minutes in.
"It's not always that easy to play against ten men so you have to complement Man City because they dissected Arsenal at times," Redknapp told Sky Sports.
"City sat back and broke with purpose and pace. In the second half they thought 'we'll keep what we've got' and that's exactly what they did really well.
"They never ventured too far, but allowed the magicians like Carlos Tevez to go and play. It was a very good performance because it's not as easy to play against ten men as Man City made it look."
Koscielny saw red for hauling down Dzeko in the box and, although the Bosnian missed the resulting penalty, Redknapp picked him out as a key player in City's victory.
"Dzeko was the star man and rightly given the Man of the Match award," said Redknapp.
"I thought his all-round game was good, he was strong and he brought people into play. He led the line really well and it was the best performance I've seen from him for a long, long time.
"I still think Sergio Aguero and Carlos Tevez are City's best partnership up front but Dzeko was exceptional today. It's not easy playing a bit part and coming on as a sub most weeks but he did really well in this game."
With United's lead reduced once again to seven points, Graeme Souness reckons City will be delighted with their day's work.
"City will go home very, very happy," he said.
"They know they have to hang on to Man United's coat tails at this time, knowing they've still got to go to Old Trafford, and they got an important three points here."
Redknapp and Souness also had their say on Koscielny's red card, the late sending off of City captain Vincent Kompany for a challenge on Jack Wilshere and how they see the title race at this stage.
Koscielny's sending off
Redknapp: There will be a lot of Arsenal fans who will feel that wasn't a foul but it's a rugby tackle. Koscielny got caught the wrong side of Dzeko and had both arms around him - how can you say that's not a foul? So, it's a penalty, he's denying him a goal-scoring opportunity, Mike Dean's position is perfect and I don't think you can complain about the sending off.
Souness: He's left the referee with no option - the referee couldn't give anything other than a red card, in my eyes.
Kompany's sending off
Souness: The referee got this right. The referee has got a great angle, both his feet are off the ground and if that's the case then he's out of control and that's deemed dangerous play and that's a sending off. I don't think Kompany is a reckless player, he's a powerful player - but this is a red card.
Redknapp: So often these tackles are a product of the player dribbling with the ball over-running it. Would he have sent him off if he hadn't sent off Koscielny? Probably not but, subconsciously, you can't help yourself. The Koscielny sending off made a difference there. If it had been 11 v 11 he might have got away with a yellow card. You can see why he's given it, though. The games he'll miss are Fulham at home, an FA Cup game and then QPR away, so they're not the worst three fixtures for the captain to miss.
Title Race
Souness: It's game on at the moment. City had to go to Arsenal and play with the pressure of knowing it would go to ten points if they didn't win and all the papers tomorrow would be saying 'it's over'. But they've performed. They're a team who can grind results out when they're not at their best and that makes them a formidable team.
Redknapp: The only difference from last year was last season City had Manchester United to play at home, which was a big advantage. This season they have to go to Old Trafford. But they're still right in the title race because they've got so many quality players. What's to say Robin van Persie doesn't pick up an injury? Anything can happen.