A formidable task
Lewis Rutledge highlights the challenge facing Arsenal if they are to overcome Bayern Munich in the Champions League
Last Updated: 18/02/13 11:41am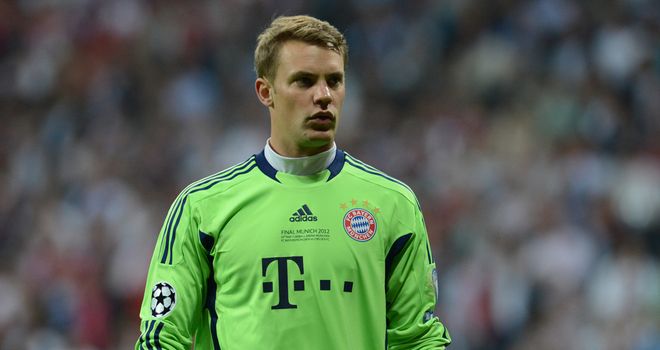 "We have a big game on Tuesday against Bayern. If we get past them, then why should we not go further and win it?"
Arsene Wenger sounded in confident mood as he gave his thoughts on Arsenal's UEFA Champions League prospects ahead of their last 16-tie and obviously has faith in his men to defy the odds and triumph on the European stage.
However, it is also clear that Wenger recognises just what a challenge faces the Gunners just to make it through to the quarter-finals, as Bayern Munich are a team on a mission to go one step further than last season and win the Champions League.
While the story of the 2012 final in England was all about Chelsea's remarkable fighting spirit and a fairytale ending for Didier Drogba, for Bayern it was supposed to be the moment they fulfilled their destiny and lifted the trophy on home soil.
Let us not forget that Bayern dominated that match and had the lead until just a couple of minutes from time, but they had failed to kill off the Blues and were denied in the cruellest fashion first by Drogba's late equaliser and then by the lottery of penalties, all in front of a passionate Allianz Arena crowd.
It would have been easy for Bayern to struggle to get over such heartache, but they have rebounded magnificently this season and head into the knockout stages as one of the sides everyone will be wary of.
A new level
Bayern's bid for Champions League glory began last summer with a number of eye-catching signings, including Brazilian defender Dante, exciting Swiss winger Xherdan Shaqiri, Croatian striker Mario Mandzukic and versatile Spaniard Javi Martinez in a €40million deal from Athletic Bilbao.
Manager Jupp Heynckes deserves great credit for integrating these new players and developing a style that has pushed Bayern to a new level this season. They have not lost their attacking vibrancy but it is their defensive discipline that sets them apart from most other top sides in the continent.
Defence has certainly been the bedrock of their domestic success this season, where Bayern are surging clear with an 15-point lead at the top of the Bundesliga, having conceded just seven goals in 22 games.
The Bundesliga has flourished over the past couple of years and is now widely recognised as being among the most competitive and exciting leagues in Europe. It is a sign of the strength of German football that Borussia Dortmund, Schalke and Bayern all topped their Champions League groups before Christmas.
For Bayern to be cantering towards the Bundesliga title not only shows how strong they are but also underlines what a formidable task awaits Arsenal, who were beaten 2-0 at home by Schalke in the group stage and drew 2-2 in Gelsenkirchen.
The onus will be on Arsenal, fresh from an FA Cup defeat at home to Blackburn Rovers, to push forward in Tuesday's first leg at Emirates Stadium but they will need to do something that no other team has managed since the turn of the year, and that is to score a goal past Bayern.
Monumental effort
Manuel Neuer is arguably the best goalkeeper in world football right now but his stats look so good partly because he is shielded by a rock-solid defence, with Dante's arrival and David Alaba's emergence at left-back key factors behind their phenomenal record.
Bayern also have the experience of Daniel van Buyten and captain Philipp Lahm at the back, while the presence of Martinez and Bastian Schweinsteiger in central midfield brings an ideal mix of steel and assurance on the ball.
Heynckes' side remain a major attacking force, with Franck Ribery, Toni Kroos and Thomas Muller all possessing excellent technical ability and one of the Marios, Gomez or Mandzukic, set to provide the main firepower.
There are plenty of options at Heynckes' disposal and Arjen Robben is not even guaranteed to start after recently finding himself on the bench, but he would bring dynamism and a goal threat to Bayern's forward line against an Arsenal side that still looks vulnerable at the back.
Bayern were the leading scorers of all the qualifiers from the group phase following emphatic home victories over BATE Borisov and Lille, although they did not fare so well on their travels with just four points from three games.
That will offer Arsenal some encouragement ahead of their midweek meeting, but it will take a monumental effort from Wenger's men to progress further in the competition, let alone win it.