A special career
Former Arsenal and England captain Faye White discusses her decision to retire from football, picks out the highlights of a magnificent career and reveals her hopes for the future.
Last Updated: 27/03/13 9:08am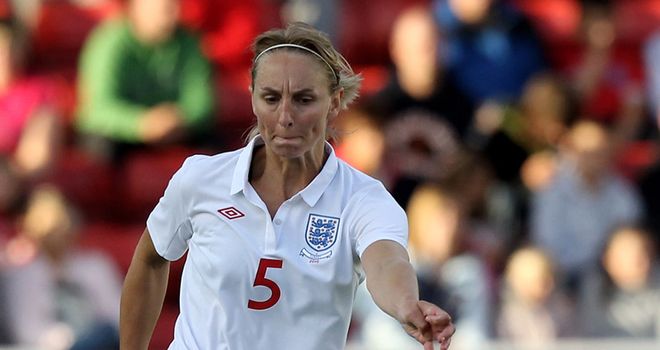 Earlier this month, former Arsenal and England captain Faye White called time on her remarkable career. Adam Bate caught up with White to discuss the highlights of her career, how she has seen the women's game change and her hopes for the future.
What made you decide to retire?
I've had a good 16 year career and obviously I'm getting older! I've had a few injuries in the past including a couple of quite serious knee injuries. I also had a bit of time out with the birth of my child. I'd been getting back to fitness but with chronic knee injuries I just couldn't carry on.
I'd retired from England in April [of last year] and I was hoping the rest would be good for me and allow me to get back. Unfortunately I don't think I'd ever have been able to get back to the level I wanted to play at. We've got quite a lot of youngsters coming through in the team and you get to that point where you have to make a decision.
So the body made the decision for you really...
The mind certainly wanted to carry on. Even when I was watching the girls in the Champions League you want to be out there running around but the body can't do it as you get older. You can't recover as quickly.
Looking back on your career, what were the highlights?
I think playing in a World Cup for England in 2007. Our first one in China was pretty special because I'd been playing for England since I was 17 and we used to get beaten quite a lot! So to improve in standard and play with the best in the world, getting to a quarter final, was pretty special - especially to lead them out as captain.
With Arsenal I was quite fortunate to have won a lot of trophies. When we won the treble in 2001 it was quite good. We won the FA Cup final against Fulham, who were professional, by beating them 1-0 so that was quite a big thing for us to experience. Then in 2007 we won what is now the Champions League. To see the club win that was pretty special as well.
And you leave English women's football in a better shape than you found it?
Yeah, certainly. As far as the level on the pitch with England is concerned, it's certainly improved and we've got a lot more backing which has allowed us to train more. Over the last few years the top 20 players in the country are on contracts, which helps to get the balance right because we were working full-time jobs and not training that much when I first started.
Also the media coverage as well, the interest and the number of girls who are taking up the game. It's really completely different to when I first started playing. On and off the pitch it has improved massively.
Any examples of how you've seen it improve?
When I first started, even though I was at Arsenal I used to train once a week with the club purely due to the travelling distance and the fact that I had to work full-time as well. By the time I finished, the girls were training every day and also doing extra gym sessions as well. We have personal programmes set out at club level and international level.
The whole package is different. Travelling to Champions League games as well - we never did that in this country. But since it's come in we've been involved for the last 13 years, having the experience of travelling away and seeing the competition improve in standard every year.
And you've played your part in growing that game...
When I was selected as captain I think that's part of it. There was nobody out there who was really pushing the game as a role model. I never had a role model to look up to in female football. It was needed and raising that profile was part of my role with both Arsenal and England. We needed to get the message out there to get coverage but also for young players to have someone to look up to in the hope that you can inspire them and they'll want to emulate you.
What does the future hold for you?
I'm a Champions League ambassador for UEFA this year. The final is in London on May 23rd and that's going to be a big event at Stamford Bridge so I'm doing a lot of work to promote that game, which I really enjoy doing. It's great to get people to hear about the game a little more and promote it.
I'm also doing some work with the FA for their 150th anniversary as well as the 20th anniversary of the women's game. And I do actually still work for Arsenal so I'm doing some ambassadorial and development work for them.
Speaking of Arsenal, are you confident they can progress in the Champions League?
Yeah, we've obviously put ourselves in a good position [in the quarter-final against Torres] as 3-1 is a good lead to be taking away but we all know that these Champions League ties can throw up some interesting situations over the years. So we all know it's not done. But if we can get a goal to cancel out their away goal then hopefully we can make it through to the semi-finals.
And the prospect of a Stamford Bridge final is presumably an added incentive?
I know it's a big motivation for the girls that the final is at Stamford Bridge in London this year. If an English team is in that semi-final then it's obviously going to be a much better atmosphere and occasion for us.
Jordan Nobbs is one of the young players attracting a lot of attention. What can you tell us about her?
She started last season in and out of the team but ended up being our players' player of the year because she made such a big contribution as a young 19-year-old. She's captained every age-group at England level and has recently debuted for the senior team as well in Cyprus, scoring a cracker of a goal on debut which we know she is capable of.
So you're optimistic England can go one better at Euro 2013 than you did four years ago?
We got to the final four years ago and it was a bit of a strange one because we drew our opening game and didn't start the tournament very well. But we got all the way to the final and finished runners-up to Germany.
I think this year we have improved again having got to a World Cup and then had the vital experience of playing at the Olympics. We've got youngsters coming through and winning the Cyprus Cup this month gives confidence to their entire squad.
Sometimes you just need a bit of fortune and for your players to be injury-free going into the competition. But it could be a big summer for women's football, following up on the Olympics in order to keep it in the media and keep it at the forefront of people's minds.
The UEFA Women's Champions League Final takes place at Stamford Bridge on Thursday 23 May. Tickets priced from £5 are available to purchase now from www.chelseafc.com/uefawomensfinal