Welcome back, Robin
With Robin van Persie and his Manchester United team-mates expected to receive a guard of honour at Arsenal on Sunday, Adam Bate looks ahead to a symbolic day for Gunners fans.
Last Updated: 26/04/13 5:57pm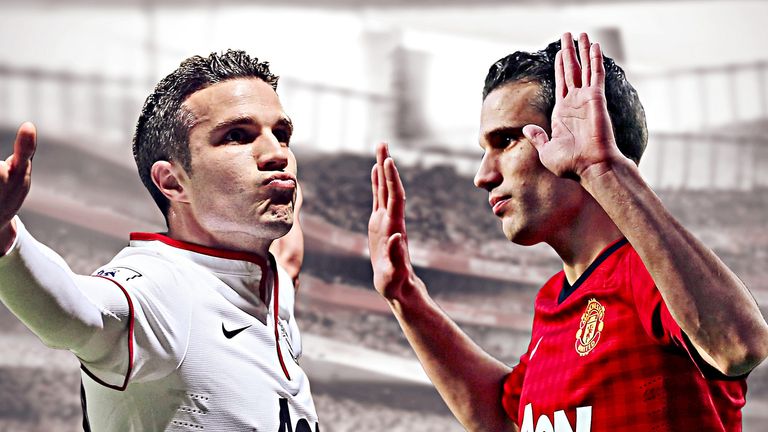 There will be a guard of honour at the Emirates Stadium on Sunday as the Manchester United players emerge from the tunnel as Premier League champions. Arsene Wenger has assured us of that much. Whether there is much warmth to the reception one particular United player is given is another matter entirely.
Robin van Persie returns to the club - and the manager - who made him a star, with the winners' medal they could not provide him with. It is a source of frustration and embarrassment for Gunners fans with some dwelling on what might have been. But given the volume of goals that the Dutchman has delivered in each of the past two seasons, perhaps the truly remarkable thing is that Arsenal go into the weekend separated from United by just two places in the Premier League table.
In fact, Wenger's side are the form team in the division and on track to better last season's performance. Seven points from their remaining four games would match their 2011/12 efforts, despite the fact that they were bolstered by 30 Van Persie goals last time out. Indeed, nine goals from their remaining games - eminently possible with fixtures against Wigan and QPR remaining - would see them hit last season's goal tally too.
Of course, there has been no standout performer like Van Persie. No Arsenal player has scored more than 12 Premier League goals this season. But crucially, four different players have hit nine - a tally only Van Persie could manage last year. What's more, three of those players were acquired in the summer as the money from the sale of their star striker was reinvested.
Santi Cazorla, Lukas Podolski and Olivier Giroud arrived at a combined transfer cost of £32.5million. Cazorla has shown his quality in midfield and also been the club's top scorer this season with 12 goals. And while the other two players have had their critics this season, they have at least produced 20 league goals between them.
The fourth man to provide the goals for Arsenal this season has been Theo Walcott, with his improvement going some way to justifying Wenger's faith in what his younger players are capable of. After resolving his contract dispute with the club, Walcott told The Times: "If anything came out of it all, I think it's a bit more respect between me and the manager. We've shown faith in each other and I feel there is a bit more responsibility on me to create something out of nothing."
Walcott has responded and the new boys have succeeded in papering over the cracks. As such, Wenger deserves some credit for making the best out of a bad situation - losing Van Persie and Alexander Song for £39m - and using the money to ensure that results have not been adversely affected.
Achievement
To remove the top scorer and top assister from last season, make a net profit and maintain performance levels is an achievement of sorts - it's just not an achievement that Arsenal supporters have any inclination to celebrate. There has been enough talk of fourth place being regarded as a trophy. They are entitled to wonder where the investment is going. Why has it come to this?
Why has it come to cordial calls with Sir Alex Ferguson? The United boss revealed of the lengthy Van Persie negotiations that: "Arsene said to me when we concluded the deal, 'He's a better player than you think'." It does little to allay concerns in north London that the men whose players once brawled and battled for the title no longer see themselves as rivals. Pizzagate, no more.
Supporters realise that the construction of the Emirates Stadium has been a financial burden. They can even appreciate that the decision to sell Van Persie rather than allow him to see out his contract will have been vindicated, in financial terms, if they qualify for the Champions League. Perhaps at the end of the season there will even be some pride if Chelsea and Tottenham are left in their wake once again.
But Arsenal fans want actual trophies now. Like the one Robin van Persie will receive a guard of honour for this Sunday in front of the fans who used to adore him.