Reporters' notebook
Sky Sports takes a look at some of the talking points from the final day of the Premier League season
Last Updated: 19/05/13 10:54pm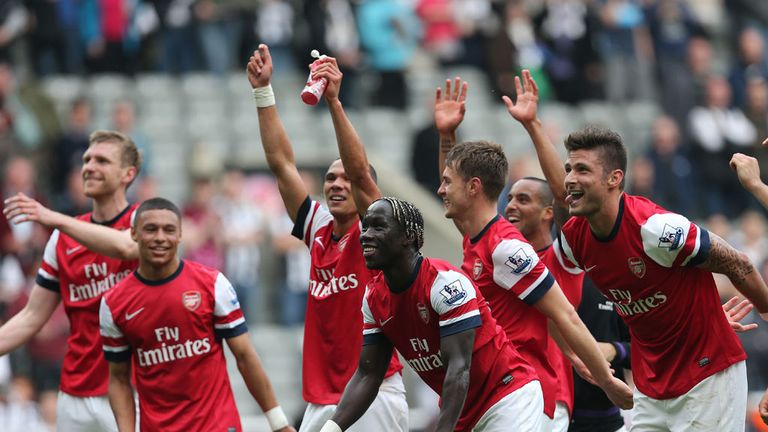 For individual match reports, statistics, player ratings and key moments from each game, click on the headers below.
Adam Bate
Perhaps it was fitting that Fernando Torres should be the man who scored the winner in Rafael Benitez's final game in charge. The Spanish striker has ended the season on a high having scored in the Europa League final and has gone some way to turning opinion of him around at Stamford Bridge. But even the much-maligned Torres did not have to endure the sort of scepticism and downright contempt with which Benitez was greeted on his arrival at the club in November.
But he bows out with a trophy to his name and a third-place Premier League finish that ensures there will once again be UEFA Champions League football at Chelsea next season. It wasn't always pretty on Sunday as Everton dominated the game before the break but - just as in Amsterdam in midweek - it is the character and resolve of this Blues side that shines through. They always seem to get the job done in the end.
On the other hand, this must have felt like a familiar tale for David Moyes in his last game in charge of Everton as he prepares to leave for Manchester United after his 11-year stay on Merseyside. Once again, the Toffees were unable to manage an away win against a top side despite their best efforts. That task is unlikely to get any easier without Moyes on the touchline but the Scot will know his record in the big games must improve if he is to survive quite as long at Old Trafford.
Pete O'Rourke
The game was all about Jamie Carragher and his performance showed just how tough a job Liverpool will have to replace him.
Carragher, captaining the side on his final appearance for the club, helped them keep a clean sheet as they overcame QPR 1-0 at Anfield.
The 35-year-old found himself on the bench at the start of the season under Brendan Rodgers, but he showed his fighting spirit to reclaim his spot in the side midway through the season.
Rodgers will find it hard to discover someone to replace Carragher on and off the pitch at Anfield and his absence could be missed more than people think next season.
However, there was a glimpse into the future as 17-year-old Jordon Ibe made an enterprising debut for Liverpool by showing he could be a star at Anfield in years to come.
Ibe is the seventh Academy player to make his debut this season for Liverpool and Rodgers will need the youngsters to continue to progress if he is to get the Reds back to where they feel they deserve to be.
Chris Harvey
Manchester City ended their season as Premier League champions with a whimper, lacking the appetite for the fight to put on a decent show for their loyal fans. Should Manuel Pellegrini take charge at the Etihad Stadium as expected, he faces a big task to reinvigorate a squad which has underperformed of late.
His predecessor Roberto Mancini decided Joleon Lescott was generally surplus to requirements and - on the evidence of this performance - he is likely to be shown the door at City this summer along with Kolo Toure. Micah Richards will also have to put on a far better show in pre-season if he is to extend his career at City and put pressure on Matija Nastasic and Vincent Kompany. Pivotal players including Yaya Toure will also have to show a great deal more heart if City are to wrestle the Premier League crown back from the hands of their neighbours.
For Norwich, there are reasons to be cheerful. The club's policy of trawling the lower leagues for recruits has been vindicated with the Canaries finishing in 11th spot as a result of the 3-2 win at the Etihad. Robert Snodgrass has blossomed through his first season in the top flight while Jonny Howson is beginning to repay the faith shown by former boss Paul Lambert when he brought him to Carrow Road from Leeds United. His two goals in the last fortnight have been stunners and bode well for the next campaign.
Ben Coley
For Arsenal, this game was all about one thing: the result. Laurent Koscielny's scrambled goal perfectly epitomised that - Arsenal didn't need to be at their fluent best, nor did they need to score a goal of brilliance; they just needed to get a result somehow.
And without Koscielny, they probably would've failed to meet that requirement. The French centre-half - much-maligned after a Capital One Cup final defeat to Birmingham at the end of his first season at the club - put in a performance that an Arsenal shorn of their talisman Jack Wilshere required. When Koscielny wasn't winning headers, he was blocking shots. When he wasn't blocking shots, he was galloping forwards to relieve pressure on those alongside him. And when he had a chance to put his side in front, he took it with the poise and instinct of a man who spends more time in the final third than he does coping with the likes of Papiss Cisse.
Newcastle, to their credit, gave Arsenal nothing for free. Their chief creators may not have been at their best and Cisse may have lacked in support, but they strained every sinew to deny Arsenal the stroll in the park that Spurs fans had feared. Without question, Alan Pardew has a squad capable of leaving this season's struggles behind him come August. The question now is whether his opposite number Arsene Wenger will strengthen his so that next season's celebrations are backed up by the trophy he and his supporters so desperately require.
Steve Pass
There was to be no fairytale ending for Michael Owen as the former England striker made his final appearance for Stoke.
Owen came on as a 74th minute substitute to a great reception from both sets of fans and had a half chance which he could not convert.
But Rickie Lambert and Peter Crouch did find the net - their 15th and seventh league goals of the season respectively - and showed their importance to both clubs.
At the other end, Stoke keeper Asmir Begovic underlined why he is being linked with a move to a bigger club, pulling off a string of top class saves to keep the Saints at bay.
Both sides were already safe going into this game and Southampton boss Mauricio Pochettino and Stoke counterpart Tony Pulis will be looking to push on next term and avoid their clubs' flirtation with relegation this season.
Tom McDermott
It was supposed to be Swansea's moment to celebrate on the final whistle walking the League Cup around the ground for their fans to cheer one last time.
The Swansea faithful can still look back on what has been a great season but even manager Michael Laudrup admitted afterwards that he was disappointed with how the day ended.
The home side never got going and struggled to break through a disciplined Fulham back four. As ever, Swansea's approach play was very pleasing on the eye but as the game wore on they appeared to run out of ideas in the final third.
For Fulham, Martin Jol's men got to celebrate a rare away win and it was no more than they deserved. They managed to soak the pressure up with ease at times and, when Berbatov and Ruiz were allowed space at the other end of the pitch, they were always going to create problems.
There's an interesting summer ahead for both clubs as Swansea look to buy someone who can help out Michu up front while Fulham will work hard to try and replace the several players they have in on loan.
Lewis Rutledge
Tottenham are no strangers to final-day anguish and they suffered further heartache as they missed out on a place in the top four, despite a 1-0 victory over Sunderland.
It was one-way traffic from the start to the finish and Spurs could have won far more convincingly had they been successful with one of several penalty appeals, but Gareth Bale's reputation counted against him as referee Andre Marriner made a poor decision to book him for diving in the first half.
It was Bale who would eventually score the winning goal in the 90th minute and it was another spectacular strike, but the question now will be whether it is his last for Tottenham as they cannot offer him the incentive of Champions League football to stay at White Hart Lane.
Spurs have a strong squad and should be able to compete for a top-four spot even without their Welsh star, but they have been so reliant on him this season that it is hard to see them pushing on to greater success without him. If he stays, perhaps they could mount a title challenge.
Sunderland had little left to play for after guaranteeing their survival and deserve credit for defending so doggedly against Tottenham, although they needed the impressive Simon Mignolet to produce a series of excellent saves.
He is one of the players Paolo Di Canio will want to keep hold of during the summer but he also needs to add to his squad as the list of substitutes against Spurs showed there is not enough depth at his disposal.
Di Canio will now have the chance to stamp his own mark on the Black Cats ahead of next season and it will be fascinating to see how they respond and if they can aim for something more than beating the drop once again.
Mark Buckingham
A quite remarkable game to cap a quite remarkable managerial career for Sir Alex Ferguson as Manchester United were involved in the first 5-5 draw in Premier League history.
In truth, given the chances missed by both teams, a 7-7 or even 8-8 scoreline wouldn't have been outlandish and the entertaining, open nature of the game was perhaps a fitting send-off for Ferguson in his 1,500th, and last, match as United manager.
Drawing conclusions based on a game which had little meaning would seem a little churlish, but it's fair to say Anders Lindegaard didn't press his claims to be a more serious rival to regular United goalkeeper David de Gea next season.
Romelu Lukaku marked his final appearance for West Brom with a hat-trick and he certainly deserves a chance to impress at parent club Chelsea next season. Though Lukaku's clearly not the finished article, like his Belgium international team-mate Christian Benteke, he possesses a power and pace that frightens Premier League defenders.
Oh, and Paul Scholes marked his last appearance with a yellow card for a typical Paul Scholes tackle!
Daniel Storey
If that is Andy Carroll's farewell to West Ham United he certainly went out in style. Involved in three goals, his close control under the high ball was fantastic and he acted as a link-up between midfield and attack. The fans chanted for their cult hero and applauded him as one during the post-match lap of honour.
For Reading, the story of the season. Woefully short at the back at times (and not helped by a bad error from recent England call-up Alex McCarthy), substitutions again helped, but eventually, incompetence won over hope.
Final word goes to Adam Le Fondre. Surely at some point he will get a run of starts? The most used sub in the Premier League this season, and a goal that cemented him as Reading's top scorer. Why Pavel Pogrebnyak, who was brought off at half-time after being anonymous, starts ahead of him only Nigel Adkins knows, but that has to change.
Raz Mirza
FA Cup winners and relegated in the same season, yet the Wigan supporters turned up in their droves to see the famous trophy and cheer on their team. They'll do so again on Monday when the squad go on an open top bus tour of the town. Manager Roberto Martinez has built a legacy over his four-year spell at the DW Stadium and whether he decides to stay or go, the club have achieved an incredible amount under chairman Dave Whelan. They certainly haven't been playing like a side that will be playing Championship football next season. The club's longest serving player Emmerson Boyce was outstanding on the day, while the likes of Shaun Maloney and James McCarthy will be an integral part of their team next term.
As for Villa, well, Paul Lambert said in his post-match interview that he will look to add to their squad in the summer and thanked the amazing support from the fans after a difficult Christmas period when they were hammered 8-0 by Chelsea and then 4-0 at home to Tottenham. They actually ended the season in 15th position, but if the Scot does bring in a few players to add to his youthful looking squad, they'll need to be experienced in order to tighten up that very leaky defence. Nathan Baker's calamitous own goal which handed the Latics a half-time lead was testament to that. However, if he does buy, and buy  well, then the future is looking bright at Villa Park. The future could be Aston Villa.