Winning feeling
Arsenal Ladies star Alex Scott continues her regular Sky Sports column after winning the FA Cup and partying with the Queen
By Follow me on Twitter - @Alexscott2
Last Updated: 29/05/13 3:23pm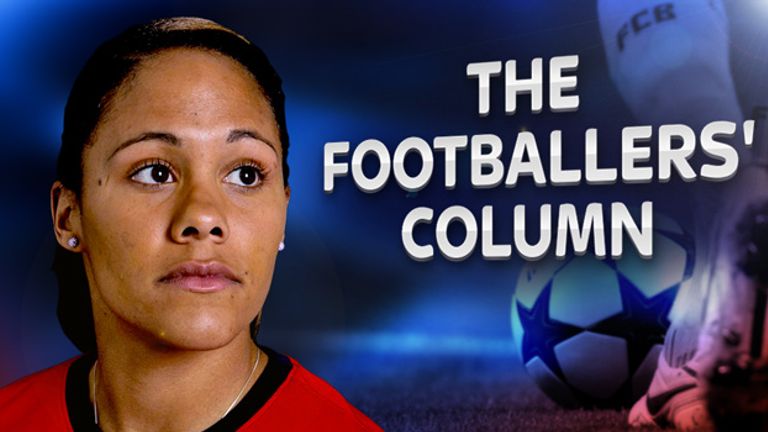 This week there is something a little different about me. This week I am once again an FA Cup winner. And, boy, that feels good.
Last year on my return to Arsenal we got knocked out in the semi-finals by Chelsea. So, it was great to get to the final against Bristol Academy this season and even better to stand on the podium collecting my eighth FA Cup winners' medal after a 3-0 win.
A lot of people have been talking about this Arsenal Ladies side and the start we have had in the league. I believe they have every right to talk. We are yet to secure our first win in the league. Looking at the table right now, we sit at the bottom. However, we are only two games in and we are not panicking or worried as a group of players, because we know there is a long way to go.
It is about the club and players doing the talking on the pitch and that is exactly what we did in Sunday's FA Cup final. We dominated the whole game and rightly deserved the win. I have to give credit to Bristol, though. I really feel they are an emerging side in women's football with a good core group of players. They really are a club with a good, solid structure and will continue to push for trophies in cups and the Women's Super League.
So, for now that is one cup in the trophy cabinet for the season. We now have a semi-final of the Continental Cup to look forward to and the fight for the league title. I am also fighting for a place in Hope Powell's side for the European Championship in Sweden in July. So, there is a lot of hard work still ahead for me. There is no slowing down now.
I get asked a lot of times whether I get nervous before big games. If you were to ask this to a group of players you would get a mixed response. However, my answer is always the same. I do not get nervous before games. My mind-set is that I tend to get excited and really look forward to the occasion. I always remind myself that I love playing football. I have worked so hard to be where I am. I just go out there and enjoy it.
I grew up watching Ian Wright from the stands at Highbury. I used to love his energy and passion on the field. No matter what was going on, Ian Wright always had the biggest smile on his face. That smile always showed how much love he had for the game and the joy he got from playing. I always remind myself that no matter what I should 'smile'. I try to remember I am very fortunate enough to be playing at the level I am. To have experienced some of the things I have through football is just a dream. So, no matter what happens, what the occasion may be, go out on the pitch, give it 100 per cent and smile.
Another thing that made this week special was being invited to Buckingham Palace for the Queen's Garden Party. A lot of the Team GB athletes were in attendance and it was an amazing day. To be able to see the Royal Family up close like we did was just surreal. It is another memory for me to add to my list of unforgettable moments. I truly am one lucky girl.