Higuain attraction
With Real Madrid striker Gonzalo Higuain believed to be on the verge of a move to Arsenal, Ryan Parrish underlines just how important of a signing it could be for Arsene Wenger's side.
By Ryan Parrish - @RyanParrish1919
Last Updated: 25/06/13 11:03am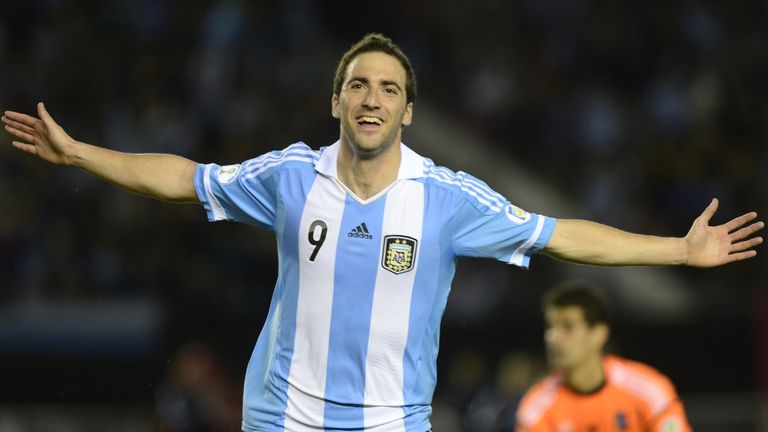 Recent transfer windows have often left Arsenal fans cutting forlorn figures, watching helplessly as some their most prized possessions have headed remorselessly for the exit doors. Last year it was goal-hero Robin Van Persie and midfield lynchpin Alex Song, while the year before that saw golden boy Cesc Fabregas and the effervescent Samir Nasri following suit. But if the reports of big spending and murmurings of ambition from shareholder Alisher Usmanov are to be believed, this summer could be much more satisfying for the Gunners faithful, especially if next season sees them spearheaded by Real Madrid striker Gonzalo Higuain.
Selling club?
Although the accusation from former captain Tony Adams that Arsenal are a 'selling club' was not necessarily correct in last summer's transfer window, as their expenditure exceeded player sales, it's hard to argue with the damning picture he painted of a side seemingly no longer able to compete for the Premier League crown.
Last season saw Arsene Wenger splash over £50million on Lukas Podolski, Santi Cazorla, Olivier Giroud and Nacho Monreal. There's no disputing that Spain international Cazorla was the pick of the bunch and he soon became a resounding hit at the Emirates Stadium. His performances alongside Jack Wilshere in the heart of midfield went some way to heal the wounds that were still fresh from Fabregas and Nasri's exits the summer before. Podolski's early promise seemed to fade as the season progressed and, through his early struggle to get off the mark, Giroud threatened to find himself cast out amongst fellow misfiring strikers Andrey Arshavin and Marouane Chamakh. The Frenchman eventually found his feet and showed vast signs of improvement as the season drew on, ending the campaign with a respectable 17 goals in all competitions.
The sight of Van Persie running riot at the top of the goalscoring charts can't have helped, but despite Giroud's promise, it still felt as though the Gunners were lacking that killer touch in front of goal that would be needed to retain their foothold in the top four and compete for major honours again. The Arsenal board seem to have echoed these sentiments and the usually defensive Wenger has acknowledged the importance of bringing in a goalscorer, so it's time for them to put on hold their pursuit of Fiorentina's Stevan Jovetic and their courting of Wayne Rooney, and focus on the man who can fire them to Premier League heavyweight status once again - Higuain.
Attributes
The Argentina international burst onto the scene whilst at River Plate in 2006 and it was his double in the Superclasico against Boca Juniors that really caught the eye of some of Europe's big guns. His return of 10 goals in the opening 17 league matches of the following season prompted Real Madrid to take a gamble on the 19-year old in December 2006. However, he only managed to find the net twice in the remainder of the season and in his first full term the following year, he again received criticism as he only hit eight La Liga goals. The 2008/09 proved to be the turning point however, as the injury to Ruud van Nistelrooy paved the way for a regular spot up front and he went on to hit 24 goals in all competitions, including all four in Madrid's 4-3 win over Malaga. The next year he bettered his tally and every season since then he's consistently eased to double figures, establishing himself as an international in the process.
It's not just Higuain's goalscoring ability that has attracted the plaudits, as a look at his stats will show a very reputable assists tally which can be a rare trait for a striker, as many often struggle to find the balance. For Giroud to be effective as a striker, he relies heavily on his team-mates to provide him with service, which is not a criticism as his heading ability is one of his key attributes. But with Higuain, he offers much more in terms of an all-round game. He is the type of player who can pick up the ball and create chances for himself as well as those around him, one of the characteristics that made the likes of Van Persie and Thierry Henry so valuable to Wenger's teams down the years. For someone who stands at six foot tall, Higuain boasts remarkable raw pace and coupled with his strength and sheer power, he will cause endless torment to Premier League defences.
Opportunity costs
Next season presents an opportunity to Arsenal and Tottenham as the three teams who finished above them all welcome new managers. David Moyes at Manchester United and Manuel Pellegrini at Manchester City are both going into unknown territory, whereas Jose Mourinho returns to familiar surroundings at Chelsea but he inherits a very different looking squad. Naturally, there are likely to be a few hiccups along the way as the new bosses settle in, meaning that a bit of consistency at Arsenal could see them surprise a few people. While they might be some way off from mounting a title challenge right now, a second or third-placed finish could be on the cards if they purchase well over the summer. If Higuain does come in, alongside the likes of Giroud, Theo Walcott, Alex Oxlade-Chamberlain, Santi Cazorla and Podoloski, the Gunners would suddenly look like one of the most potent teams in the top flight. Spurs are also in need of a striker if they are to chase a top-four finish again, but the pulling power of Champions League football works in Arsenal's advantage and it could help them put to bed any suggestions of a power shift in North London.
At the age of 25 and available for a fee believed to be in the region of £20million, Higuain would not only offer Arsenal an immediate answer to their lack of striking options but judging by the way he has improved year-on-year at Madrid, he would also be a valuable investment. If large sections of Arsenal's fan base aren't already disillusioned by their transfer dealings in recent years, failing to bring in a marquee signing this summer would threaten to increase tensions at the Emirates furthermore to a point which could put Wenger's position in jeopardy. Not only would a world-class signing like Higuain go some way to appeasing any unrest, on the pitch, he is the man who can fire the Gunners to success for years to come.