Arsenal's greatest?
Who has been Arsenal's best manager? Sky Sports is launching a vote to discover the finest boss in the history of each current Premier League club and we want your opinions
Last Updated: 15/07/13 2:56pm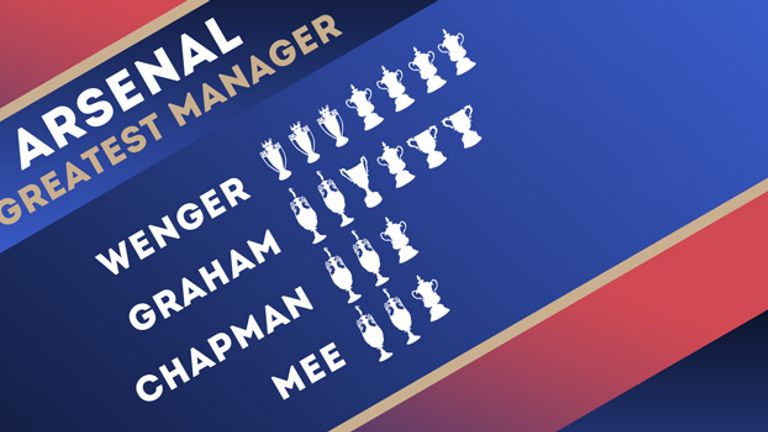 Arsenal have a rich history of success and so choosing their best manager is not an easy feat. We have narrowed it down to four candidates and now we want you to decide who has been the greatest. Whether you are an Arsene Wenger fan or consider George Graham's reign the most significant, everyone has a verdict. But do not forget Herbert Chapman's glorious spell in charge in the first half of the 1900s or their first Double winner, Bertie Mee. Who is the greatest? Have your say at the bottom of this article and vote in our poll. We will then announce the winner in the week commencing 12th August.
Arsene Wenger (1996-Present)
He may have come in for some criticism in recent years but the Frenchman has transformed Arsenal in his 17 years at the club. Wenger revolutionised English football's training methods, scouting systems and style of play when he first arrived. Arsenal arguably peaked with The Invincibles in 2003/04 but three league titles, four FA Cups, a UEFA Champions League final and never having finished outside of the Premier League's top four are not bad Wenger achievements overall.
George Graham (1986-1995)
The Scotsman was a dominant force in English football in the late 1980s and early 1990s. Graham guided Arsenal to two First Division titles, one FA Cup, two League Cups and one Cup Winners' Cup. Securing the 1989 title was especially dramatic as Arsenal won the league with Michael Thomas' goal scored in the last minute of the last game of the season as they beat second-placed Liverpool by the necessary 2-0 margin at Anfield.
Bertie Mee (1966-1976)
He managed the Gunners from 1966 to 1976, leading the club to their first ever league and cup Double in 1971. Charlie George scored an extra-time winner to beat Liverpool in the FA Cup final to complete that achievement. The previous year, Mee guided Arsenal to their first trophy in 17 years as they beat Anderlecht over two legs to win the Inter-Cities Fairs Cup. A 3-0 win at Highbury secured a 4-3 aggregate victory. He stepped down as manager after 10 years at the helm.
Herbert Chapman (1924-1935)
Chapman steered Arsenal to two Football League titles and one FA Cup when in charge between 1925 and 1934. The 1930 FA Cup final win was the club's first major trophy and the 1931 league was their maiden top-flight title. Chapman was arguably the first manager to claim he had a 'five-year plan' when taking over and he was as good as his word. He is also credited with revolutionising formations in the era of the introduction of the offside rule.
Who do you think has been the greatest manager in Arsenal's history? Have your say via the feedback form below and vote in our poll. Voting closes on 9th August