Wayne Rooney: Danny Welbeck and Marouane Fellaini will pressure him
Wayne Rooney played well at Swansea, says Kammy, but could now find his place under even more threat...
Last Updated: 19/08/13 5:10pm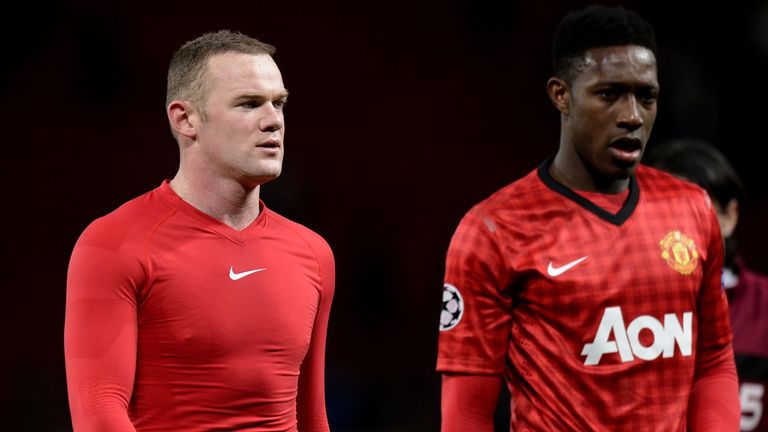 Wayne Rooney should be a regular for Man United...
KAMMY SAYS: It appears that Rooney wants to join Jose Mourinho but you just cannot imagine Man United selling him to Chelsea - they might sell him to a club abroad or a club not at the same level as them, but not to a title rival - so I think he will probably end up staying. If he does, though, he will remain committed to the cause, just as he was when he came on against Swansea, and he should play a big part in United's season. I am not going to tell David Moyes how to do his job but I would play Rooney every week, whether that's up front, in midfield or out wide. I understand why Moyes left Rooney out of his starting line-up at The Liberty Stadium - the transfer speculation was probably one reason, the fact he is not 100 per cent fit is another - but I don't think he is a player you can leave out long term.
But Danny Welbeck and Maroune Fellaini could take his place
KAMMY SAYS: However, Welbeck's performance against Swansea showed Moyes that he wants to play all the time; he scored two goals in a 4-1 win and you can't do any more than that. He looks like he has improved from last season - his finishing, in particular, was better than before - and that creates a tough decision for Moyes over team selection; it is enviable in that he has so many options but unenviable because he has to find a way to keep all his players happy. That task will be even more difficult if he signs Everton's Fellaini and Leighton Baines - and I think he will; Everton have rejected a first bid for their players but will probably accept one at a later date. I know for a fact, though, that while Baines would probably love to play for United, he will not force a move.
Arsenal fans must keep the faith
KAMMY SAYS: I understand the Arsenal fans are angry after losing 3-1 at home to Aston Villa, not spending any money over the summer and not having won anything for a long time - but now is not the time to panic. Aston Villa were fantastic at the weekend and deserved their win, but Arsenal lost to two penalties and a goal scored on the break when they were chasing an equaliser. That is not a disaster and they need to stick together and make sure they get through this tough Champions League qualifier against Fenerbahce, because they strove all through last season to get into the top four and play in this competition and the delight when they made it was clear to see. The players and this great club need their fans' support more than ever.
Rickie Lambert has had a great week
KAMMY SAYS: Rickie's wife gave birth to their daughter, Bella, he scored a winner against Scotland on his England debut and then got the only goal as Southampton got their Premier League season off to a winning start at West Brom. Saints boss Maurico Pochettino has signed Pablo Osvaldo from Roma as competition up front but he still thinks a lot of Rickie - as he proved by watching him at Wembley - and Lambert will welcome Osvaldo anyway; he wants to be at an ambitious club - which Southampton, having also signed Celtic's Victor Wanyama, seem to be. It's all looking good on the South Coast.
The promoted teams did okay - but Cardifff need more verve
KAMMY SAYS: None of the three promoted teams disgraced themselves; only a penalty separated Crystal Palace and Tottenham, Hull had a very difficult game at Chelsea and Cardiff lost to a very good West Ham. I was slightly disappointed, if I'm honest, that Malky Mackay's side didn't get forward enough as that left Fraizer Campbell quite isolated up front and West Ham under no pressure, but it was a learning curve for the club, and they, Palace and Hull can all take positives from their starts to the season.
Chelsea will play in a variety of ways under Jose Mourinho
KAMMY SAYS: Jose Mourinho has a different squad to when he won the Premier League before at Chelsea, but he is not a mug and will use his new tools to create something good. That said, while his team of old at Stamford Bridge were quite physical, they had class, too; Didier Drogba was a battering ram but he was also one hell of a player as shown by the fact he was twice named African Player of the Year. Jose will evolve and Chelsea will play nice football, but they will also mix it up and use their strength when necessary - but one thing that will definitely stay the same is Mourinho's ability to get the best out of his players.
That's Kammy's view but what did YOU make of the Premier League weekend? Let us know using the feedback form below...