Chris Kamara reflects on the weekend's Premier League talking points
Kammy says Yohan Cabaye should follow Wayne Rooney's lead, and Paolo Di Canio is very canny.
Last Updated: 27/08/13 11:59am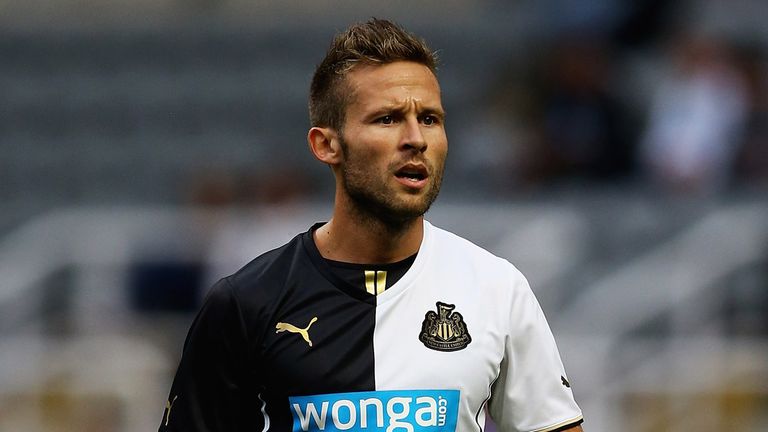 KAMMY SAYS: Players trying to force a move away from a club is nothing new and it looks like Cabaye is doing the same by refusing to play for Newcastle against West Ham at the weekend. He obviously feels that is the way to get his move to Arsenal and with some of the things going on at the club you can maybe understand it, but Newcastle still pay his wages so he should probably have handled things differently. Look at Wayne Rooney. We all know he wants to leave Man United but as soon as he puts on the shirt he is determined as ever, as he proved against Chelsea. Cabaye should let the transfer run its course and give his all for Newcastle - but I'm sure that if he goes to Arsenal, he will apologise to Newcastle and we will all move on. That's just the way it is.
Cardiff were good both defensively and offensively against Man City
KAMMY SAYS: Malky Mackay's team made it very hard for City to break them down - they had two solid banks of four and only went behind to a great goal from Edin Dzeko - and then when they needed to change and be more attacking to get back in the game they did. That switch - something they weren't able to do against West Ham last week - was seamless and took Manchester City by surprise. Okay, the second and third goals, scored by Fraizer Campbell, came from corners but they were very impressive throughout the match, and their ability to build from the back and then go forward when necessary will stand them in good stead.
Chelsea got what they wanted at Old Trafford
KAMMY SAYS: I know people have said Man United v Chelsea was a turn-off and not a great spectacle for the Premier League but not every game of football can be a classic. It is a game that a lot of us will forget in a hurry, but not Jose Mourinho; he had a game plan - to stifle Man United and make sure his team did not lose - and it paid off brilliantly. Yes, the attacking wasn't great but Chelsea's centre-backs were outstanding; John Terry looked as comfortable yesterday as he did when he was in his prime and Gary Cahill never put a foot wrong either. That should be applauded instead of us moaning because there were not loads of goals in the match.
Gareth Bale won't join Man United - but should do well at Real Madrid
KAMMY SAYS: I cannot see Man United getting Bale, even though David Moyes refused to rule out a bid for him on Monday night. I just don't feel United will pay what Real Madrid are willing to, so unless Rooney ends up at Tottenham as part of the deal - which is highly unlikely - it's not going to happen. Gareth will probably end up in Spain and I am sure he will flourish there because he is a good player, but, of course, you never know how quickly someone is going to settle. Lots of players come to the Premier League and struggle in their first season but then do really well in their second. That might be what happens with Bale - but whether he would be allowed a year's grace on the back of such a big transfer fee, I don't know. Real would be looking for instant rewards.
The race for the top four is going to be exciting
KAMMY SAYS: Arsenal, Tottenham and Liverpool will all be hopeful of battling for a Champions League spot this season and there are reasons to be optimistic for all three clubs. Tottenham have won two out of two, thanks to a couple of Roberto Soldado penalties, and have signed some really good players to complement what they already had - and, seemingly, replace Bale; they have got tremendous strength. Arsenal, meanwhile, will probably sign some players before next Monday but Lukas Podolski scored twice against Fulham and looks like a season in the Premier League has done him the world of good. Plus, Liverpool have Daniel Sturridge carrying on from where he finished off last season and Luis Suarez to come back in when his ban is over.
Southampton and Sunderland showed promising signs at St Mary's
KAMMY SAYS: I was at Southampton's game with Sunderland at the weekend for Soccer Saturday and was impressed by both teams. Southampton go about their business in a good way; I was made to feel as welcome there as I was when Gordon Strachan, Harry Redknapp and Nigel Adkins were in charge, while the players looked very relaxed, too. Sunderland, though, came with a plan and were unfortunate not to come away with a win after Jose Fonte equalised for the home side late on. People think Paolo Di Canio is a bit of a clown for some of the things he says - they think that about me, too - but he understands players and tactics and gets his team organised.
That's Kammy's view but what did YOU make of the Premier League weekend? Let us know using the feedback form below...