Ian Wright talks the Fantasy Football Club through his #One2Eleven
Arsenal legend Ian Wright picks his best team, but did Paul Merson make it? Find out here!
Last Updated: 30/08/13 3:38pm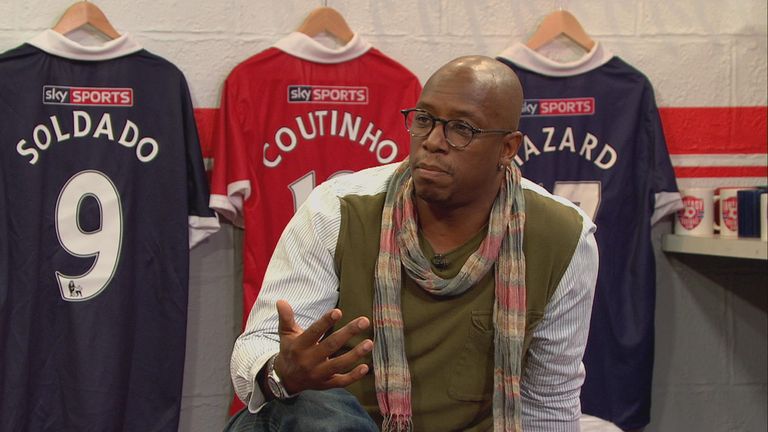 The former Arsenal and England ace picked out his #One2Eleven of the best players he's played with during his career. Here's who made the team...
GOALKEEPER - David Seaman: He didn't jazz up saves, he just made them. The one thing I remember that he would do is he would mess about in training then George Graham would just go 'right, come on goalie' and that was it, you couldn't score past him. Also if you tried to chip him, he would get your ball and boot it a mile!
RIGHT-BACK - Lee Dixon
CENTRE-BACK - Tony Adams
CENTRE-BACK - Steve Bould
LEFT BACK: Nigel Winterburn: I am going to go with Steve instead of Martin [Keown]. He'll be gutted but I'm sorry! One thing people don't realise is we used to be in training against them, nine of us against that four! People talk about them as the back four and how great they were and they were great because they worked at it, literally, every day. They were just like a unit. People talk about them with their arms up [appealing for offside] but their work was just precision in the way they defended. An art.
LEFT MIDFIELD: Marc Overmars: I've never seen anyone with the pace he had. You couldn't catch up with him. His movement, coming off the line, the way he would move defenders with the pace he had, he was impossible to mark. Just an unbelievable player.
CENTRE MIDFIELD - Bryan Robson: I played with him a couple of times in an England B game. He was Captain Fantastic and the amount of advice and help he gave me in a couple of games I played, knowing what he's done before in his England career and his Manchester United career? It was just an honour to play with him. Box-to-box, goals, tackles, passing, everything... he was the ultimate midfielder for me.
CENTRE MIDFIELD - Paul Gasgoigne: For me he is the best midfielder we've ever produced in respect of ability - and a great laugh. When he was in his pomp, before he did his leg against Forest and when he played in the 1990 World Cup, he was one of the best players in the world. When we played Italy in Rome to qualify, they had the whole team out, their best players there and Gazza was out there saying things in Italian, then in English and they were absolutely petrified of him! And that was when he wasn't at his very, very best!
RIGHT MIDFIELD - Paul Merson: I am not putting him in there just because he's sitting here, but in the respect of when you go somewhere and people say you are going to be playing with top-class players, Merse would do in training. I'm not talking about just a right foot, the goals he scored and the goals he set up for me. Of course Rocky [David Rocastle] is my man but in the respect of what Merse could do, he had to get in there.
STRIKER - Dennis Bergkamp: He was the best I ever played with. He was a world-class player. We used to room together for two or three years; I remember the first time, he came out of the bathroom in full pyjamas and slippers (so I did it myself the next week!). I came back from the training ground and Dennis had signed and I didn't know, so I've gone to Clacket Lane services on the M25 and I pull in and there's a big 'Seven Series' parked on the wrong side of the petrol pump, so I was thinking 'who's done that?'. Then all of a sudden Dennis came out, so I leaned over to say hello and he said he'd just signed for us.... and I couldn't believe it! I was so excited! It was like the first day of school, going to training in pre-season, because, as Merse will tell you, we used to say: 'The Messiah! He's going to save us!' I don't think I've seen him have a bad touch.
STRIKER - Teddy Sheringham: There's people like Brighty [Mark Bright] who I played with when he arrived from 86-87, what he taught me - in terms of being a professional football and conducting yourself - was unbelievable. I owe him a lot. Alan Smith is the same, but I have to go with Sheringham because, in respect of a centre-forward, when people talk about his pace and what he's got up top, as a number nine, I still haven't seen anyone as good as he was in terms of his awareness, so I had to go with the Bear.