Football Expert & Columnist
Jamie Redknapp says Aaron Ramsey showing hallmarks of Patrick Vieira
Jamie Redknapp says Aaron Ramsey is showing traits of Arsenal's greatest midfielders.
Last Updated: 29/09/13 11:40am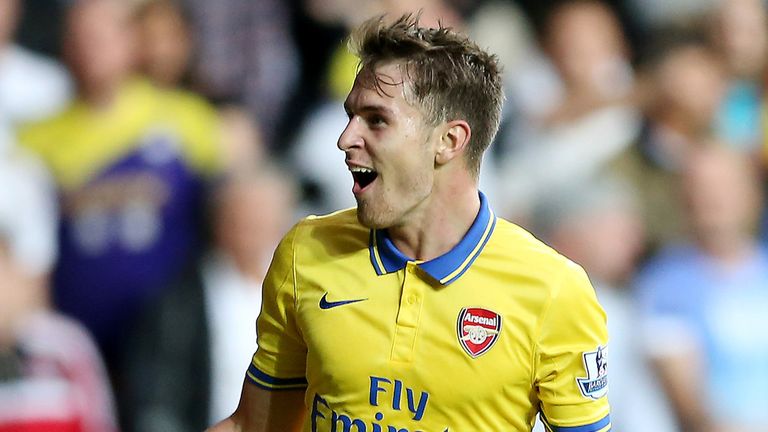 The Welshman scored his eighth goal in his last eight Arsenal appearances as the Gunners stormed back to the top of the Premier League with a 2-1 victory at Swansea on Saturday Night Football.
And Redknapp says his willingness to get on the ball reminds him of Vieira in his pomp - while the goalscoring touch of Fabregas is also in evidence.
The Sky Sports expert said: "Ramsey is their go-to man at the moment. He was outstanding again today and certainly in the second half, he drove the team on.
"He's playing with confidence. Last year when he got into those areas, would he be driving forward? I really doubt it. He would probably back up the play.
"This year, he wants to carry on. He desperately wants the ball and I felt all game he was the player and the person they looked to all the time.
"When I used to play against Arsenal, I always used to think about Vieira. Whenever they were in difficulty, the first thing they would do is pop it into Vieira because they knew there was a bit of safety and a bit of calmness about his game.
"That's exactly what he's becoming for them. It's early, it's seven games into the season, but I'm seeing a young man who is really growing into himself.
"He's absolutely tremendous in his all-round game. In the second half, he had the ability to drive his team forward and I've not seen an Arsenal midfielder do that for a long time.
"I think about Vieira and Petit and those big guns and that's what he's doing now. There's a little bit of Fabregas in there as well because he's adding goals.
"He looks a complete midfielder at the moment."
Evolved
Redknapp says Arsenal have this season evolved their style away from the passing game which has been their hallmark in recent years.
He says they have become more dangerous when they don't have the ball - and that is what made the difference against Swansea's possession-based football at the Liberty Stadium.
"There's a bit more about them when they play on the counter," Redknapp added.
"I look at Swansea and teams are figuring them out at the moment. I think they will find a way because they've had really difficult home games against Manchester United, Liverpool and Arsenal.
"They've got to find a way and that might just be getting Bony into the team. They need Bony and Michu together.
"Arsenal are dangerous on the counter and still miss Theo Walcott. They'd be even better with Theo because he adds a bit of pace.
"The players you are bringing in are scoring goals and that is massive for Arsenal."