Hodgson's third way?
It would appear that Jack Wilshere's England place is under threat following Daniel Sturridge's return and Steven Gerrard's midfield partnership with Frank Lampard. But there is a third way...
By Matt Stanger
Last Updated: 10/10/13 11:39am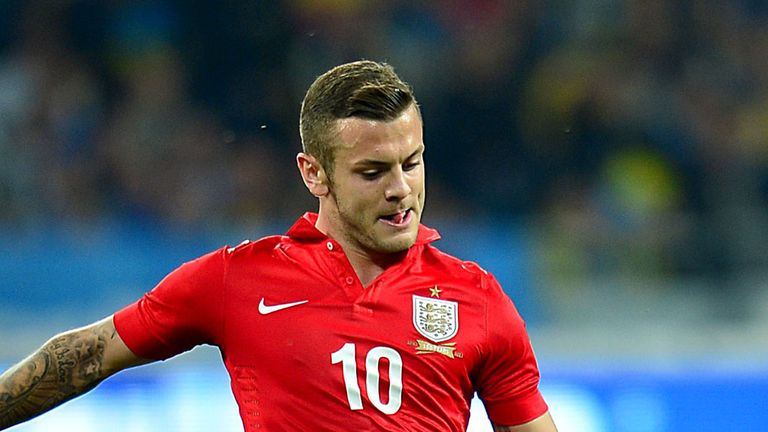 Jack Wilshere's views on the nation's footballing philosophy filled the back pages on Wednesday, as England's most technically gifted player for a generation championed the old stereotypes of grit and determination. "We have to remember what we are," said the midfielder ahead of England's crucial qualifying double header. "We are English. We tackle hard, are tough on the pitch and are hard to beat."
Wilshere's rabble-rousing reinforced Steven Gerrard's claim that it is "nonsense" to suggest the players don't care, but the 21-year-old may not even be on the pitch when England face Montenegro on Friday. A challenging start to the season at Arsenal, his poor performance against Ukraine and Daniel Sturridge's return to fitness have cast doubts over Wilshere's involvement as Roy Hodgson seemingly leans towards a central midfield partnership of Gerrard and Frank Lampard, with Wayne Rooney supporting Sturridge in attack.
So poor was Wilshere in a No 10 role against Ukraine - in which he recorded his lowest pass completion rate of the season - that he was always unlikely to hold on to the position when Sturridge eventually returned. Both Hodgson and Gerrard have salivated over England finally possessing a potent strike partnership and, should Sturridge and Rooney remain fit, they are likely to start on both Friday and Tuesday.
Furthermore, Wilshere has endured a difficult start to the campaign at Arsenal, owing to the increased competition for places at the Emirates following the arrival of Mesut Ozil and Mathieu Flamini. Wilshere has been squeezed into the Gunners' starting line-up in three different positons so far, before claiming that his overall contribution has been worthy of a six-and-a-half (presumably out of 10).
While the midfielder's fluctuating form was exemplified by his game of two halves against West Brom, Wilshere's recent deployment on the left of Arsene Wenger's 4-2-3-1 formation could be a blessing for England and provide Hodgson with a third way in which to play his strongest XI.
In a positional sense, at least, Arsenal's set-up is similar to Hodgson's formation with England, with two deep-lying midfielders, a creative No 10 and two wide players to support a central striker. It would appear that the manager plans to stick with Gerrard and Lampard in the spine of the team after praising the duo's "experience and composure" following September's qualifying double header, while Danny Welbeck has thus far been his preferred pick on the left.
But with James Milner currently undeserving of a place in the starting line-up and Wilshere filling in on the left for Arsenal, it must appeal to Hodgson to re-think his front four as he assesses his options. Welbeck, although usually utilised on the left, has played on the opposite flank for Manchester United before and that switch would allow the manager to play three of his four most effective central midfielders together.
The main concern over using Wilshere in this manner is that he fails to offer the width that Welbeck or Milner can provide. However, Hodgson has also been handed an unexpected incentive in this respect with Leighton Baines, an attacking alternative to Ashley Cole at left-back, replacing the injured Chelsea man for Friday's test against Montenegro.
One of Arsenal's biggest strengths in the wide areas is Wilshere's profitable understanding with Kieran Gibbs on the left, and if the midfielder can form a similar link-up with Baines, negating the lopsided nature of playing a central player on the wing. Wilshere has provided more second-assists (i.e. the pass to set up the player making the assist) than any other player in the Premier League since the start of last season, often searching for the overlapping Gibbs down the flank, and there is certainly potential for an understanding with Baines to work in a similar pattern.
Hodgson may choose to remain cautious and hand another start to Milner owing to the added protection he provides his full-back. But the winger's diligent approach to tracking back is the minimum requirement in two games England should be striving to win, and something that Wilshere also readily adheres to - somewhat too readily, on occasion.
This would not be a repeat of playing Paul Scholes on the left and wasting a talented option while Lampard and Gerrard jostle to burst forward in the middle. The experienced duo are now happy to sit and provide a platform for the team's more creative players, of which Wilshere is the most technical. It may not be the team that Hodgson originally had in mind, but the manager finally has a real opportunity to play both a winning team and a team that can win in style.
Considering the attacking advantage Wilshere's deployment on the left could provide and the minimal concerns over his defensive contribution, Hodgson should seek to tweak his system to suit the best players he has available, rather than rely on weaker players to get the best out of his system.
Matt Stanger - he's on the Twitter.