The perfect balance
There are similarities in Arsenal and Liverpool's rise to the top of the Premier League as Arsene Wenger and Brendan Rodgers tweak their systems in pursuit of efficiency
By Matt Stanger
Last Updated: 11/10/13 3:04pm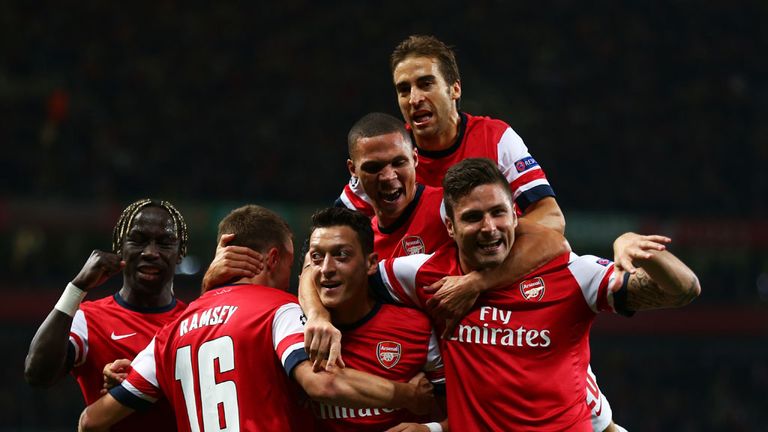 Equal on points, equal on goal difference and equal in philosophy. There is a reason Arsenal and Liverpool both sit at the top of the Premier League after seven matches, with Arsene Wenger and Brendan Rodgers eschewing control in favour of dynamism and attacking incision.
While Chelsea, Manchester City and Manchester United are all in flux after appointing new managers in the summer, and Tottenham are adapting to life without their best player, it is not necessarily continuity that has helped Arsenal and Liverpool enjoy impressive starts to the season. The managers may be the same, but the message is different - possession is no longer nine-tenths of the law.
It can be seen through the statistical analysis of both sides' performances so far. Arsenal have slipped from the top of the Premier League possession chart in 2012/13, with an average of 58.2% per game, to eighth and an average of 54%. Liverpool, third in Rodgers' first season in charge with an average of 57.2%, are now ninth with an average of 51.7%.
Statistical data only proves so much, but it reinforces what we can see on the pitch as Arsenal attack in spurts and quick transitions, while Liverpool have sought to get themselves in front before tightening up and holding on to the lead. As revered former Arsenal manager Herbert Chapman once said: "The truth is you can attack for too long."
"We try to make it rapid and direct," was Chapman's mantra, and Rodgers has encouraged the same from his Liverpool players. "We're a team that's evolving and starting to understand that side of football; with every attack, you can't score," said the manager before the Reds' victory over Crystal Palace. "Sometimes you have to move the ball, disrupt your opponent's organisation and then really have the eye to make the killer pass and hopefully get the goals from there."
For Liverpool, this aim has predominantly been emodied in blistering first-half performances that have seen them lead at the interval in six of their seven top-flight fixtures. Even in Luis Suarez's absence, the Reds showed great intelligence in the final third to seize their moments to go in front. Daniel Sturridge's first-half strikes in away matches against Aston Villa and Sunderland are two such examples as containment was considered an after-thought.
Arsenal, meanwhile, have demonstrated their counter-attacking ability even more readily, aided by Mesut Ozil's genius. Tottenham, Fulham, Sunderland, Marseille and Swansea were all picked off on the break, but it was against Napoli in the UEFA Champions League that the Gunners really excelled. Two goals courtesy of quick bursts in the opening 15 minutes saw off Rafa Benitez's side, with Ozil's opener underlining the team's unerring confidence in their finely tuned system.
Furthermore, in four of the eight matches in which Arsenal have scored two or more goals this season (in all competitions), the Gunners have struck in quick succession to establish an advantage. Goals in the 58th and 62nd minutes defeated Swansea, Ramsey's double in the 67th and 76th minutes ended Sunderland's brief hopes, Napoli were undone in 15 magnificent minutes and Fenerbahce were thrashed at home by strikes in the 51st, 64th and 77th minutes. It's the equivalent of a boxer hammering a jab in the gut before a blow to the jaw.
The idea of control has not been ignored completely, of course, otherwise it would be difficult to profit on a revised attacking approach. Mathieu Flamini's arrival has provided renewed strength to Arsenal's spine and it was interesting to see that the Frenchman was preferred alongside Mikel Arteta for the tough test against Napoli as Jack Wilshere dropped to the bench. "Flamini has given us a balance between attacking and defending," said Wenger. "He is someone who accepts the dark role in the team."
Negotiating the same balance has been at the forefront of Rodgers' thoughts too, particularly in Liverpool's hard-fought victory over Aston Villa in which they were happy to cede possession to a side set up to hit the Reds on the counter. "It was a terrific win for us. I thought first half we had good control of the game and scored an excellent goal," said Rodgers. "Obviously second half, we just needed to defend a bit deeper. Tactically that was the idea. In the first two games Aston Villa have been brilliant on the counter-attack and if you open up too much the spaces then they have players who can hurt you."
In terms of Liverpool's ability to hurt opponents, Sturridge and Suarez have continued to form an exciting partnership, seeing off Sunderland with a swift counter-attack to seal all three points.
At Arsenal, Wenger's change of tack has helped to get more out of Olivier Giroud. The striker's best goal last season came in the Gunners' 3-1 win at West Ham, when he dropped deep to spray the ball out to Lukas Podolski on the left and then burst to the front post to slot home a neat finish. Wenger has built on this aspect of Giroud's game as Ozil and the revitalised Ramsey are now encouraged to run past the centre-forward instead of the frontman being the focal point of the attack. Ozil's goal against Napoli exemplified this idea and Giroud's improved displays have reduced concerns over the failure to sign Suarez in the summer.
Wenger and Rodgers' distinct game plans have helped Arsenal and Liverpool to flourish so far and, while both sides still have room for improvement, their balance between control and attack has yielded great efficiency. For Liverpool the aim now is to maintain their performance level over 90 minutes, while Arsenal can look forward to being further strengthened in attack when Santi Cazorla returns following the international break. It bodes for an exciting encounter when the two teams meet on November 2.
This article first appeared on www.football365.com
Follow Matt Stanger on Twitter.