Ending on a high
Arsenal Ladies and England star Alex Scott continues her regular Sky Sports column by assessing the progress made in World Cup qualifying as 2013's international fixtures conclude
By Alex Scott - Follow on Twitter @Alexscott2
Last Updated: 08/11/13 4:00pm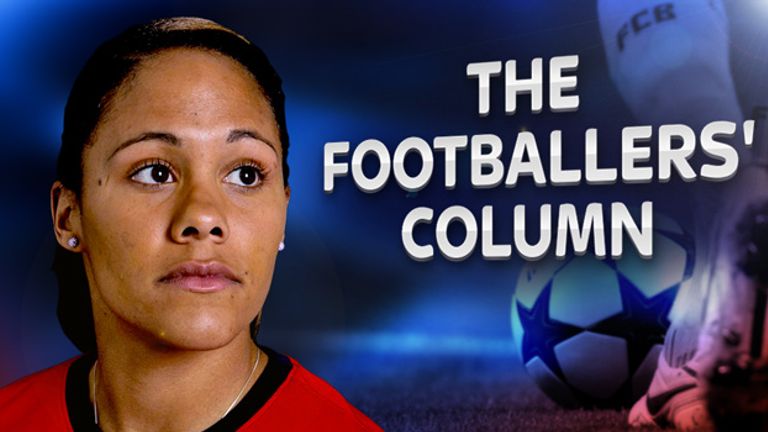 The international fixtures have come to a close for the England team for 2013 and they finished in the right way.
We sit top of our World Cup qualifying group with maximum points from the four games we have played. We have scored 19 goals whist keeping clean sheets along the way. We have played some attractive football at times and it feels good to be back to winning ways. Yes, this has happened against teams ranked lower than us but, as I write, that famous cliche of a quote comes screaming to the front of my mind, 'You can only beat what is in front of you'. That is so true.
Brent Hills has been in temporary charge of all four World Cup qualify games, with the permanent England manager to be announced before Christmas. Brent has gone on record to say he would love the job. Just like it is our dream as players to play for England, I suppose coaches look at it the same way and the dream is to go on and coach a national side. Whoever gets the job, as players, you always support the manager, because you both want the same things - which are to be successful and win things for your country.
So with the international year over, the 2013 club calender is also nearly at an end for me. I have two remaining games left to play with Arsenal in one of the biggest competitions of them all - the UEFA Champions League. We play our last 16 tie against Glasgow City. We play at Barnet's Hive on Saturday with a 1pm kick-off. Come down and support us in the last home game of the year for Arsenal Ladies if you can. Hopefully we can get a nice home win, which will set us up nicely going into the away tie on 13th November.
What next for me after that? I have started my media course, which I told you about in my last column. But what you may not know is that I am also part of a charity organisation called Street Child World Cup. This is a campaign for street children to receive the protection and opportunities that all children deserve. This is 'more than a game' and, through football, Street Child World Cup aim to challenge the negative perceptions and treatment of street children.
So I am packing my bags and heading off to Brazil after our Champions League games to really work alongside the charity and see what these street children have to endure and experience in their day-to-day life. I will be going to see a girls team training and getting involved and hearing their stories. I will also be visiting shelters for street children and interacting with them. I know this is going to be an eye-opening trip for me and once again show how fortunate and lucky some of us actually are.
No child should have to live on the streets and if my visit makes some of them smile for a few hours or if taking some England kit, which some of my team-mates kindly donated from our last game against Turkey, goes a little way to making them have a great day, then it is a small thing but it will be worthwhile.
For more information on Street Child World Cup, visit www.streetchildworldcup.org