Parlour on Arsenal
Arsenal suffered a first Premier League defeat since the opening day when they were beaten by Manchester United on Sunday, but former hero Ray Parlour remains optimistic - if the Gunners can improve their forward options in January and maintain their belief in the biggest games.
By Adam Bate
Last Updated: 12/11/13 9:10am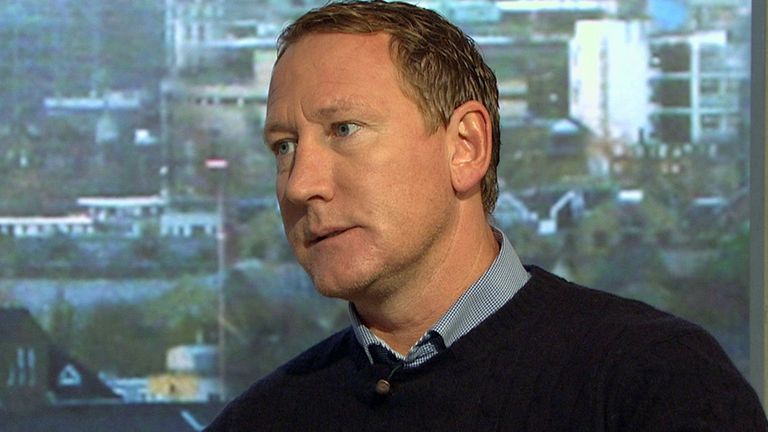 How are you feeling after the defeat at Manchester United?
I'm optimistic. I thought they did very well second half. It's always going to be a tough game against Manchester United and they haven't got a great record there going to Old Trafford. But you've got to look at it in a realistic way and say that they've had a really good start to the season.
I think January is going to be very important for a lot of clubs including Arsenal. I look at the centre forward position and I think bringing Nicklas Bendtner off the bench is not the option they really want. So Arsene Wenger will look at that in January to try and strengthen it.
The main thing for me is being in the thick of it come March because that's when the pressure really kicks in and every point is so vital. Over the past couple of years they haven't been involved by March so I'm hoping they can hang on in there and keep putting these good performances in.
Wenger said the team were nervous early on. They'll need more belief to win the title won't they?
There is so much belief in the team this season. You can see by the way the players are playing, they believe they can win every game. But maybe there were a few nerves before this game. It's always a difficult one at Old Trafford. Back in the day when we played, we knew it was the one where you had to compete and do well.
So maybe they were a little nervous in that first half but in the second half they tried to pass the ball better like they are used to doing. They just didn't get that chance to equalise. Probably key players on the day didn't have a great game - the likes of Santi Cazorla and Mesut Ozil. These top players have to perform on the big occasions.
It's Southampton next up and you know from title winning triumphs of your own that bouncing back is key...
Definitely. It's all about the performance now. The Southampton game is going to be vital. I'm sure they're all going to be disappointed about the result against Manchester United but it happens in football. You can't worry about that now. You've got to move on and make sure that you get the next result.
It's going to be a tough game because I think Southampton are playing really well. They've been the surprise team in the division this year, sitting in third place with great youngsters in their side. That's going to be a massive game for Arsenal to get back on track.
What's realistic for Arsenal now? Can they be thinking about the title?
If you're Arsene Wenger then you always go into it thinking you've got a squad that's good enough to challenge for the title and it's going very well. But I think January is going to be very important. Whoever goes out and buys the players that can give everyone a lift come the business part of the season could find that that'll be enough.
But I'm always optimistic about Arsenal. I think they have got a good squad now. Their two centre halves have been amazing this season, Laurent Koscielny and Per Mertesacker. You could see that they missed Mertesacker at Old Trafford. He's a very important player now for the club. If they can get him back fit and keep everything going well then they have the players who can score goals so that should be enough to keep them high up in the league this year.