Glenn Hoddle
Football Expert & Columnist
Jack Wilshere: Glenn Hoddle hails goals for excellent Arsenal
Glenn Hoddle says it's great to see Jack Wilshere among the goals and was impressed with Arsenal.
Last Updated: 27/11/13 8:33am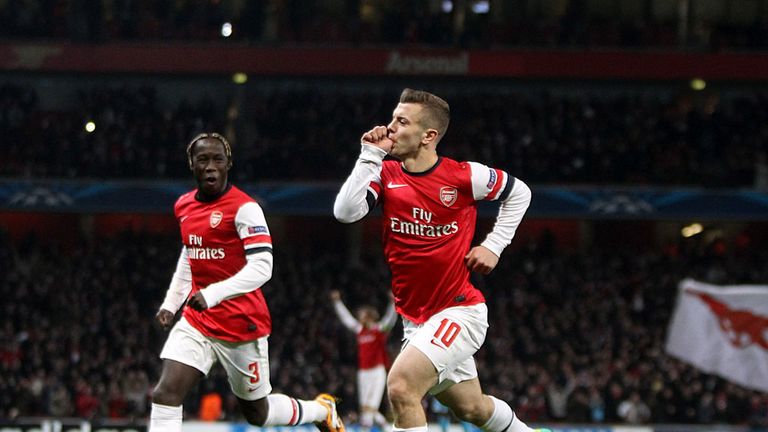 The Gunners came out 2-0 victors at the Emirates on Matchday 5 of the Champions League thanks to a brilliant brace from the England midfielder.
The win puts Arsene Wenger's side within touching distance of qualification to the knockout stages and former England manager Glenn Hoddle was suitably impressed with the rounded performance.
He said: "Tonight they were excellent with the movement that they had.
"They've got an array of talent right across the midfield which is very difficult to play against when they're changing the angle of the ball and getting midfield players in to the box and it's great to see Jack Wilshere doing that as well and finishing it off.
"We know Ramsey's been doing it, now as an Englishman I love to see the lad (Wilshere) getting in the penalty area."
Despite the win and sitting top of Group F, Arsenal are not guaranteed qualification.
Borussia Dortmund's 3-1 victory at home to Napoli means the North London club need a point from their trip to Naples on Matchday 6 to win the group but could face a painful exit if they lose by three goals as the decision would go down to head-to-head goal difference.
Hoddle believes Arsene Wenger will not change the club's attacking style of play for the next fixture and puts their success this season down to improvements across the pitch.
"If there is one team in our league that cannot play a defensive game then it's Arsenal," Hoddle added.
"I think knowing Arsene as I do there's no way he'll go there and try and get a point. He'll look to be sensible, don't go stupid early on.
"But with their natural way of playing and the fact they haven't got any defenders in midfield to bring in and tighten up they've got to play their natural game which is keeping the ball, playing the little angles that they're great at.
"Arsenal go away and they've been playing their football, they've tightened up at this level. I think over the last three or four years I never felt they could defend well against the top teams and they've been tested up against Napoli and Dortmund.
"As a team collectively they've protected the back four a little bit more, they've changed their emphasis on playing or passing but they have definitely as team worked better against set plays.
"Defensive set plays were always their Achilles heel and as a team, from Giroud all the way through the team they're much tighter at winning the ball back and saying 'give us more ball to go and play our natural game.'"