January sale
Part one of our January transfer window guide looks at possible activity at Arsenal to Manchester City. We deliver our verdict on what's needed at each club and offer realistic expectations over what will actually transpire. Part two of our guide will be published later in the week...
Last Updated: 31/12/13 1:23pm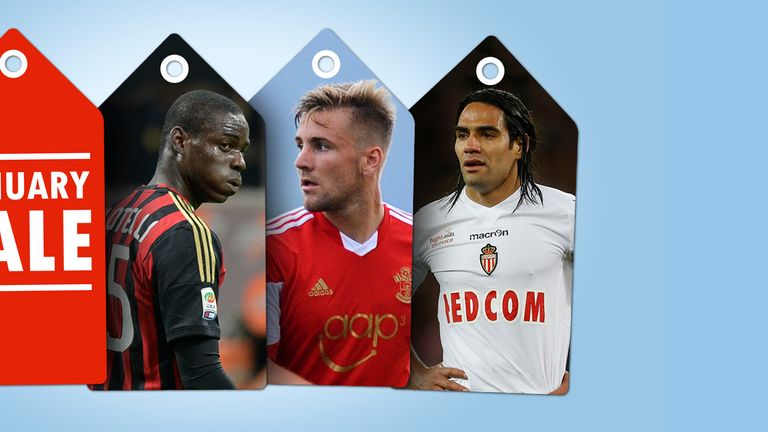 With the January transfer window now upon us the big question is which Premier League clubs will open the coffers and buy big?
Manchester United are hardly notorious spenders at this time of the year but after a disastrous summer in terms of recruitment, it could be that David Moyes will act boldly to placate a swell of support who are worried the club are slipping behind their rivals.
Arsenal and Chelsea are both in the market for a striker, while Brendan Rodgers would love to add a couple of new faces to a light looking Liverpool squad.
Tim Sherwood is unlikely to be given an open cheque book at Tottenham but will be keen to make his mark in terms of recruitment, whilst Manchester City are rarely bystanders when it comes to eye-catching market moves.
At the other end of the table, those at the bottom will be acutely aware that whoever comes out on top in terms of January recruitment will likely have the greatest chance of staving off the drop.
Here, we look at the potential transfer plans of the first ten Premier League clubs - Arsenal to Manchester City - with the rest of the top flight to be featured later in the week.
ARSENAL
What they need
The obvious one is a striker, as Gooners everywhere say their Hail Marys and hope splashing out on Mesut Ozil in the summer was the start of a new transfer policy, rather than a giddy exception. It's not even that they lack proper back-up should Olivier Giroud get injured, but they have no alternative, no serious Plan B beyond the Frenchman. They could also do with some more central defensive cover, given they're only a twanged Per Mertesacker hamstring or a clumsy Laurent Koscielny red card away from Thomas Vermaelen.
What they will probably get
Maybe the striker, but nobody big. Wenger's recent encouraging words about Nicklas Bendtner served to frighten nervous Gooners out there that he might be a serious option. And that's...that's not good.
What's been said
"It is always difficult in the middle of the season. If somebody is doing well somewhere the clubs do not necessarily want to sell him. They can wait until the end of the season. Most of the time it is because we didn't find the right player" - Wenger, November 22.
Merson's verdict
Arsenal need a centre-forward and badly. I think Giroud is a good player and I like him but I'm not just talking about this season but next season and the one after. Arsenal are in such a good position at the moment you just don't want to blow it in February or March because you haven't got a centre-forward. I'd love to see them get someone like Diego Costa from Atletico Madrid who would cost a lot of money but Arsenal have got enough it. If they got him they'd be a massive, massive side.
Arsenal transfer news in full - click here
ASTON VILLA
What they need
A left-back would be handy, given Antonio Luna's, erm, form. A central defender so they don't rely quite so heavily on Ron Vlaar. A bit of help in midfield wouldn't go amiss. And their strikers haven't exactly been on fire either, with ten goals between Gaby Agbonlahor, Andreas Weimann, Christian Benteke, Nicklas Helenius and Libor Kozak. So, a fair bit then.
What they will probably get
Oh, maybe a defender or two, but ones that will comply with Villa's policy of buying young and under-priced players, a policy that has produced some - how to put this - mixed results. Still, bearing in mind Paul Lambert's recent comments, perhaps they won't bother buying anyone...
What's been said
"It doesn't matter if you go into the transfer market or not. The basics of the game are you've got to stop a cross or be better in possession. We were neither or today. If you do that, you lose goals. I thought we started really well, as well as we've started in a number of weeks. But we cannot defend that way, especially against them, they're a very good side. They're clinical. The second and third goal we're in possession of the ball, the first one, you've got to stop a cross" - Lambert, December 16.
Merson's verdict
Aston Villa have got a very young team and I have a funny feeling they could very easily end up in the relegation scrap again this season. They could be the team that slides down out of nowhere before you know it, so if they could bring anybody in it would be a bonus. Personally, I think they need a bit of experience, but Paul Lambert never goes for experience.
Aston Villa transfer news in full - click here

CARDIFF
What they need
A striker might be handy to help out Fraizer Campbell, while a little more creatvi...oh, this is pointless. Because...
What they will probably get
Well, perhaps nothing, following recent developments in Vincent's Tan-fastic wonderland. When Malky Mackay quite reasonably commented that a couple of new players might be handy for a team only four points shy of the relegation zone, Tan responded by adjusting the (red) replica jersey sported over his shirt and tie, hitched his strides up even closer to his nipples and promised that "not a single penny" will be spent on the team this January. However, it's clear that whoever the Cardiff owner now appoints to replace Mackay will need a pot of cash to help them on their way. There has been talk of trying to tempt Ole Gunnar Solskjaer with a £25million war chest, which would be interesting to say the least.
What's been said
"Tan Sri Vincent Tan was extremely upset to read quotes from the manager concerning the possibility of new recruits, before he had been informed whether funds would be made available. He believes that doing so unfairly raises supporter expectations, placing unnecessary pressure on the club. His view is that due to the funds already committed, including the originally authorised summer transfer budget of £35m that rose to £50m in total, including add-ons, the manager has been fully supported" - Simon Lim, Cardiff chief executive, December 16.
Merson's verdict
They need to get a manager and lively. It seriously wouldn't surprise me if their chairman took over to be honest. Whoever takes the job is going to be someone who just takes a job on for the sake of it. It is the Premier League and Cardiff do have some good players but with the owner I just don't know how they're going to work under him. For me the most important thing for them is to get a manager asap and I mean that because the way it's going there aren't too many people queuing up waiting for the job. They need a manager in before the next set of league games after the FA Cup.
Cardiff City transfer news in full - click here
CHELSEA
What they need
Well, conventional wisdom states a new striker (Falcao or Mario, anyone?), but if their midfielders keep scoring then one of those will not be necessary. Ah, but the midfield - while the attacking trio just behind whichever placeholder is up front is clearly in solid shape, the pair behind that often isn't. While Ramires is usually a reliable sort, Frank Lampard is 35, John Obi Mikel hasn't been good enough for a long time, Michael Essien is a fraction of the player he once was and Marco van Ginkel is injured. Oh, and since Jose Mourinho clearly isn't convinced Ashley Cole can be relied upon, a proper left-back might be handy. A move for Luke Shaw would make sense.
What they will probably get
Well, erm, not a lot actually. A youngster or two might arrive, and a few of the players out on loan could return to beef up the squad, but Mourinho seems happy with his lot for now.
What's been said
"I'm not expecting moves. The market will be open for a month, so in the market you never know what can happen, but I don't think so" - Mourinho, December 3.
Merson's verdict
They have got to go and buy a forward. Will they go for Wayne Rooney again? It was clear that Jose Mourinho wanted Wayne Rooney in the summer and never got him so maybe they will go full monty for him in January? He can't play in the Champions League, but their forwards have struggled for goals and he would be a brilliant signing.
Chelsea transfer news in full - click here
CRYSTAL PALACE
What they need
Priority number one should be the defence, so neglected by Ian Holloway in the summer window. As has been said before, the way to avoid relegation is to tighten up at the back, and while Tony Pulis has managed to organise Palace better than Holloway, help from some better defenders certainly would not go amiss. Better than Damien Delaney, anyhow.
What they will probably get
Probably a few old reliables - 'Pulis players', if you will. Someone a little more robust than Palace's current options. Actually, this window might be quite instructive - is it Stoke and Tony Coates that likes to do all their business at 10.30pm on deadline day, or Pulis? Our reporters might want to find a pitch outside Palace's training ground.
What's been said
"We need to bring a few in because we're very very short on numbers that can affect changes. The window doesn't open for a couple of weeks and we'll have to see what's available. But if we hadn't picked up points it would have been difficult to convince the powers that be to spend a little money" - Pulis, December 15.
Merson's verdict
A few weeks ago, the easy thing to say was that they need a centre-forward because they need to score goals to get out of trouble, but Marouane Chamakh has done quite well lately and has done nothing wrong. If they sign someone else, will they play as well as Chamakh has done in December? Personally, I think they should get someone else in because he surely won't keep it up for another 20 games.
Crystal Palace transfer news in full - click here
EVERTON
What they need
Just tweaks and cover, because their first team looks pretty sorted for the moment. It might largely depend on Leighton Baines' future, with a few reports suggesting the full-back will move to Manchester United in January, although Roberto Martinez has dismissed those naughty rumours. If he goes, a left-back will obviously be required, and they could sign a striker, or two if they can persuade West Ham to take Nikica Jelavic.
What they will probably get
Cover in midfield and attack, certainly. With long-term injuries to Arouna Kone and Darron Gibson (as well as a lack of a convincing alternative to Romelu Lukaku), Roberto Martinez needs to be active. And he seems to recognise this, too...
What's been said
"We are going to use the window in January to try to help the team because we lost two players for the long term. Arouna and Darron are two very important players for us so we will try to see if we can identify one or two players that can help the group. We have been working hard to identify who can help the group and that is what we are looking for in January" - Martinez, December 6.
Merson's verdict
I think Roberto Martinez will stick with what he's got. He did very well over the summer to bring in Romelu Lukaku, Gerard Deulofeu, Gareth Barry and James McCarthy and all of them have done well. They are a great example of buying players with proven pedigree in the Premier League, rather than relying on players from overseas.
Everton transfer news in full - click here
FULHAM
What they need
Well, some youngish players might be nice, given they managed to field a side with an average age of above 32 against Aston Villa at the start of December. Again, much may depend on who leaves, with Dimitar Berbatov seemingly displeased with his lot. Actually, even if Berba stays, they could do with a striker or two, with Darren Bent's impact thus far somewhat minimal. A bit of defensive strengthening to ensure the terrifying sight of Phillipe Senderos isn't seen very often would not go amiss either.
What they will probably get
The most likely area of the side that Fulham will strengthen is midfield. Scott Parker, Giorgios Karagounis and Steve Sidwell aren't exactly the most dynamic midfield combo, and there has been some eyebrow-raising talk that Meulensteen might go back to Manchester United for his old buddy Anderson.
What's been said
"I don't usually speculate as nobody knows what will happen in January but what I can tell you is he (Berbatov) is not happy at Fulham. He would like, if possible, to find another option...I cannot comment (on whether there has been any approach) but the priority is to find a solution to stay in England" - Emil Dantchev, Berbatov's agent, December 4.
Merson's verdict
People say they need more youth in their squad, but this isn't a time for young players. They are in a relegation battle and you need experience, which they already have. I don't think they have a lot of money to spend, so I don't think they will go for anybody. If they can keep Dimitar Berbatov at the club then they will have half a chance.
Fulham transfer news in full - click here
HULL
What they need
Hull have surprised everyone in the first half of the season, climbing into tenth position at New Year after a 6-0 thrashing of Fulham. Steve Bruce bought well in the summer, with Tom Huddlestone, Curtis Davies and loan signing Jake Livermore all impressing so far, but there is still plenty of room to add more quality to the Tigers' squad. Another striker is a priority following just one strike in 17 matches for Danny Graham.
What they will probably get
Although there has been talk of a budget-busting bid for Jordan Rhodes, it's likely Bruce will have to shop in the bargain bin again in January. That doesn't necessarily mean that he'll struggle to strengthen his squad, however, and Bruce may use his numerous overseas contacts to find the quality Hull require. Yannick Sagbo has proved a hardworking acquisition, and his recent form could persuade Bruce to see what other gems are waiting to be unearthed in Ligue 1.
What's been said
"We are halfway there, but we have to repeat the whole thing in the second half of the season. Hopefully we can bring one or two in to give a bit of quality in January. But overall I am delighted" - Bruce, December 22.
Merson's verdict
You could look at any team in the world and say they need somebody. You could look at Bayern Munich and say they need another centre-half. So while you could obviously improve Hull, I don't think they will do much business. I expect Steve Bruce to stay with what they've got.
Hull City transfer news in full - click here
LIVERPOOL
What they need
Liverpool's league position suggests they don't require a great deal to keep their top-four challenge ticking over - especially considering the absence of European football at Anfield - but Brendan Rodgers will surely have an eye on bolstering his squad in January. The Reds still require a third option at centre-forward, while goals from midfield is another area in which they can improve. Rodgers should also seek back-up to Lucas, whose absence in autumn 2012 coincided with a run of just six wins in 20 matches.
What they will probably get
The arrival of Philippe Coutinho and Daniel Sturridge at the start of 2013 helped Liverpool finish the season in blistering form and carry that momentum into the current campaign, with Rodgers looking to find another timely boost this month. There is money in the kitty for an attacking midfielder after Henrikh Mkhitaryan and Willian both rejected the Reds in the summer, while a move for a young striker such as Real Madrid's Alvaro Morata - or even Burnley's Danny Ings - is a possibility. A lot could depend on where Liverpool are sitting in the table come the last week in January; if it looks as though they stand a genuine shot at the title, FSG have the funds for a sudden splurge. Although we all remember what happened the last time they decided to get giddy in January.
What's been said
"January can be a hard window. While we were very successful in it last year - with Philippe Coutinho and Daniel Sturridge - we just won't be buying for the sake of it. We will wait and see what is out there" - Rodgers, December 13.
Merson's verdict
Giving Luis Suarez a new contract was their big coup of the transfer window. For me he's been absolutely outstanding and has almost carried Liverpool - though Henderson and Sturridge and others have done really well - but at the same time that's a major coup. Will he be there next season? I don't know but for now it's a good thing.
Liverpool transfer news in full - click here
MANCHESTER CITY
What they need
If this feature had been compiled before City's win over Arsenal, we would have said a defender and that's about it. However, Sergio Aguero's injury has left Manuel Pellegrini facing a difficult decision - should he continue to place his faith in Edin Dzeko and the absent Stevan Jovetic or should he look for an alternative partner for Alvaro Negredo?
What they will probably get
The third option, of course, is that Pellegrini could tweak his 4-4-2 system to play David Silva just behind Negredo with Samir Nasri and Jesus Navas occupying the wide roles. With Dzeko notching almost a goal every other game in all competitions, it seems likely that City will make do with their current forwards until Aguero's return, but a new defender remains a priority. Martin Demichelis has gradually improved since his promotion to the starting line-up, but City can't afford to take any more risks over Vincent Kompany's injury woes and a proven centre-back should be sought to help maintain their momentum on four fronts.
What's been said
"I put my trust in him (Dzeko) before the season and I have just as much trust in him now. It is very important for this club to have a good squad because we have a lot of games to play from now until April and, if we want to win trophies, we need important players" - Pellegrini, December 3.
Merson's verdict
I don't see them doing any business in January. I think they need another centre-half, but they will be looking for a top centre-half and how many of those will be around in January? A club like Man City doesn't need to be buying a middle-level defender, so I don't think they'll do anything.
Manchester City transfer news in full - click here
Who does your club need to sign? Have we highlighted each teams' respective weaknesses? Have your say by filling in the feedback form below, whilst remember to keep an eye out for part two of our transfer guide later in the week.