Arsenal's stats scarily close to Invincibles, says Jermaine Jenas
Arsenal's stats scarily close to the Invincibles but they must win the big games, says Jermaine Jenas.
Last Updated: 19/01/14 3:00pm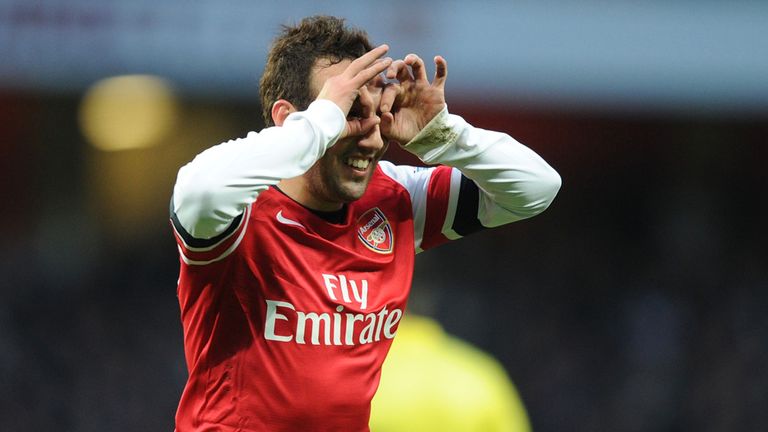 The Queens Park Rangers midfielder joined Sarah-Jane Mee on Saturday Night Football Match Choice to analyse all of the Premier League action and was impressed with Arsenal's 2-0 win over Fulham.
The victory meant Arsene Wenger's side retain their one point lead over Manchester City in the race for the title with 51 - just a single point less than the team had at the same time of the season (after 22 games) in their unbeaten winning run of 2003-04.
Jenas, who was at Tottenham for eight years, says the statistics look promising for his former club's North London rivals.
He said: "It's a scary stat considering that that team didn't get beat that year at all and they're only a point behind them.
"It just shows how much they've come on from previous seasons to this season, they're starting to win those crucial games that win championships."
Aspirations
Arsene Wenger's side have only lost three games in the League this season - to Aston Villa on the first day, Manchester United and Manchester City - but face Liverpool and United again next month and Jenas believes it's time Arsenal starting beating the 'big clubs'.
"I don't think they've quite done it against the top teams yet," he added.
"They didn't win the game when Chelsea came up against them at the Emirates (0-0). They need to start winning those games if they've got any aspirations of winning the title.
"They've got themselves in to a fantastic position for the first half of the season but they've got a long way to go and there are plenty of other top teams that will have something to say about it."
Two feet
Santi Cazorla scored twice in Saturday's 2-0 fixture with two well-constructed goals and Jenas hailed the Spanish midfielder's two-footed ability as the best around.
"Cazorla has probably got the two best feet in the league and he's just showing how good they are. To smash one in the corner with his opposite foot just as easy shows how talented he is."