Siding with Santi
Sky Sports Fantasy Football's tipster reckons Santi Cazorla can give your team an edge this weekend.
Last Updated: 06/02/14 1:45pm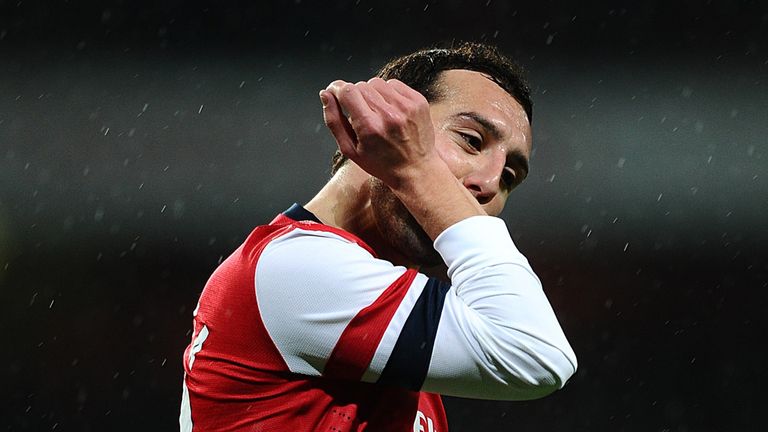 At this stage of a Fantasy Football season, it's essential to give your selection a unique edge if you've got ground to make up.
League leaders will happily match your obvious moves in order to preserve the gap - making Robin van Persie captain with Manchester United at home to Fulham for example.
Yes, the Dutchman has six goals and two assists in his last seven Premier League appearances and has very much recovered from injury, but it's time to take some risks.
In order to swing proceedings back in your favour, your team needs a masterstroke captaincy decision, and Santi Cazorla fits the bill.
Arsenal travel to Liverpool in the biggest game of the weekend on Saturday afternoon, and Sky Bet go odds-on (1/2) that both teams score so defenders should perhaps be overlooked in this one.
That means attackers are likely to accumulate good returns, and Cazorla (£8.7m) is a stand-out bet having scored in two of his three Premier League appearances against the Reds.
Better yet, he's been pulling Arsenal's table-topping strings of late, racking up a massive 33 points in his last three games alone, compared to just 13 from team-mate Mesut Ozil (£8.8m) in the same fixtures.
The Spaniard is slightly cheaper than the German too, so a straight swap will free up some funds for you to reinvest elsewhere, particularly if you have Liverpool or Arsenal defenders in what promises to be a free-scoring game.
Of course, there's always a chance van Persie or indeed Wayne Rooney, who has five in his last six games against Fulham, could double Cazorla's points tally by Saturday evening.
However, given United's unpredictable form this season, it's a risk worth taking to go with Cazorla in the early kick-off - it might well drag flagging Fantasy Football bosses back into contention.
Meanwhile, as we've seen in the Super Bowl and Monday night's narrow win for Chelsea, sometimes defence is actually the best form of attack, as far as sport is concerned.
Much like Seattle Seahawks against Denver Broncos, Chelsea, the Premier League's best defence, nullified Manchester City's fearsome attack and successfully countered with their own brand.
The Blues are likely to take a different approach against Newcastle on Saturday, but they're more than likely going to keep another clean sheet to add to their run of six in their last seven games.
Monday night's hero Branislav Ivanovic (£7.8) is the obvious choice but captain John Terry is £0.7m cheaper and is the only Chelsea defender to break the 100-points barrier so far this season.