Moyes keeps it brief
Sky Sports News' James Cooper reports from Carrington, where Manchester United manager David Moyes' press briefing ahead of Wednesday's crucial trip to Arsenal was... brief.
By James Cooper
Last Updated: 12/02/14 7:02pm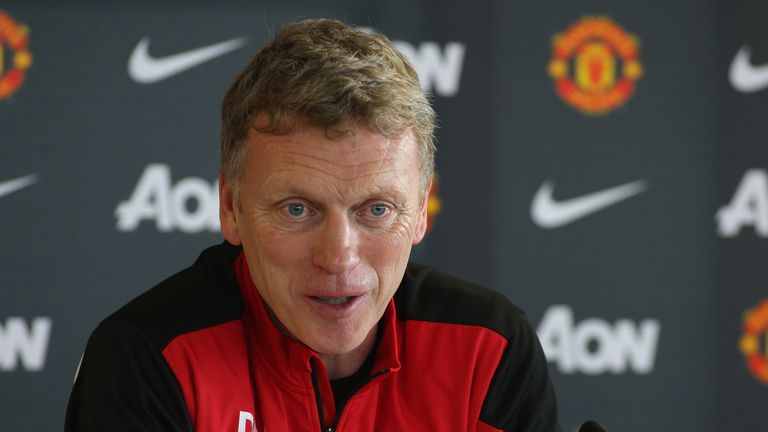 "You just try to continue doing the right things," Moyes told reporters, in a conference that lasted less than three minutes, before adding: "We're doing the right things, we need to keep going and your luck will change, there's no doubt about that."
While the mood inside the press room at Carrington was decidedly prickly, the champions could do with Lady Luck smiling upon them against Arsenal at the Emirates on Wednesday night and Moyes would welcome a change in fortunes for his side who are now 15 points off the title pace and have been hit with more downs than ups.
"Football does that sometimes and we have to make sure it doesn't happen too often," said the Scot, "but I do think there have been a few twists this season and hopefully we'll get them back in the future."
After defeats at the Etihad Stadium, Anfield and Stamford Bridge, Moyes is targeting his first-ever win as a manager at Emirates. He's already beaten Arsenal at Old Trafford in one of United's most cohesive and committed displays this season and is backing his players to put on a repeat performance in north London.
"We'll go and play. We are a top side and hopefully we'll go and show that we are, play well and do everything we can to pick up the three points", Moyes said.
"We'll always go and try to get a good result. We got a good result against them here at Old Trafford earlier in the season and we'll try to do the same again."
Now nine points off a Champions League spot with 13 games remaining, a win over Arsenal would give United just the lift they need ahead of a warm-weather break but they face a team with true title ambitions who are still licking their wounds after a 5-1 mauling at Liverpool.
"It is always a disappointment to lose a game, but I think it was an accident because we have been very stable defensively and we have to treat it like that," said Arsene Wenger of their Anfield defeat. "We have just been on a 10-game unbeaten run. You cannot consider one game as the trend."
Arsenal's defeat to a Robin van Persie goal at Old Trafford in November wasn't a blip. When it comes to their recent encounters with United, they have lost seven of the last 10 meetings, and won just one.
And although Sir Alex Ferguson has now passed on the baton to David Moyes, Wenger certainly won't be taking United lightly.
"We consider them as a strong side and a team that of course has quality, their season is difficult to judge at the moment," said the Gunners boss. "We will be playing against a good team and we want to beat them."
Tonight's game is the start of a pivotal week for Arsenal and is followed up by an opportunity for revenge in the FA Cup against Liverpool before the Bayern Munich in the Champions League and Wenger is tipping his players to prove their doubters wrong.
"It is important that we remind them we have done very well until now, that we are at the start of a very important week for us and we have worked very hard until now to be in that position," he added. "We can show now until the end of the season that people who think (we cannot win big games) are wrong."
So - two managers who need a win for very different reasons ahead of a clash between two of the Premier League's heavyweights who are both looking to silence their critics with a statement of intent at the Emirates Stadium.
You can follow all the action tonight on Soccer Special, Sky Sports News and Sky Sports 1 at 7pm