Crumbs of comfort?
Although Arsenal suffered a frustrating night in their 2-0 defeat to Bayern Munich, Matt Stanger feels there was at least some encouragement for Arsene Wenger...
Last Updated: 20/02/14 8:44am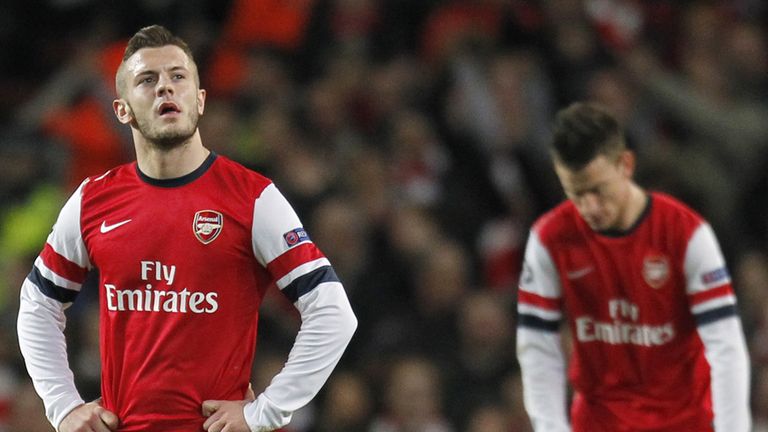 For 37 minutes this was possible. For the first eight, it might even have seemed probable. And then Mesut Ozil struck his spot-kick; no power, no precision, and nothing to show for a confident start. Seasons turn on such moments.
The consolation for Arsenal is that this was far from a repeat of last season's humbling at the Emirates, when Bayern Munich cruised into a two-goal lead inside 21 minutes and then sat back with the job done. The Gunners' chances of victory on Wednesday effectively ended when the sleeping Nacho Monreal missed Arjen Robben's run and Wojciech Szczesny brought the forward down for a penalty. But it was cruel that the second-half resistance, fortified by the memory of last year's famous victory in Munich, was eventually penetrated by Thomas Muller.
"The key for Arsenal is to make sure they are still alive in the second leg," said Gary Neville on Sky Sports as the match kicked off. It was a low bar to set and one that Arsenal chose to ignore. With Alex Oxlade-Chamberlain driving forward from midfield and surprise selection Yaya Sanogo commanding the final third, the Gunners aimed to take the initiative. Their reward was an early penalty that summed up Ozil's contribution in recent weeks. Sublime skill to create the chance, but no end product.
And then Bayern pressed. Whereas Thomas Vermaelen was seen as the weak link at left-back in this fixture last season, on this occasion the Germans targeted Kieran Gibbs, who was afforded little protection by Santi Cazorla. That Gibbs was forced off through injury and replaced by Monreal only made the problem worse. The Spaniard's performances have been open to criticism this season, and it was his mistake that left Szczesny exposed and now suspended for the second leg.
There is no shame in losing with 10 men against the reigning champions of Europe, but that doesn't remove the frustration of suffering defeat in this manner. Two years ago, when Arsenal lost 4-0 to AC Milan at this stage of the competition, Arsene Wenger bemoaned his "worst night in Europe". On Wednesday he could have been celebrating one of his best, had Ozil scored from the spot to capitalise on a pulsating opening period. "I think we are in much better mental shape than we were a year ago," said Wenger before the game. But when it mattered most, Ozil's resolve was absent.
Last year's win in Munich offers faint hope that Arsenal can recover the tie, but it is unlikely Bayern will be so complacent this time around. Instead, Wenger must now focus on reigniting the Gunners' Premier League challenge following the heavy defeat to Liverpool and the dispiriting draw with Manchester United. There were glimpses on Wednesday - and in the FA Cup victory over Liverpool - that the team can return to the quick, counter-attacking displays that made them so ruthless and so enjoyable to watch in the first few months of the campaign. If those glimpses can be developed into something more over the next two weeks, the gauntlet of March may not seem so terrifying.
"Tonight, everything went against us. We should have been three up before they got a sniff in the game and we made big mistakes, but the spirit was fantastic. The penalty we missed killed it a little bit, the crowd and the positive vibes. When you have one player sent off and one injured, you know you are going to suffer physically. It's a very difficult night but a night where the team has shown some quality and some class but at the end of the day, we lose the game."
"Last year, Bayern had a better result and this year it is super, we are so happy. The last two times I came here with Barcelona, we played amazing and we didn't win so I know how difficult it is to win here. I accept, we played 10 against 11 so it's easier that way and the red card was clear. When you see the second half and you see nine players in the box, it is not easy. It's important that we controlled so well in this situation and we played with patience and patience and found the goal."