Imposing Arsenal
In recent times Arsenal have appeared cowed against the better teams, so it was perhaps encouraging that they imposed their own game in Saturday's impressive 4-1 FA Cup quarter-final win against Everton, writes Nick Miller.
By Nick Miller
Last Updated: 08/03/14 5:22pm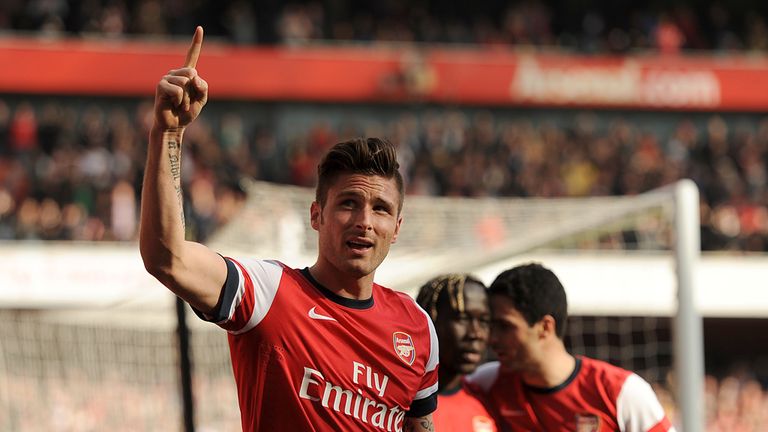 Pack away your jokes, cancel the 'Specialists in Failure' t-shirts, book the open top bus parade - Arsenal are going to Wembley.
Well, they technically are going to Wembley, but the old trophy drought isn't quite over yet.
While they still have a couple of rather hefty hurdles to jump over before that trophy monkey is lifted off their collective back, this game will provide Arsene Wenger with great hope that they can actually win something after nine barren years.
With little chance of winning the Premier League and their prospects of coming back against Bayern Munich on Tuesday firmly in the 'optimistic' bracket, this was Arsenal's most important game of the week, if not the season so far, at least until the semi-final.
And they started off like it as well, perhaps taking a nod from how Liverpool blew them away with some ferocious early attacking play last month, running at Everton with a directness that Arsenal so often lack. The inclusion of Alex Oxlade-Chamberlain, who was excellent again, obviously helped with this, and while obviously Arsenal weren't quite as successful as Brendan Rodgers' side, it set a tone from early in the game.
Recently Arsenal have seemed inhibited, particularly against the better teams in the Premier League, like they are nervous about failing, seemingly unable to win the games that matter, which is one of the reasons they won't win the league. It was therefore perhaps refreshing for the watching Gooners that Arsenal, playing against one of those better teams, mostly did as they pleased rather than being cowed. There were moments in this game that you stopped after a particularly fluent passage of play and thought 'Ah, that's Arsenal', something that has been too often missing in recent weeks.
The performance of Mesut Ozil should also provide some encouragement. As well as taking his goal very nicely, plus showing great awareness to play in Olivier Giroud for the fourth, the German looked lively - "regenerated", said Arsene Wenger after the game - and was even spotted tracking back to help his defence out at one stage. Remarkable scenes. Ozil's omission from the first team for a couple of games has surely been more of a mental refresher than a physical one, and he certainly played like a man with a clearer head against Everton.
Of course Arsenal weren't dominant - Everton played well in spells, and could/should have been in the lead shortly before Mikel Arteta's penalty, after Ross Barkley hit a very presentable chance over the bar from just inside the area. Barkley was a threat throughout, and Kevin Mirallas exploited the space left by Kieran Gibbs' attacking runs well at times.
But, as is obvious, Everton are a good side, and it was never going to be a stroll. The encouraging thing for Wenger is that Arsenal largely dealt with the threat from Roberto Martinez's team, and imposed their own game on Everton, rather than it being repressed by the opposition. Since Wenger doesn't often adapt his tactics or match plan to suit or combat the opposition, this is vital for Arsenal to succeed.
"It was important today," said Wenger after the game. "We can be inspired by our focus on the day, our desire and go to Bayern with the same spirit."
It might be optimistic to expect or even hope for much in Munich on Tuesday, but Arsenal's performance against Everton should be encouraging for their season way beyond that.
This article originally appeared on Football365