Dare to dream?
Arsenal's frenetic start at the Emirates in the first leg had Bayern rattled before Wojciech Szczesny's sending-off. Playing with the same creativity and fearless streak in Munich would engender real belief, writes Matt Stanger
By Matt Stanger - @MatthewStanger
Last Updated: 11/03/14 9:06am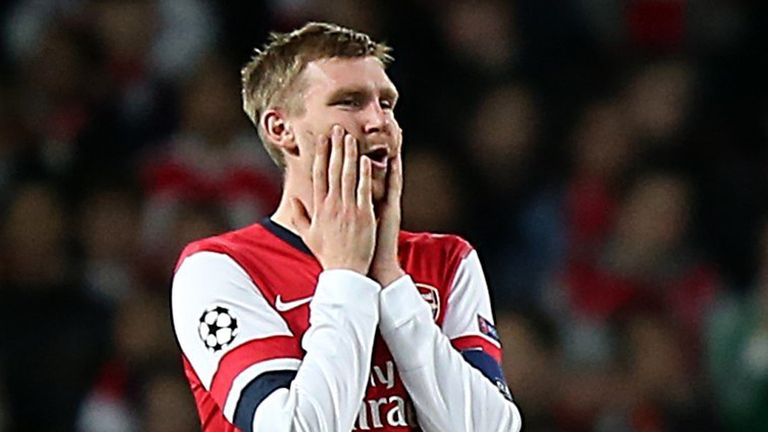 It is enormously difficult to preview a Champions League last-16 second leg in which the away side already trail 2-0. Against most opponents, Arsenal would face an unenviable task to reach the quarter-finals. Against the German treble winners, the word 'impossible' is not an overstatement.
Forget last year. If anything, the curious complacency Bayern showed that night should work against Arsenal on Tuesday. Pep Guardiola has warned that "it is still a dangerous situation" and his players will be keen to avoid the nerves that crept through the team when they lost 2-0 to the Gunners in March 2013. The abiding memory of that fixture is that Bayern were horrendously wasteful; the prominent point from their record over the last two years is that profligacy is not usually an issue.
A 6-1 win away to Wolfsburg at the weekend said as much. The victory marked a new record as Bayern became the first club to win 16 successive Bundesliga matches. It was their 49th league match without defeat - matching the Invincibles' run in 2003-2004. In the last 20 home league games Bayern have scored 69 goals and conceded just 11, while they have dropped just six points from the last 123 available in the Bundesliga. And, as this paragraph exemplifies, they make statistics sound boring - something that has become a hallmark of greatness in the modern game.
This is not to say that Arsenal can't hurt Bayern, and for 37 minutes of the first leg - before Wojciech Szczesny's sending-off - they were fearless and creative. For the first eight minutes, it even seemed probable that the Gunners would secure a famous victory. With Yaya Sanogo commanding in the final third, Alex Oxlade-Chamberlain bombing forward and Mesut Ozil threading passes like a naughty seamstress, there was genuine hope of sneaking an advantage. As German journalist Raphael Honigstein tweeted: 'Bayern were totally rattled.' It was just a shame that Ozil let them off the ropes with his poorly taken penalty.
But Arsene Wenger will know to repeat the plan. As I wrote before the first leg, Oxlade-Chamberlain's dynamism is crucial to unlocking Ozil's majesty - a player Guardiola insists he "doesn't want to see on the ball" - and that combination has offered promise in recent weeks. With Olivier Giroud returning to form, claiming four strikes in his last three matches, Arsenal should push for an opening goal that could cause Bayern to sweat. They aren't used to going behind, after all.
There is also a slight advantage for the Gunners in the fact that the pressure is off. Nobody expects them to progress, nobody expects them to win, not many expect them to even find a goal. In a season of enormous improvement and challenging on three fronts, this is a rare situation. Between now and the end of the campaign, Arsenal play ten matches in the Premier League to try and close the seven-point gap to Chelsea and in one month's time they face Wigan at Wembley with their best chance to win silverware for three years in sight. If anything, the seemingly impossible task at the Allianz Arena offers brief respite in an already hectic schedule.
And how far could another strong performance push them? The 2-0 victory in Munich last March was not enough to progress to the quarter-finals, but it did banish the lingering anxiety of domestic cup exits to Blackburn and Bradford, and Andre Villas-Boas' claim that Arsenal were in a negative spiral. The Gunners ended the season with ten wins and two draws in their final 12 fixtures to claim fourth place on the final day. A repeat of that run this year might just result in the club's first title in a decade - and it could all start with another impressive display against Bayern on Tuesday.
A version of this article first appeared on Football365