Ox offers hope
The result may have been meaningless as Arsenal again crashed out of the Champions League in the last 16, but the performance was anything but. Alex Oxlade-Chamberlain was hugely impressive...
By Matt Stanger
Last Updated: 11/03/14 11:26pm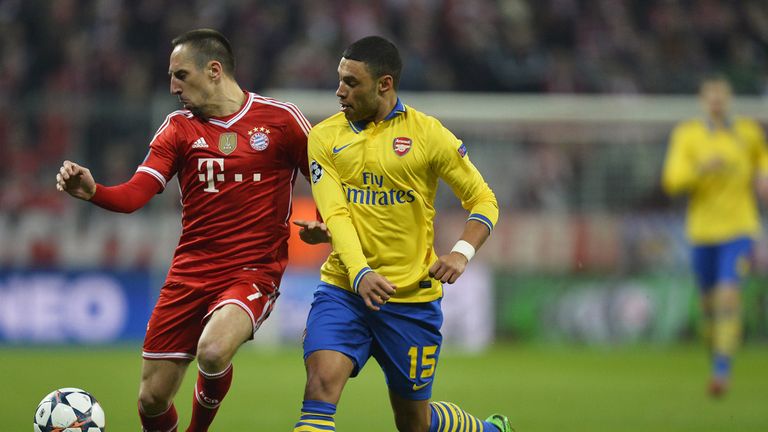 This was another 'not quite' night for Arsenal that left more questions than answers about the team Arsene Wenger is assembling. How would this tie have finished had Wojciech Szczesny's red card not completely changed the complexion of the first leg? What if Mesut Ozil had scored his early penalty at the Emirates? And how would the Gunners have fared with their strongest XI at the Allianz Arena? That the frustration of Bayern Munich's 2-0 victory in London was only increased by a determined display on Tuesday is testament to the quality Arsenal exhibited in the toughest of tests.
"We can do something special. The only way to do it is to really believe and go for it," said Wenger before kick-off. The absence of a number of players too long to list hindered Arsenal's chances of overturning the deficit, while Ozil's half-time substitution - reportedly because of a hamstring strain - dealt a further blow. This was a full-strength Bayern side against a patchwork opponent. And yet the Gunners held their own.
Bayern had only failed to score more than once at the Allianz in two of 30 fixtures since the 2-0 defeat to Arsenal last March, but on Tuesday they rarely looked like doubling their tally. That was in part due to a commanding performance from Lukasz Fabianski - who saved a late Thomas Muller penalty - but also because of a fear of what the Gunners could do to them on the break. Bayern weren't complacent on this occasion, they were cautious.
Alex Oxlade-Chamberlain presented the biggest threat. Arsenal had been forced to sit deep in the opening stages but burst into life when the winger hooked the ball out of the air and surged forward on eight minutes. Driving at a back-pedalling desperate Dante, it looked like the youngster was in. A cynical challenge from the defender prevented the chance, but Dante's hack - which earned him a yellow card - was an early warning of the dangers Pep Guardiola had spoken about in his pre-match press conference.
On the half-hour mark Oxlade-Chamberlain broke again. This time he chicaned through four red shirts, moving the ball at speed and with wonderful close control. Philipp Lahm was wiser than Dante, refusing to stick out a foot, but Thiago Alcántara came across to barge the nuisance to the ground. Ten minutes later it was Lahm's turn to produce a body-check. Bayern simply couldn't cope without resorting to brutality, as Oxlade-Chamberlain's six first-half dribbles - three times as many as anyone else on the pitch - resulted in four free-kicks.
It was a fearless display from an exciting talent who has been instrumental in Arsenal's improving performances over recent weeks. The 20-year-old's decision-making was not always perfect - demonstrated by a 74% pass completion rate - but his dynamism offers an escape from the sterile domination which can often blight the Gunners' performances. It was not the key to unlocking Ozil's exceptional range of passing on Tuesday, but Oxlade-Chamberlain's infectious positivity permeated through the rest of the team as the game progressed. Here was Wenger's belief.
It may also prove to be Roy Hodgson's belief in Brazil. The England manager awarded Oxlade-Chamberlain his first competitive start in his own first competitive match in charge as England drew 1-1 with France at Euro 2012, and a further 12 caps have followed. Against Bayern, the winger made another fine audition for a pivotal role in Hodgson's counter-attacking line-up. His versatility is certain to earn him a place in the squad, but few deserve to be in the first XI ahead of Oxlade-Chamberlain at the moment.
A version of this article originally appeared on Football365