Arsenal's failure to score against rivals costly, says David Jones
Last Updated: 27/03/14 12:04pm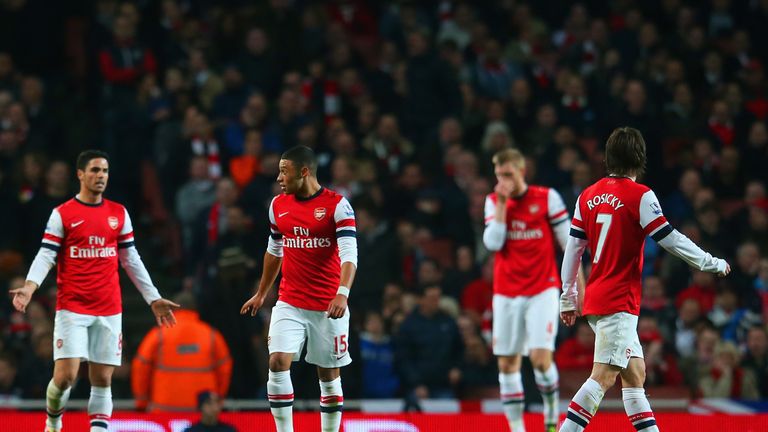 Last Saturday Jamie Redknapp and I were rehearsing for Saturday Team Talk while Chelsea were taking on Arsenal at Stamford Bridge, breaking away from our discussion when in the opening minutes Olivier Giroud was played in on goal.
His effort, though on target, was saved comfortably enough by Petr Cech.
"What a chance," said Jamie. "That could be a massive moment."
Seconds later the play switched to the other end, Arsenal were overloaded and Samuel Eto'o had a sniff of a chance himself: he delayed his shot, cut the ball back onto his left foot and arrowed it into the Arsenal net.
Giroud has gone up against Chelsea, Man Utd, Man City and Liverpool 16 times in his career and scored just once.
David Jones
"There's the difference," said Jamie. "In big games you have to seize your opportunity."
Once again Eto'o had proved he's the man for the big occasion, just as he had with the opener against Galatasary and Spurs, the hat-trick against Manchester United and the winner at home to Liverpool: goals in games that made a difference.
Firepower
Giroud - fine player though he is - has gone up against Chelsea, Manchester United, Manchester City and Liverpool 16 times in his career and scored just once.
It's far too simplistic to say that's the reason Arsenal have faltered in the title race but when they've come up against their biggest rivals they just haven't possessed the firepower to hurt them.
Perhaps unfairly Giroud carries the team's goalscoring burden and he's done well to reach 19 at this stage: especially when you consider his competition Nicklas Bendtner and Yaya Sanogo have managed just two between them.
Arsenal's second top scorer is Aaron Ramsey (13) who they have sorely missed and must cope without again this weekend
Compare that to City, the team who will stroll into the Emirates on Saturday as favourites to win the Barclays Premier league: all three of their frontline strikers - Sergio Aguero, Alvaro Negredo, and Edin Dzeko - plus midfielder Yaya Toure have reached the 20 goal mark this season.
Chance
Arsenal must hope City have an off day on Saturday Night Football but that's hard to imagine given they've won the last four and haven't conceded in the league for eight and half hours.
Manuel Pellegrini's team are counting down the games, edging ever closer to Chelsea's lead at the top.
They still have major hurdles to overcome at Anfield and Goodison but this game could truly set them on their way.
The first 10 minutes will be fascinating: recent Arsenal games against Chelsea and Liverpool were already lost by then.
And remember it took just 45 seconds for City to score against Manchester United.
Get through those early stages unscathed and Arsenal have a chance; but when the chance falls they have to take it.