Ed Chamberlin: Liverpool's win over Manchester City is a day I'll never forget
But Norwich will give the title chasers a rough ride on Super Sunday
Last Updated: 17/04/14 11:39am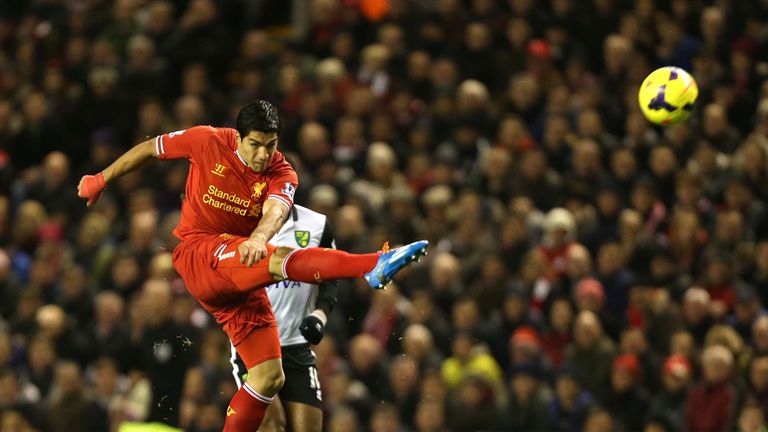 The 'Aguero moment' on the final day of the season at Manchester City in 2012 and presenting on the pitch at Old Trafford for Sir Alex Ferguson's final game are the two that stand out.
Sunday at Anfield was right up there. It was a day I will never forget. I arrived at the ground with my producer just after 8am and there was already a real buzz around the place. It felt special.
What followed was a day and a match that had everything. Goals, momentum swings, drama, controversy and above all emotion. All weekend British football had marked the 25th anniversary of the Hillsborough disaster but it was especially poignant at Anfield.
There were touching tributes throughout the day as Liverpool remembered those who went to a football match on April 15th 1989 and never returned. The message was clear: the 96 will never be forgotten.
Incredible
Manchester City football club and its fans deserve enormous credit for the part they played. You could hear a pin drop during the minutes silence. However, most memorable of all was the singing of "You'll Never Walk Alone".
Martin Tyler let the pictures and noise do the talking and tell the story. In the studio is was a proper 'hair standing up on the back of the neck' moment. The noise and atmosphere was incredible.
The game that followed matched the occasion. Liverpool looked on the ropes at 2-2 and Manchester City must have been trading at a short price in-running.
Jamie Carragher has been saying for weeks that there will be a tough moment or period that Liverpool will have to come through if they're to win the title. They passed that test on Sunday.
However, you just know, especially the way this mad Premier League season has gone, that their are bound to be plenty more twists and turns to come in the remaining four weeks. Just as we saw on Wednesday night.
Pace
I was at the Emirates on Tuesday to see the latest chapter in the race for the Champions League and had a very entertaining evening alongside Paul Merson and Gary Neville.
Both were fascinating on the lack of pace and power in the current Arsenal side and the problems that causes, especially when we compared it to Arsene Wenger's first title winning side in 1997.
On the night, Arsenal were sluggish in the first half but much better in the second. For 24 hours they shortened to 8/13 to finish in the top four but were slashed to 1/5 after Everton's shock defeat to Crystal Palace. What a remarkable job Tony Pulis has done at Palace.
Wednesday night was full of surprises as bottom club Sunderland put a serious dent in Manchester City's title hopes. An excellent result for Liverpool and also Chelsea, who are are both now four wins from the title.
It all means Sky Bet now have Liverpool as 8/15 favourites.
In the space of four days Manchester City have gone from an odds on shot to a 13/2 chance. Chelsea are in to 11/4. Their match at Anfield on Super Sunday next weekend is shaping up as the title decider.
Triple header
Next stop for me is Goodison Park on Easter Sunday and THREE live games on the show. It will be a brilliant day with all three games set to have a major impact on the title race, the battle for the top four and the dogfight to avoid relegation.
We start with Norwich against Liverpool at Carrow Road. Liverpool are red hot favourites at 4/11 with Sky Bet and Luis Suarez (9/4 to score the first goal) has a habit of beating Norwich in his own. However, I can see Norwich (13/2) giving Liverpool a really rough ride on Sunday.
The timing of Chris Hughton's dismissal was controversial but it's clear the Norwich fans were supportive of the decision and they will get right behind the team on Sunday. They have struggled desperately to score goals but defend well and Neil Adams won't have to tinker much with their organisation.
They have also had a habit this season of digging out results when they most need one. They badly need a result on Sunday as they are down to 4/9 with Sky Bet to be relegated.
Liverpool will miss the 'legs' of Jordan Henderson and face a test of their title credentials on Sunday, which I sense will be a lot tougher than many are expecting.
Big guns
Next up is Hull against Arsenal. This is the hardest fixture Arsenal have left and if they can win this they're likely to shorten massively to secure Champions League football.
It won't be easy as Hull aren't safe yet and will want to score psychological points ahead of the FA Cup Final. With some of Arsenal's big guns fit again, they should have too much for Steve Bruce's side.
Mind you, a top four finish for Arsenal would mean Hull will qualify for Europe for the first time in their history. Even if Hull were to lose the FA Cup Final, they would qualify for the Europa League provided Arsenal are in the Champions League.
Super Sunday finishes with Everton up against Manchester United and David Moyes' return to Goodison Park.
Manchester City have to wait for Monday Night Football to have their say in the title race. It's another game that will effect both ends of the table as West Brom are still in deep trouble.
A great way to round off the Easter Premier League weekend.