Aaron Ramsey provided a powerful display at Hull to remind Arsenal fans of just what they've been missing
Arsenal held onto fourth spot in the Premier League with a 3-0 win at Hull City on Easter Sunday. With a goal and an assist, Aaron Ramsey provided the drive that Adam Bate feels the Gunners have been missing...
Last Updated: 20/04/14 6:23pm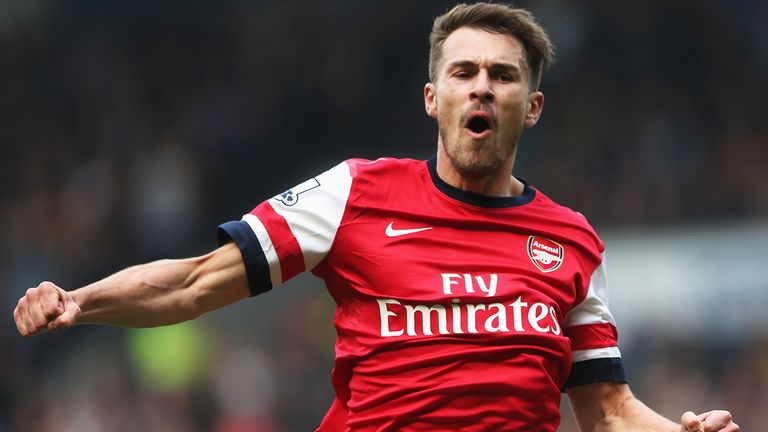 Paul Merson had exuded an air of exasperation on Sky Sports prior to Arsenal's game against West Ham in midweek. The balance of this incarnation of the team was all wrong, he argued. Where was the pace in this Gunners side?
Slight players with creativity in abundance patrol the midfield. Santi Cazorla, Mesut Ozil and Tomas Rosicky all possess the ability to pick out a pass, but that's not much use when there's nobody to pass to – they are reliant on runners.
So it must come as something of a relief for Merson and Arsenal fans everywhere to see Aaron Ramsey back to his best. The Welshman was the stand out player in Arsenal's win at Hull on Easter Sunday, scoring the first, assisting the second and being involved in the build-up for the third. In doing so, Ramsey showed the penetration that Arsenal have been sorely missing.
It has been a strange season for the 23-year-old midfielder and one that has doubtless caused much frustration. It's worth remembering that Ramsey emerged as an early favourite for the player of the year award thanks to his autumn efforts and still did enough to get a PFA young player nomination despite missing the entire of January, February and March through injury.
Impact
Few Arsenal fans are likely to forget that initial impact. Twelve goals in 21 appearances for the club before the end of November provided real impetus to the team's campaign. Indeed, they were top of the Premier League at that point. But having won just 52 per cent of their games without him, compared to 65 per cent with Ramsey in the starting XI, Arsenal have faded.
After being eased back with a substitute appearance at Everton, Ramsey returned to the line-up for the visit to Hull – and how Cazorla, in particular, must have missed him. The two players combined 35 times at the KC Stadium – significantly more than any other duo on the pitch.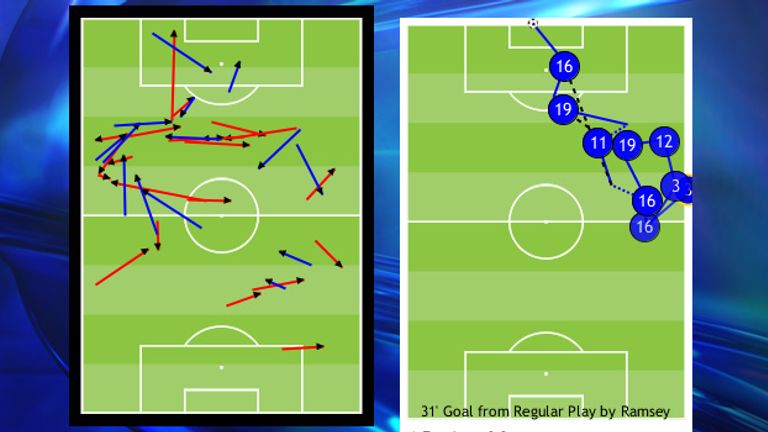 As Merson had noted earlier in the week, Cazorla thrives when there is movement ahead of him, with Ramsey's bursting runs from deep the ideal prompt for an inch-perfect through-ball. Provide the run and the pass will follow. That's exactly what happened for the opening goal, with Ramsey producing the unerring finish past Steve Harper.
Those goals have been missed. Olivier Giroud does an effective job of bringing others into play and fulfils the role of target man for the team. But the Frenchman needs runners beyond him and the accompanying goalscoring contributions from midfield.  Ramsey can do that, as shown by his four shots against Hull – more than any other Arsenal player.          
Arsenal Tracking Data v Hull
Player
Distance (km)
Player
Sprints
Aaron Ramsey
12.76
Aaron Ramsey
54
Mikel Arteta
11.78
Olivier Giroud
45
Santi Cazorla
10.97
Nacho Monreal
44
Nacho Monreal
10.00
Santi Cazorla
38
Laurent Koscielny
9.84
Lukas Podolski
35
It reflects the movement and energy he has brought back to this Arsenal team. This is not the youngest Arsene Wenger vintage and Ramsey's drive is conspicuous. His 54 sprints against Hull were nine more than anyone else in an Arsenal shirt. And they're not just occasional bursts either. Ramsey covered 12.76 kilometres on Sunday, the most of anyone on the pitch.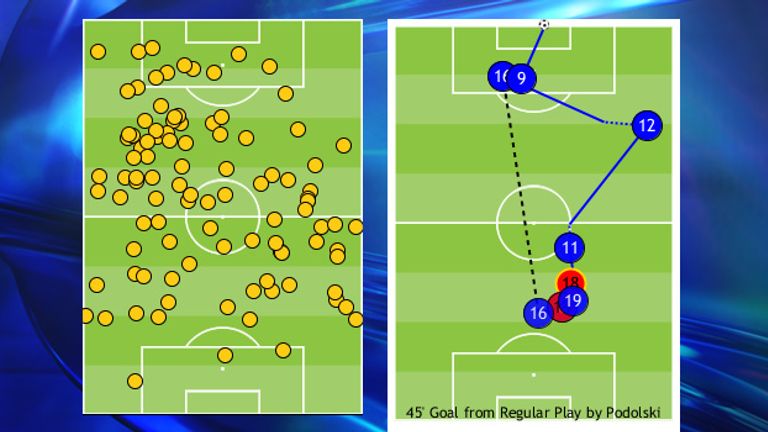 In short, he was everywhere. His 104 touches made him the game's pre-eminent figure despite Lukas Podolski's brace. Ramsey's was the one controlling things and his game-high 50 passes in the opposition half showed he was doing it where it mattered – his run for the second goal proving vital as he chested into the path of Podolski.
Arsenal supporters may well wonder what might have been had Ramsey stayed fit this season. That's no use now. But Ramsey's return is well timed as Wenger seeks to see off Everton in the race to secure a top-four finish. If he can also manage a repeat of this performance against Hull in the FA Cup final between the teams, the season might yet end on a high for Gunners fans and the player himself. It'd be no less than he deserves for an impressive – if truncated – campaign.